Have you recently bought a Nespresso coffee maker and confused by the different types of coffee? This guide will help explain the type, category, and strength of each coffee capsule. There are now 16 different types (and more coming) of coffee capsules from Nespresso. Figuring out which flavor or type of coffee each coffee capsule contains can be difficult without seeing a chart or knowing what the different colors of the capsules mean. The coffee capsules can be put in 4 different categories. The types we have listed below are for the OriginalLine Nespresso coffee makers. Want to know what the strongest coffee capsule for the Nespresso coffee machine is? It is the Kazaar Intenso with a flavor intensity of 12!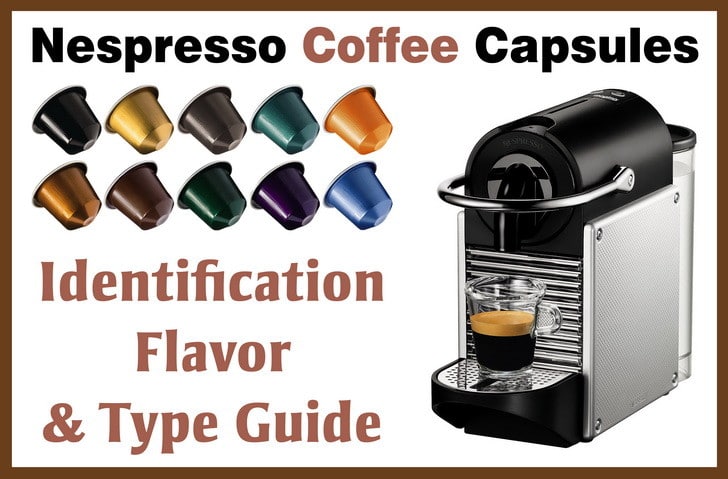 Nespresso coffee identification and flavor types
– Espresso capsules
The Espresso capsules are the high quality traditional types of coffee. These capsules come in large variety of coffee flavor strengths. There are now 6 different types of Espresso capsules from Nespresso. These are considered Short coffees.
– Lungo capsules
The Lungo capsules are made to use approximately 2 times the amount of water that is in a normal espresso. This is known as a tall coffee. It does not contain as much water as what you may call an Americano coffee.
– Pure Origin capsules
The Pure Origine capsules are a special variety. These types can be traced back to the place of origin.
– Decaffeinato capsules
Decaffeinato capsules are special decaf coffees. Nespresso offers 4 different types with varying flavors and strengths.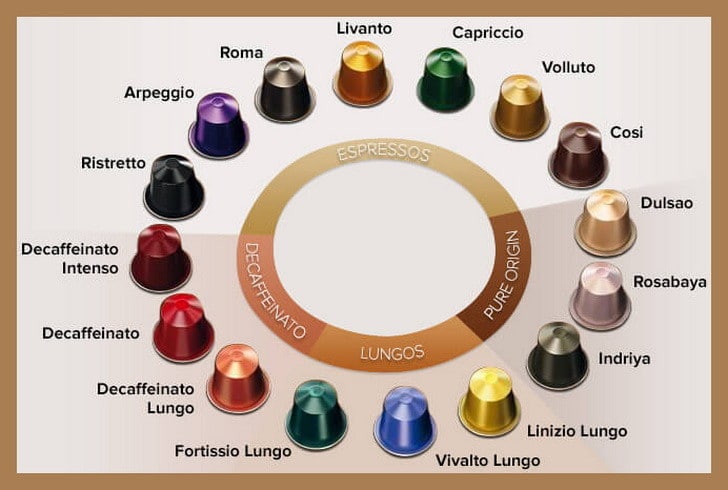 Nespresso coffee capsules chart
The Nespresso coffee capsule identification charts are below. These are for OriginalLine coffee makers…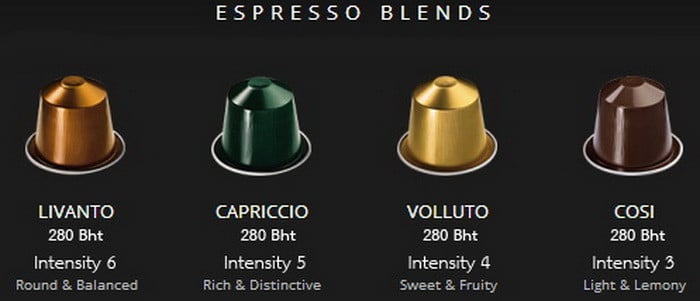 Nespresso Espresso Blend Capsules

Nespresso Intense Capsules
Nespresso Lungos Capsules

Nespresso Pure Origin Capsules

Nespresso Variation Capsules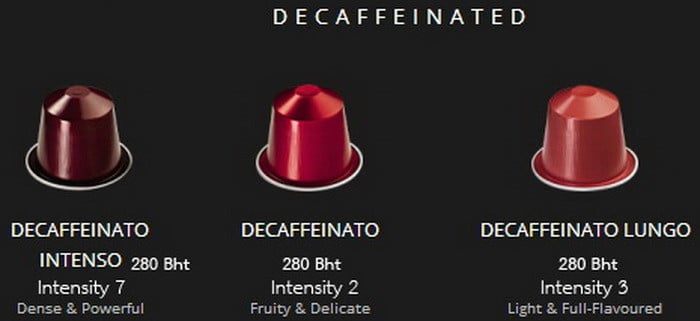 Nespresso Decaf Capsules
Nespresso Coffee Flavor Chart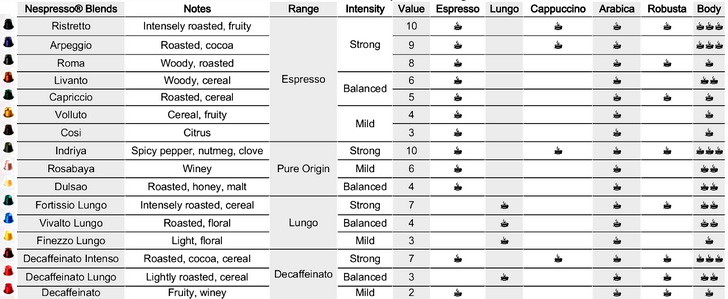 Nespresso coffee taste chart

Nespresso capsule coffee color types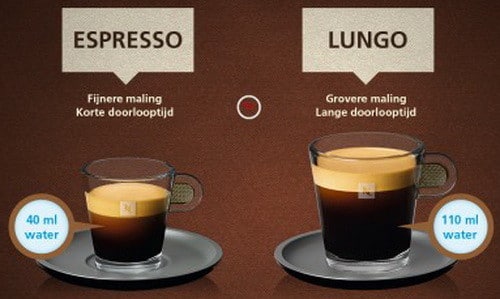 Difference between LUNGO and ESPRESSO size
Flavor

Intensity Level (Scale of 1 to 10)

Overview

Ristretto

10

Arabica beans from South America and East Africa

Beans roasted separately

Full-bodied flavor with subtle fruity taste

Brews 25 mL and 40 mL cups

Arpeggio

9

South and Central American Arabica blend

Cocoa undertones enhance strong, intense flavor

Brews 25 mL and 40 mL cups

Roma

8

Light roasted South and Central American Robusta

Woodsy and long-lasting taste

Brews 25 mL and 40 mL cups

Livanto

6

Pure Arabica from South and Central America

Distinct hint of roasted caramel

Brews 40 mL cup

Capriccio

5

Blend of South American Arabicas with a dash of Robusta

Strong, distinctive flavor

Brews 40 mL cup

Volluto

4

Lightly roasted South American Arabica

Sweet and fruity flavor

Brews 40 mL cup

Cosi

3

Arabicas from East Africa, Central and South America

Refreshing citrus flavor

Brews 40 mL cup

Indriya from India

10

Arabica with hint of Robusta from South India

Distinct, spicy espresso

Brews 40 mL cup

Rosabaya de Colombia

6

Individually roasted Colombian Arabicas

Fruity, wine-flavored overtones

Brews 40 mL cup

Dulsao do Brasil

4

Yellow and red Brazilian bourbon beans

Smooth, elegant flavor with hint of toasted grain

Brews 40 mL cup

Vivalto Lungo

4

East African and South American beans are separately roasted

Unique combination of individually roasted flavors

Brews 110 mL cup

Fortissio Lungo

7

Central and South American Arabicas with hint of Robusta

Intense and bitter full-bodied blend

Brews 110 mL cup

Linizio Lungo

4

Pure South American Arabica

Split roasted with Brazilian and Colombian beans

Brews 110 mL cup

Decaffeinato

2

South American Arabicas

Hint of Robusta

Fruity aroma

Brews 40 mL cup

Decaffeinato Intenso

7

Dark roasted South American Arabicas

Full-bodied roast

Hint of chocolate and grain flavor

Brews 40 mL cup

Decaffeinato Lungo

3

Slow-roasted blend of South American Arabicas

Hint of Robusta

Smooth, creamy flavor

Brews 110 mL cup

Carmelito

6

Livanto Grands Crus with caramel flavor

Creamy toffee taste

Brews 40 mL cup

Vanilio

6

Smooth vanilla blended with Livanto Grands Crus

Decadent and full-flavored

Brews 40 mL cup

Ciocattino

6

Dark roasted flavor

Bitter dark chocolate taste

Brews 40 mL cup
Do you have questions or comments about Nespresso Coffee Capsule Flavors, Colors, or Types? Please leave a comment below.
More "Do It Yourself" Tips, Tricks, Ideas, Repair: