What different types of trash can I recycle? Through advances in recycling technology, there are more options than ever. That is great news as we need to conserve as much of our valuable resources as we possibly can. Here we will provide a common sense list about which materials you can and can't put in your recycle bin and which you need to throw away.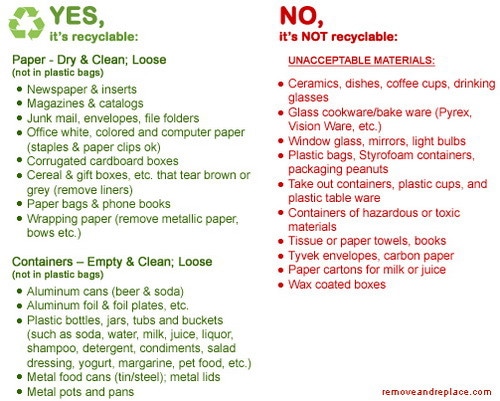 Please note that the below list of "do's and dont's" MAY change or be different in your specific area or location. Please check your local website for your trash pick-up company for more information. If you are interested in more information here are more facts from the EPA on recycling basics and benefits.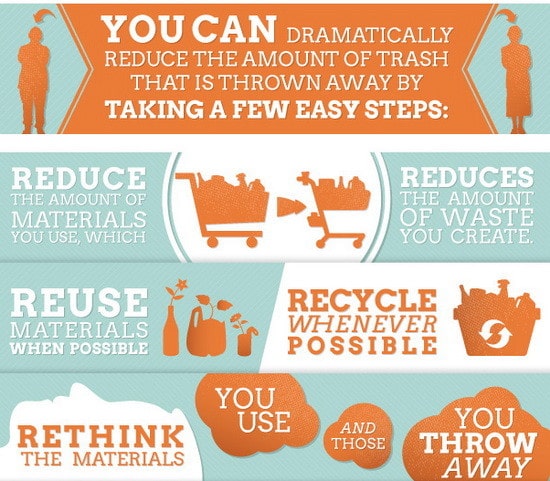 Recycling Paper and Books
YOU CAN RECYCLE:
paperboard
tissue boxes
heavy weight folders
paper towel and toilet paper rolls
food packaging (non wax)
shredded paper (in plastic bag)
magazines (all)
catalogs (all)
phone books (all)
junk mail
paper milk, juice and soy milk cartons (empty)
books – soft cover, hard covers should be removed
empty paper coffee cups (plastic lids removed)
all office paper
white paper
colored paper
newspaper (bags and strings removed)
YOU CANNOT RECYCLE:
paper towels
wax paper
wrapping paper
napkins
tissue paper
paper product which has the potential to be contaminated with bodily fluids
Recycling Cardboard
YOU CAN RECYCLE:
pizza boxes (wax paper removed)
corrugated cardboard
brown paper bags
box board (shoe boxes, cereal boxes)
YOU CANNOT RECYCLE:
cardboard lined with plastic (bubble wrap boxes)
waxed/waterproof cardboard
Recycling Glass
Wash out all of your dirty food jars first!
YOU CAN RECYCLE:
clear glass
green glass
brown glass
blue glass
glass food containers
wine and beer bottles
YOU CANNOT RECYCLE:
light bulbs
glass from mirrors
window glass
ceramic
crystal
Recycling Plastics
YOU CAN RECYCLE:
plastics numbers 1-7
plastic cups (lids and straws taken out)
milk container
soap jugs
grocery and retail plastic bags
plastic jugs and bottles – soda bottles & laundry detergent bottles
food and beverage containers
jars with screw tops
deli style containers
clam shell take out containers
YOU CANNOT RECYCLE:
plastic baggies
plastic tableware
foam containers
Recycling Metal
Please wash out all food jars first!
YOU CAN RECYCLE:
aluminum take out containers
aluminum pie plates and trays
kitchen cookware – metal pots, pans, tins & utensils
metal and tin beverage containers
metal and tin food containers
aluminum foil
YOU CANNOT RECYCLE:
motor oil cans
metal and cardboard containers
paint cans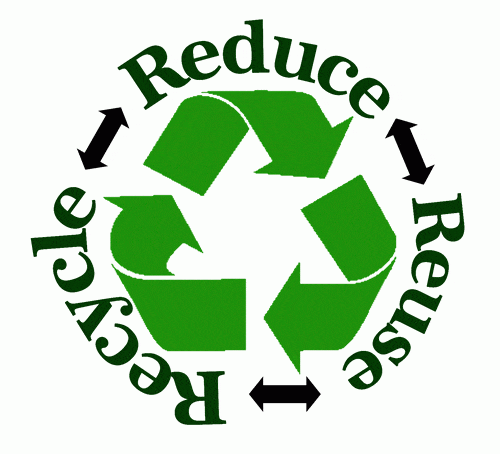 Recycle Logo – Reduce Recycle Reuse