A scratched media disc can be fixed fairly easily using the proper techniques. Whether it is a minor scratch or a deep chip in the plastic, most scratches can be repaired. If the scratch is a huge gouge in the plastic, you will most likely not be able to repair it. See below for the different repair methods.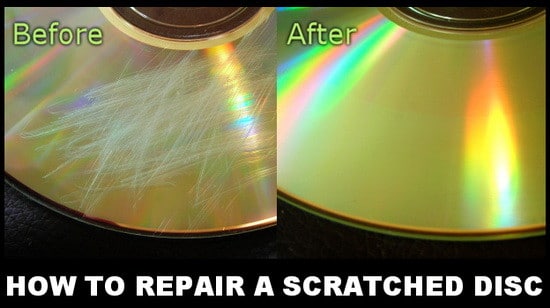 Method #1: Use a moist non scratch polishing cloth or similar to wipe off the disc. Assure that it is an actual scratch and not something stuck on the disc. Wipe the disc with the cloth from the inside outward. Clean the disc using straight line motions, not circular. Assuring the disc is clean and free of debris will ensure it will play without error.
Method #2: Use a common furniture polish wax such as Pledge or an automotive wax. Apply a small amount to the scratch and buff it in using straight line motions from the center outward. Clean the complete disc off using the soft cloth and then run it under cold water to remove any excess wax dust. Let the disc sit for a few hours. The idea here is to let the wax fill in the scratch or crack.
Method #3: There is a small machine called the SkipDr made by Digital Innovations. This inexpensive DVD and CD scratch remover can fix any type of scratch by removing a small layer of the plastic surface on your discs. This machine does not work on Blu-Ray discs but works amazingly well on any type of CD or DVD games, software or movie discs.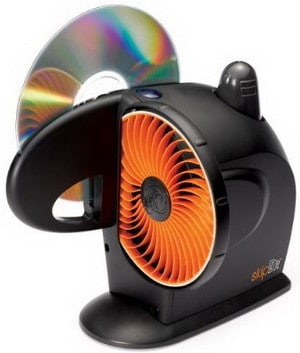 This machine smooths surface scratches to renew the disc's protective layer, leaving disc data unaffected
There are also other products that may help you fix that scratch. There are types of plastic polish that can also be used instead of the furniture wax or auto wax. You can try different types and see if one of them work. Some people have reported that you can also do this using a banana, toothpaste, peanut butter, and Vaseline. Using these items to fix a scratch has not been tested with us and we cannot give advice or opinions on if they work. All of the scratch removal methods above work on all discs including Xbox 360, PS3, PS4, Wii, Redbox, music, pictures, video, and PC software.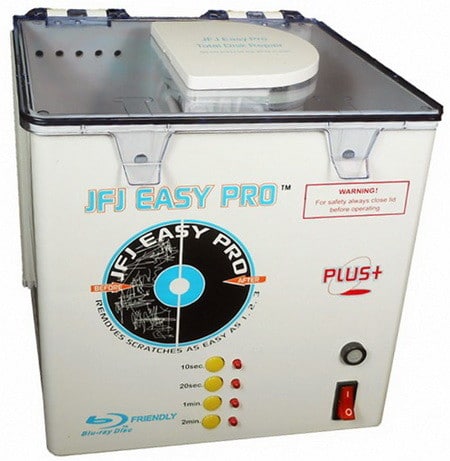 Use this one step machine to fix disc skipping, light scratches and deep gouges
If you are looking for a professional scratched disc repair machine, consider the JFJ Easy Pro Disc Repair Machine. This PRO Disc Cleaner is an easy solution for complete disc repair. JFJ Easy PRO works on both single and double-sided discs including Music CDs, CD-ROMs, PlayStation, PSone, PlayStation 2 and PS3 Game Discs, Xbox and Xbox 360 Game Discs, DVD Movies, DVDs, VCDs, CDRs, DVDRs, HD-DVDs, BLU-RAYs and any future disc products coming out.
Also when you are cleaning and buffing your disc, always clean it from the inside to outside (along the radius of the disc, not in a circular motion). This is super important because the disc laser will skip over the small scratches that are opposite to its read path but not a groove or scratch that is on its direct path.
We do realize that most people will just toss the scratched DVD or CD in the trash instead of going through all this trouble. Some people like to try to fix what they have before throwing it out. Also if you have a DVD or CD with family photos or movies that cannot be replaced then repairing the disc is necessary.