My brand new front load washer is making loud squeaking noises when it goes into the spin cycle. I have the washer on a pedestal stand with a drawer. The washer is not overloaded. What can make these squeaking noises when my washer is in spin mode?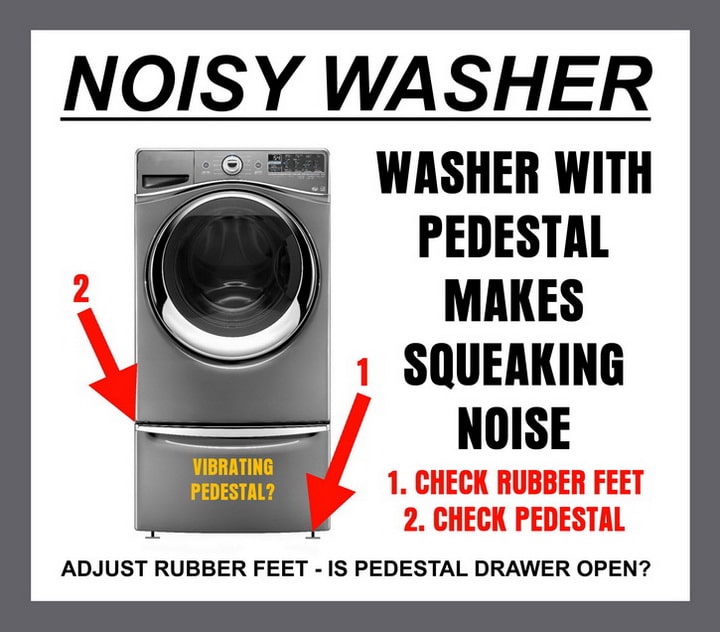 How to fix a washer pedestal that squeaks
FAST FIX: Check the rubber feet below the pedestal. Be sure all 4 feet are in contact with the floor. (Turn counter-clockwise) Inspect the pedestal and be sure the drawer is closed. The drawer can make squeaking noises when it's open and the washer is in spin mode.
Fix Squeaking Pedestal On Washer
A brand new washer will usually not have mechanical issues. The noise is most likely a simple issue such as vibration with the pedestal during spin mode. When the washing machine is in spin mode, check to see if the squeaking noise is coming from the bottom of the washer. The noises will most likely be coming from the pedestal.
When a washer is in spin mode it spins at a very high RPM. The squeaking noise you hear may be the rubber feet chafing against the floor or the pedestal under the washer is vibrating and causing the noise.
While the washer is running in spin mode, check to be sure the rubber feet under the pedestal are fully touching the floor. Turn all 4 rubber feet counter clockwise to make contact with the floor. This will level the washer to the floor and reduce the noise. See picture below…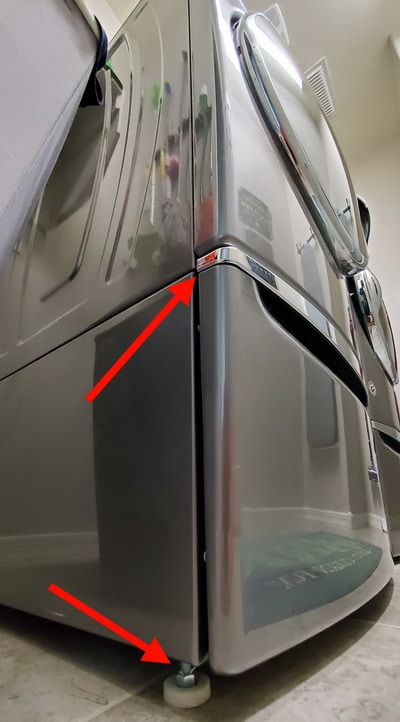 Washer making noise
Adjust the washer rubber feet and pedestal
The pedestal drawer may be open. If the drawer is open when the washer is in spin mode, the squeaking or vibration noise may be heard. Shut the drawer on the pedestal. If the pedestal vibrates and causes noise when the washer is in operation, you can use anti vibration stickers and apply them on the pedestal drawer.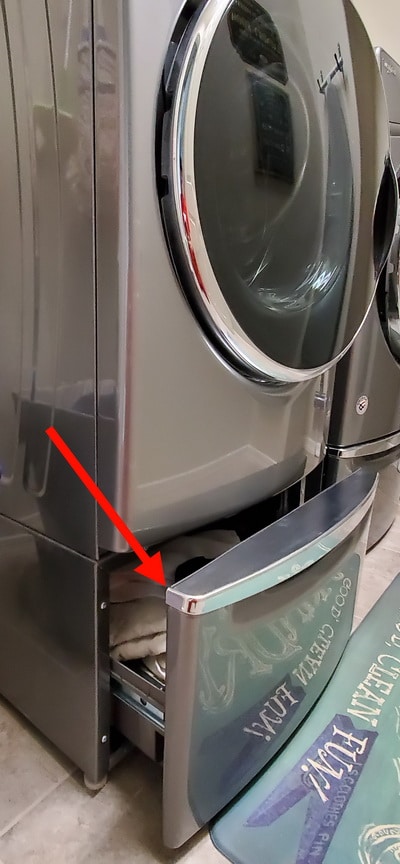 Noisy washer
Close pedestal drawer to avoid squeaks
The pedestal may not be secure to the washing machine. Check to make sure the pedestal is mounted to the washer properly. Remove the pedestal drawer and look underneath the washer with a flashlight. Be sure the 4 bolts or brackets are secure from the pedestal to the washer.
If you find other issues causing your new front load washer to make squeaking noises, see below to troubleshoot further:
How To Fix A Washing Machine Making Noise During The Spin Cycle
New HE Washing Machine Is Very Loud On Spin Cycle – What Can Cause This?
How To Fix A Washing Machine Making A Buzzing Noise