Here is a great way to recycle a wooden pallet into a wall shelf. This is a very simple project that can be done for under $20 dollars and within a few hours. You can use the pallet to make a shelf and then add a herb garden to it by placing the herb seeds into small glass mason jars. This is the perfect way to recycle a pallet, create a DIY wall shelf, include an herb garden in your home, and get creative at the same time. If you do try this pallet wall shelf, make sure to get a smaller sized pallet to fit better on your wall. Also a square pallet may be better to use instead of a longer rectangle pallet.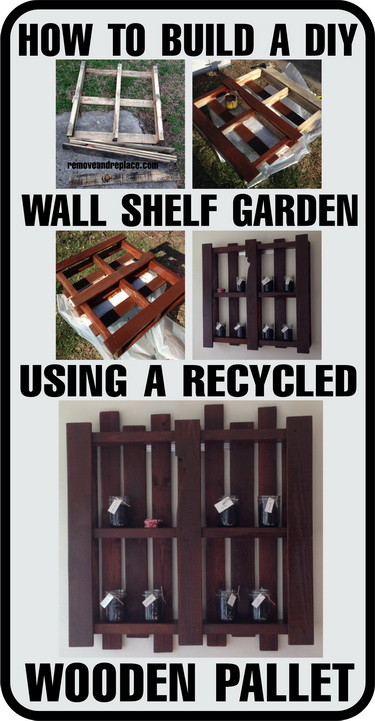 Items needed to make a wall shelf from a wood pallet:
Pallet made from wood. (the smaller the better)
Can of wood stain. (any color of wood stain your prefer)
Cheap throw away paint brush. (for applying the wood stain to the pallet)
Wall mounting hardware to hold 50+ pounds. (cabinet hanging kit)
4 to 10 Mason Jars. (for the herb garden if you choose to create it)
Extra Pallet. (optional but for extra wood to add to the pallet on wall to hide wall)
Box of nails. (to put the disassembled pallet back together)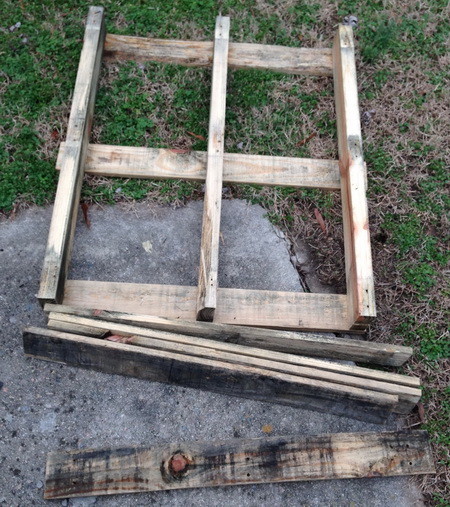 First find the perfect sized pallet that will fit on your wall.
Disassemble the pallet using a crow bar or hammer discard the old nails and sand down the wood.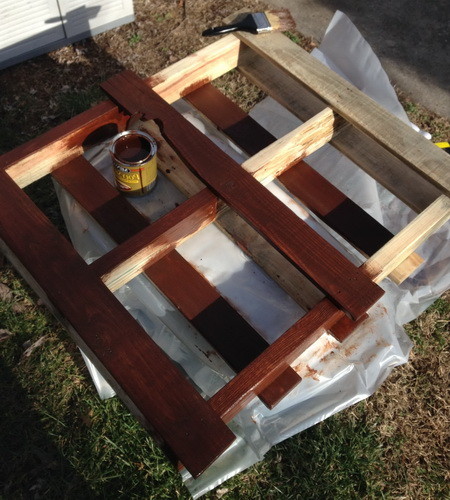 Once the pallet is sanded down and very smooth, put the pallet back together using new nails.
Once together stain the pallet (outside if possible) with your choice of color wood stain.
Apply multiple coats to seal and protect the wood.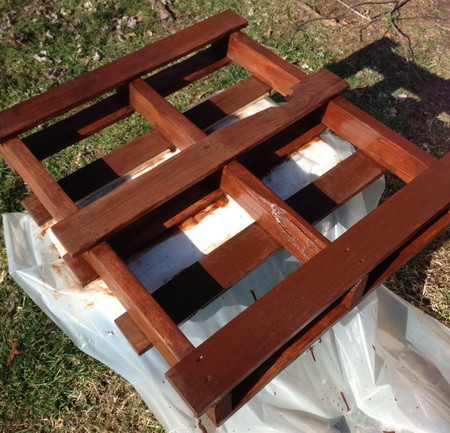 Once stained, let the pallet fully dry for a few hours outside before handling it.
While the pallet is drying, attach the cabinet wall mounting hardware to the chosen area on your wall.
Then once the pallet is dry attach the other metal strip to the pallet and secure with included hardware.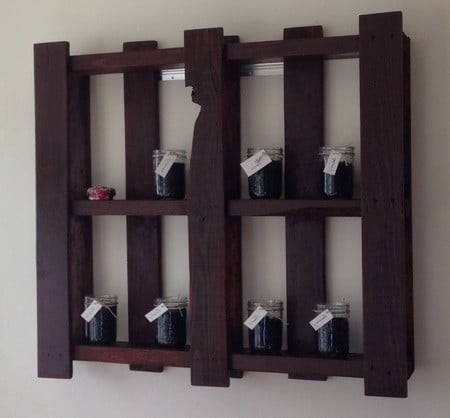 Once everything is setup, hang your pallet on the wall.
(Make sure it is straight by using a level and adjusting as necessary)
Once hung and secure, feel free to add pictures or whatever to the pallet shelf.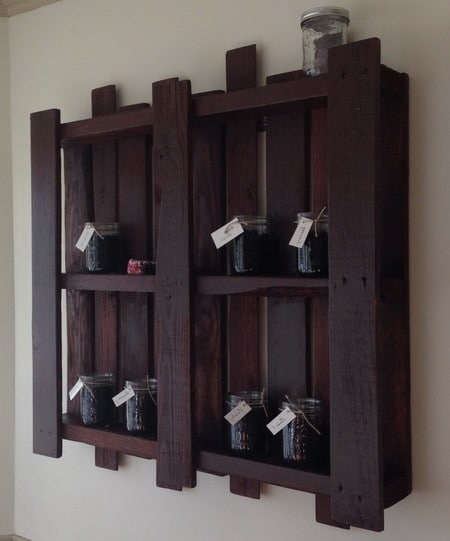 We added more wood to the back part of our pallet wall shelf to cover the metal mounting hardware.
We also added our mason jars filled with our herbs.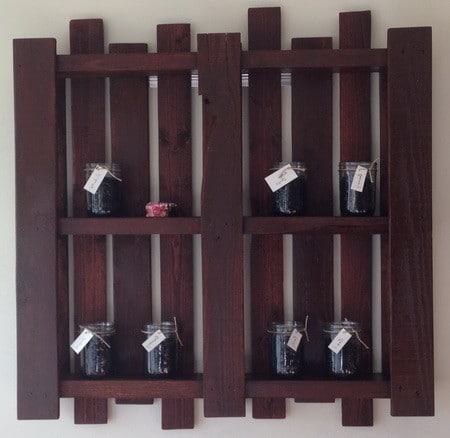 Completely finished and looking good!
Here is a straight shot photo to see how our pallet looks after being complete.
Note: You can paint the metal mounting hardware to match your wall color.
Also, let the herb garden get sunlight by opening the drapes or mounting pallet in different location.