The goal of our website is to show you how to save money by repairing your household items and appliances yourself. We have performed thousands of repairs and fixes on hundreds of appliances and household items. Our experience is passed on to you in every article we write.
RemoveandReplace.com was created by appliance repair professionals and home renovating experts with helpful guides to fix appliances. We produce weekly "How To" articles with detailed step-by-step photos and illustrations about fixing, troubleshooting, organizing, repairing, renovating & more.
From refrigerators to your microwave, we show you how to fix it fast and easy. We give you the ability to perform repairs and fixes to save you from having to call a repair technician. The information we provide will help you save time and money by doing it yourself!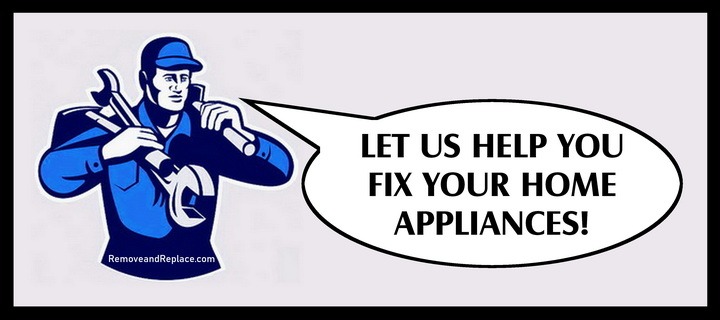 We write articles that aim to serve the needs of those looking to perform basic repair methods. We take into account that most repairs can be performed by anyone who is willing to do it themselves.
We show the reader how appliances can be repaired by following simple and easy to read step-by-step instructions. The authors write all articles in an easy to understand way so anyone reading can repair or fix an appliance.
Articles on our website are researched and written by experienced technicians. Our appliance repair help is backed by years of experience.
This includes industrial machinery repair technicians, aviation maintenance technicians, and home and building renovation experts. This experience encompasses multiple aspects of repair and troubleshooting that are then written into our "how to" and repair articles.
If you would like to ask our technicians/writers a question concerning troubleshooting, repair, or anything else, feel free to go to our contact page here and ask us any question you may have or on the contact form below.
Safety Note: The information contained within this website is considered advice only. When working on electrical or dangerous equipment, use all safety precautions necessary. Please always use common sense when building, troubleshooting, working with electrical systems, or repairing anything. Use personal safety equipment when working on any appliance or using any power tool. Always turn an appliance off before you begin any type of work or troubleshooting. Always read all maintenance and service manuals before you begin work. Always conform to all safety rules in your area. We will not be held responsible for damage or injury.
What does Remove and Replace mean? Remove and Replace means to remove and dispose of an existing part or component and to provide and install a new part or component in its place in order to get the machine or appliance in working order once again. The name of our website was founded on the way the USAF chooses to write in military aircraft forms when a part was found to be faulty and a new part was installed. The wording in the aircraft forms would be written as such: "RR Fuel Flow Proportioner Assembly" or "R&R Hydrazine EPU Connection Fitting" or "Rx2 Butterfly Fuel Valve #3". RR = Remove and Replace.