Have you lost the original remote control for your TV, DVD, DVR, or Cable box? Are you trying to make life easier and use one universal remote control instead of using 3 or 4 different remotes? A universal remote control set up combines several remotes into one to make watching TV much more simple.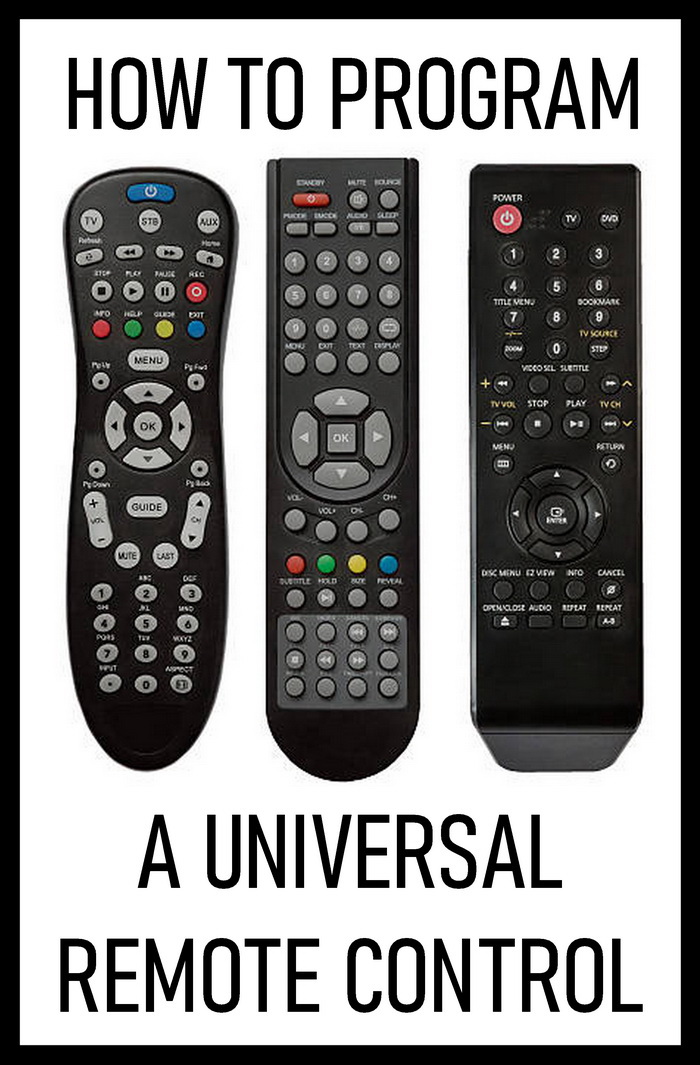 Program a universal remote control
Table of contents:
How to enter remote code manually
How to use auto code search
It can be difficult to set up a universal remote to control all of your components. We will teach you a few easy generalized methods to set up your universal remote and start controlling your electronics easier.
There are a few items you will need before beginning this process:
The universal remote control to control all devices.
The owner's manual for the universal remote control.
A list of remote control codes for all of your devices.
Fresh new batteries for the universal remote control.
How Do You Program A Universal Remote Control?
Programming a universal remote doesn't need to be difficult. There are 2 easy primary programming choices available to you to set up your universal remote.
Remember that various programming choices and processes may differ with each brand and model of universal remote control. Having the universal remote control setup manual will help. Here are 2 solutions and procedures to set up your universal remote.
Enter Code Into Remote Control Manually
The first method to program your TV or other device is through the use of direct code entry. This option requires that you enter the proper remote control code for each device. There may be a code sheet attached to the universal remote which you can use as a reference. You can also look up remote codes on the internet – Remote codes for universal remotes

Universal Remote Direct Code Entry
Direct code entry is the quickest and easiest way to program your universal remote.
This video will walk you through the direct code entry method step by step.
Here are the steps to enter a code manually into a universal remote:
Make sure the TV, DVD, DVR, VCR, satellite receiver, cable box, or other device is turned on.
Be sure the universal remote control has new working batteries.
Point the universal remote control at the device you are attempting to control.
Press the SETUP button on your universal remote, then press and hold the appropriate DEVICE button (for a few seconds) such as a TV or DVD on the universal remote control.
The universal remote's power light should turn on or blink.
Release the DEVICE button.
Next, enter the correct remote control code for the device you are programming (TV, DVD). Find TV codes here – 3 digit TV codes – 4 digit TV codes – 5 digit TV codes
The power light on the universal remote will blink or illuminate when the correct code is entered.
If the light does not blink or illuminate on the universal remote, repeat the steps above until you have the correct remote code programmed in.
Once you have the correct remote code, remember to press the DEVICE button (TV, DVD) to save it in the universal remote.
Once the correct code is entered and saved, you can use the universal remote for that particular device.
Repeat this complete process for every component or device you want to control with your universal remote control.
HINT: If the batteries fully discharge in the universal remote, the codes may erase and you will have to do this procedure all over again. Write down the code(s) that worked for each component and save these codes to avoid having to find them again in the future.
Auto Code Search – Auto-Programming Without Codes
Auto code search or auto-programming lets you program your universal remote without requiring any remote codes.

Programming Your Universal Remote – Auto Code Search
The auto code search programming method searches through all the codes in the remote to find a code for your device.
This video will walk you through the auto code search method step by step.
To program your universal remote automatically, follow these simple step by step instructions:
Turn on the TV, DVD, or another device that you want to program with the universal remote.
Aim the universal remote control at the device you want to control. (Read the universal remote instruction manual to find the exact method to auto search for remote codes)
On your remote, press and release the relevant DEVICE button for the component you're wanting to program. For example, press the DVD button if you're programming to a DVD player.
Press the DEVICE button and the POWER button simultaneously. The power button will turn off, then return on again.
Next, wait a few seconds and press and release the PLAY button on the remote; then wait a few more seconds to verify that the device you're attempting to control shuts off.
If the device turns off, it has found the remote code and the universal remote is ready to use. In case your device is still on, repeat the procedure from the beginning. Keep repeating this until the device shuts off.
Press and release your remote control REVERSE button every two seconds until it powers back on. When the device turns back on, the remote control has found the correct code remote control code.
To save the code remote code in its memory, click the STOP button.
Before you begin programming, make sure your remote has batteries. Regardless of which approach you take, keep in mind to verify that your remote has power before starting. Make sure your universal remote can point at the connected device; otherwise, you won't be able to program it.

How to program an RCA universal TV remote control, no code required
TV RCA universal remote easy & quick set up: You can also do this while your TV is off.
Make sure you select the right KEY on your remote for other devices.
Need assistance setting up your universal remote control? Let us know the brand and type of the device you are trying to program and we can help supply you with remote control codes or other helpful information. Leave the details in the comments form below.