Looking to cut the cable company cord and save money? Become a cord cutter by getting the PlayOn app for the Roku Streaming Player. This awesome app transcodes streams that are not fully compatible with the Roku (flash streams) into the Roku player to make a playable and watchable format. PlayOn has tons of free content that is not found on any other Roku channel. Therefore the PlayOn app for the Roku and Roku 3 make it ideal to use this type of device and service to completely cancel your expensive cable bill. This is a total "no brainer" as spending $70 to $200 dollars every month to watch mind numbing reality shows makes NO sense to us. We asked ourselves "Why are we paying hard earned dollars to watch drug commercials intertwined with bad TV shows that were only created to contain in content advertising?" (Hint: American Idol = Coca-Cola commercial) To us, this seems like an insult, so we took the time and killed our cable once and for all. We now save $2500 a year and we are happier as we have a better choice when it comes to what we really want to watch. Full details on the available channels for PlayOn here.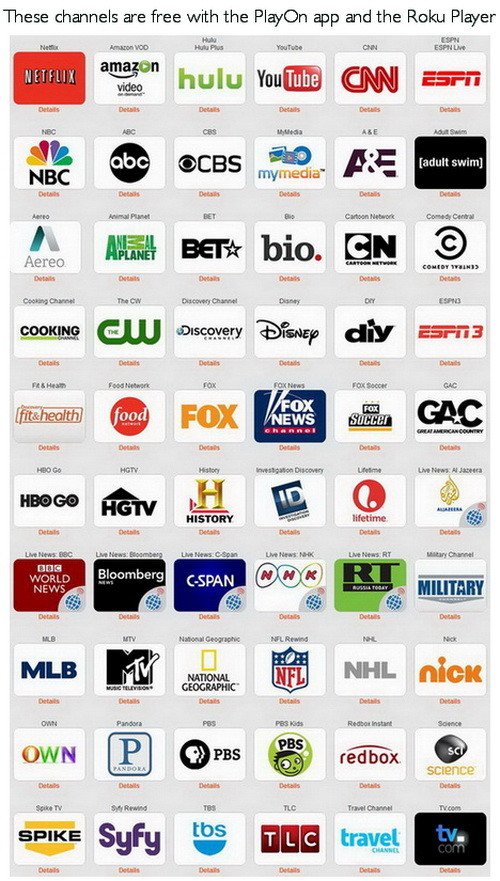 Here is a list of the channels available with PlayOn that have FULL Episodes and Shows.
NOTE: The channels in the list work great and are many of the channels you would be paying too much for with regular old cable but using PlayOn they are FREE!.
Hulu – (Free Hulu but this is not Hulu+)
RedBox Instant – New!
HGTV – We love this channel as it is FREE and amazing for DIY projects.
SyFy – Gotta have Science Fiction Channel and FREE!!
Spike – The best channel for men!
Adult Swim – For those who like the weird cartoons and want to have it FREE!
PBS – Great shows including NOVA!
Youtube – Does work great right on your TV!
ESPN3 – Free paid sports channel!
CBS – Regular TV for free.
Fox – Gotta have FOX!
National Geographic – Normally a premium channel with regular cable.
FULL Default Channel List With The PlayOn App for ROKU:
NBC – Free episodes and news shows
ABC – Free episodes
CBS – Free episodes
FOX – Free episodes
Comedy Central – Free
TV.com – Free episodes
TBS – Free
Hulu – Free but supported with Ads
Netflix – requires subscription but only $8 bucks a month
Youtube –  Free
HBOGO – requires subscription
Amazon VOD – requires subscription
OWN – Free
Lifetime – Free episodes
TLC – Free
SyFy – Free
Crackle – Free
Adult Swim – Free cartoon episodes
Spike – Free
ESPN – Free
ESPN3 – Free Live games
NFL game rewind – Subscription required
MLB – Subscription required
NHL – Subscription required
Fox soccer – Login is required but Free
CNN – Free top stories
Fox News – Free but not live
Aljazeera – Free and streams live!!
BBC World – Free
Bloomberg – Free
C-Span – Works great
HGTV – Free
Nick – Free
Cartoon Network – Free clips
MTV – Free
VH1 – Free
BET – Free
VEVO – Free
Pandora – Free
DIY Network – Free
Food Network – Free
Cooking Channel – Free
Great American Country – Free
Travel Channel – Free
National Geographic – Free but with ads
History – Free
Bio – Free
A&E – Free
Discovery Channel – Free
Animal Planet – Free
Science – Free
Investigation Discovery – Free Clips
Discovery Fit – Free
Military Channel – Free clips
Velocity – Free Clips
PBS – Free
PBS Kids – Free
Disney – Free clips

How to use the PlayOn Service:
1 – Install
Once PlayOn is on your PC, you can watch your favorite videos, shows, and movies from websites such as Netflix, Hulu, YouTube and more on your TV using your Roku, Wii, Xbox 360, or Playstation 3 over your home internet connection. PlayOn also streams to your iPhone, iPad, or Android phone.
2 – Click
Using PlayOn is super easy. Simply start the PlayOn media server on your PC and follow simple instructions for your Wii, Xbox 360, PS3 or another device to find the PlayOn media server on your device. You will then be watching your favorite internet shows on your TV or mobile phone easily.
3 – Enjoy
PlayOn gets the favorite shows off your PC and onto your TV and smart device in a few simple steps. PlayOn includes nearly 60 web channels such as Hulu, ESPN, Comedy Central, MTV, Netflix, and much more. You can also get more channels in our plugin channel store for free! Once you install PlayOn you can be up and running in under 5 short minutes!
PlayOn works on many devices including:
Gaming consoles
PlayStation 3
Wii
Wii U
Xbox 360
Mobile devices
Android phone (Requires OS 2.2)
BlackBerry 10 Smartphones
iPad and iPhone
Kindle Fire
Nook Color
Set-top boxes
Brite-View CinemaTube
Google TV
OmniBox
Roku
Cirago Network HD Multimedia Center
Jadoo TV
Moxi HD DVR
NETGEAR Digital Entertainer Live EVA2000
Showwx
UEBO M200
ZAAP TV
Smart TVs
HP MediaSmart TV
Related DIY Articles That May Assist You...