It is surprising how easy it is to install Laminate Flooring yourself. These floors are simple click-lock, you simply lay the pieces down next to one another and they snap into one another. After they are snapped down you can use a hammer and gently tap each piece down as you go. We did a 800 sq. ft. space with a bunch of varying cuts in just one single afternoon. We purchased our flooring from HD at $.99/sq. ft., so about $800 for the flooring, $560 for the trim and $120 for padding.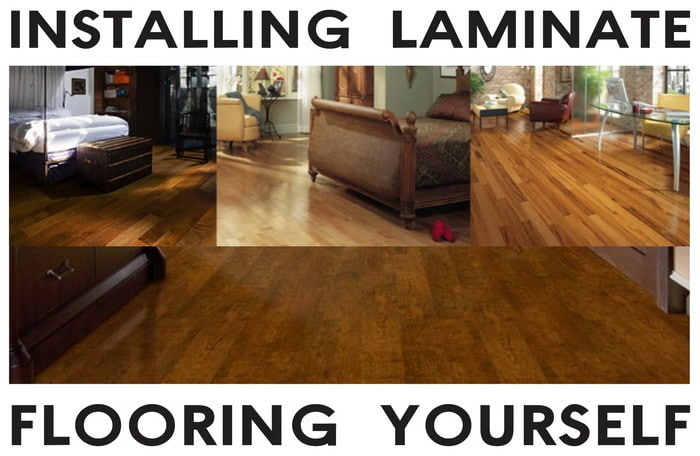 Installing Laminate Flooring Is A Very Easy Project For diy
Tools Needed To Install Laminate Flooring:
Hammer
Bucket
Tapping Block
Pull Bar
Tape Measure
Long Level
Jigsaw
Circular Saw
Materials Needed To Install Laminate Flooring:
Laminate Flooring
Foam or Rubber Underlayment
Mildew resistant silicone caulk
Floor self-leveling compound (if floor is not flat)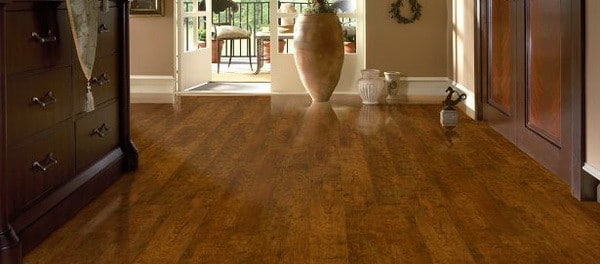 Laminate Flooring Is Easily Installed In A New Or Old Home
Laminate flooring is fast to install and easy to keep clean – It is the best material to use to cover over wood and concrete floors. Laminate can also be purchased to look like wood, stone and even tile. Laminate flooring needs a flat and smooth base surface like plywood or hardwood flooring to be installed on top of. The laminate flooring pieces are made to be snapped together along their interlocking edges, which creates a "floating" floor. The flooring sits on a foam underlayment and are held in place by simply their own weight. The foam underlayment can be purchased separately if it is not pre-attached. A moisture barrier is recommended for laminate installations in basements or other high moisture areas.
Does this type of flooring move around or shift since it is a floating floor?
It does not usually tend to move around as you never lay it directly onto the subfloor. It should be installed with a moisture barrier made of rubber as this insulates and soundproofs the layer underneath. These products are meant to work together and stick to each other which prevents the floor from moving around or shifting. Make sure to not use too thick or too soft of an underlayment because it will lead to heavy flexing and noise from the floor movement.
One of the biggest issues with installing the laminate floor yourself is the floor flexing after it is installed – When walking on a laminate floor you can usually tell if it's been installed by a professional or someone with zero experience. You first ensure the floor is flat before installing any floating floor. Dips in the subfloor will cause the floor to flex and can lead to premature failure of the joints. The floor can be made flat with some self-leveling compound.
3 Types of Common Flooring: (besides the common ceramic or porcelain tile)
1) Click lock Laminate Flooring – It's a synthetic floating floor (not adhered to the subfloor) product fused together with a lamination process, with a core of made of melamine resin and fiber board materials and a plastic like top layer with a photographic layer on top under a clear protective layer.
2) Engineered Hardwood – A thin layer of actual stained hardwood product with a clear protective coating laminated to layers of what is like plywood. This can be either floated, or nailed or glued to the floor depending on the product and preference. Cheaper than full hardwood, but you can get closer to a hardwood look with the ease of the installation of laminate.
3) Hardwood Flooring – Thick full hardwood boards, nailed to the subfloor. Pre-finished or stained and protected after it's been installed.