You don't have hundreds of dollars to spend on a bathroom remodel? Why not spend $100 or less and replace your bathtub and shower fixtures? If your bathtub/shower has old fixtures that leak, are rusty, peeling, or are discolored, it is time to remove and replace them. A bathtub fixture replacement kit can completely renew your existing bathtub or shower. It is very easy to do, requires the minimum tools, and will cost you under $100. You can replace the shower head, the faucet handles, the bathtub spout, the drain, and the bathtub overflow assembly. You can buy them separately or in one complete kit. You will be surprised at how much better your bathroom will look for such a small chunk of change!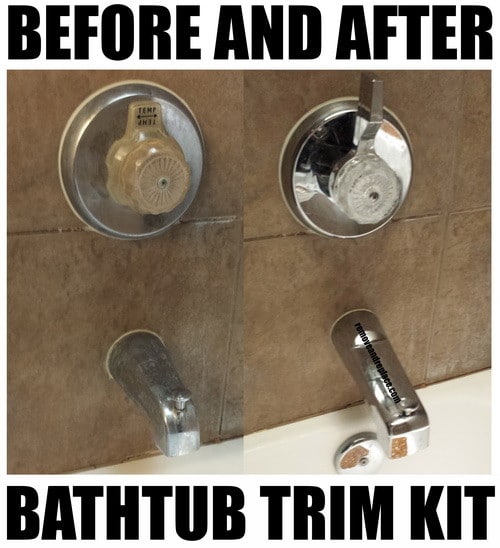 RENEW YOUR BATHTUB SHOWER BY SIMPLY REPLACING THE FIXTURES AT A LOW COST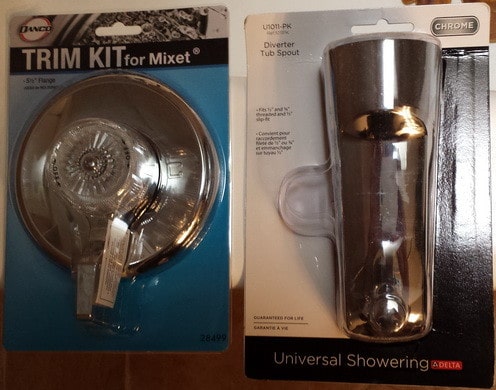 Find the bathtub/shower fixtures that will fit your bathtub/shower (Search Amazon).
We will be replacing the tub spout, the faucet handle & knob, and the chrome plate.
We got a universal tub spout and a Mixet trim kit so we did not have to replace the complete valve.
NOTE: A "universal bathtub spout" will fit 99% of bathtubs and showers.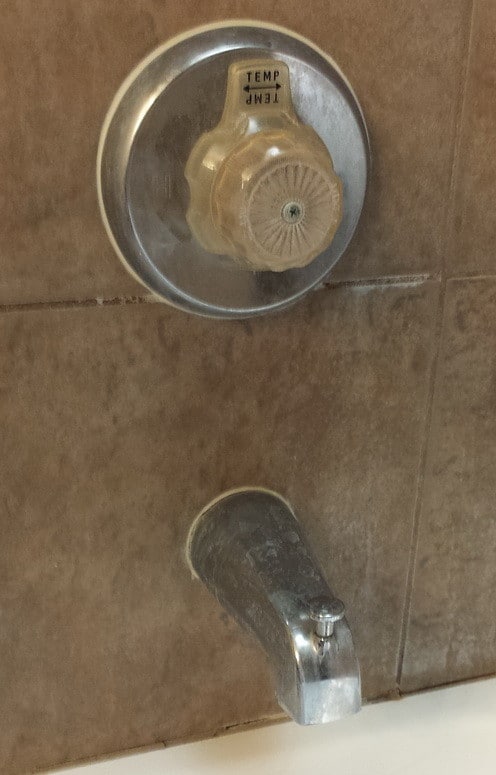 Here is the leaking and discolored water faucet control handle and tub spout that will be replaced.
NOTE: If your tub spout diverter leaks when pulled to turn on the shower, replace it.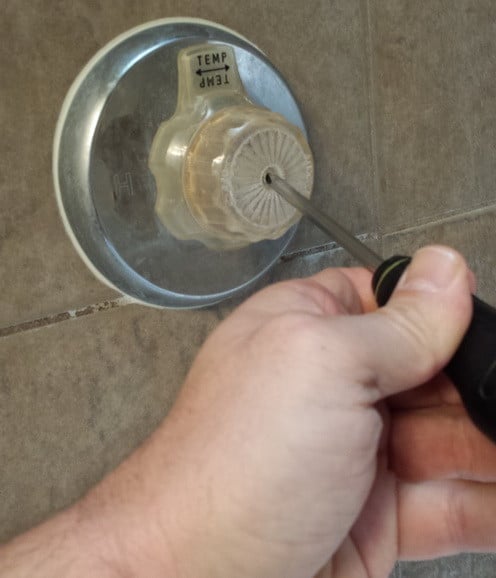 Start by removing the old bathtub faucet handle assembly usually with just a screwdriver.
NOTE: You may need other tools for this such as an allen wrench.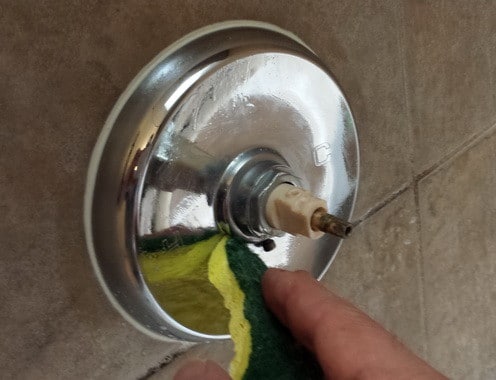 When the parts that are going to be replaced are removed, clean the
existing surfaces with CLR (Calcium – Lime – Rust Remover) and a sponge.
NOTE: Cleaning these areas is recommended as there will be heavy soap scum build up.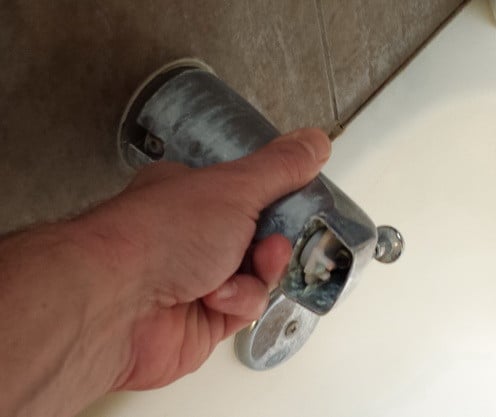 Remove the tub spout by first loosening the set screw at the bottom of the spout.
NOTE: Some tub spouts are threaded on and can be removed by simply unscrewing it.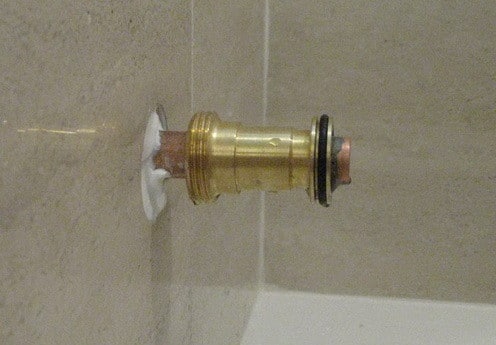 Once the tub spout is removed the pipe coming out of wall will look similar to this.
NOTE: Your new tub spout may not fit on your existing pipe fitting so read the instructions included.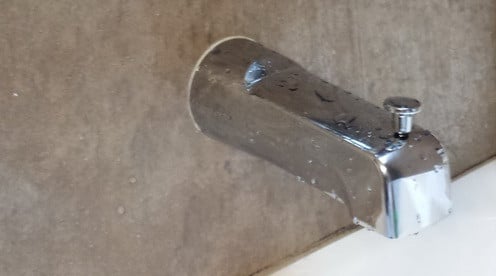 After reading the enclosed instructions, install the tub spout onto the copper pipe.
NOTE: Always use plumbers tape on all threads so no leaks occur.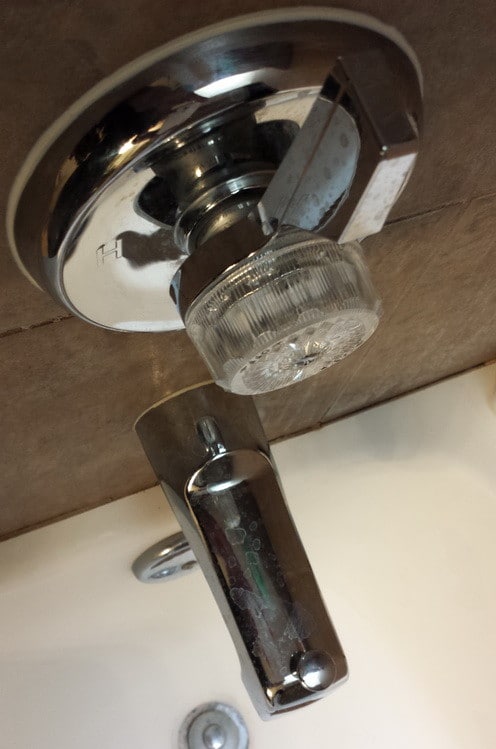 Once you have the new bathtub fixtures installed, test to make sure there are no leaks.
If no leaks are present, you can now seal around the spout and faucet plate with silicone.
NOTE: Also test to be sure that when you pull on the diverter on the tub spout, the shower head sprays.

Here is a diagram to show you where the set screw is when removing your tub spout.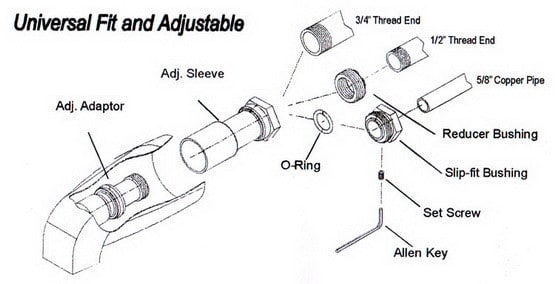 The diagram that will be included with your new tub spout will be similar to this.

HOW TO: Remove and replace a shower bathtub faucet handle

HOW TO: Remove and replace a tub spout

HOW TO: Replace a bathtub drain

HOW TO: Install a shower head
Do you have ideas or cheaper ways to update and renew a bathtub or shower? Please leave a comment below.