I just bought a house with 3 windows facing a main road and there is excessive traffic and car noise. I am looking into soundproofing the windows as the noise is so loud it is difficult to sleep. I used to live in a home on the same road and it had secondary windows installed. Those secondary windows blocked almost all the traffic noise. It was extremely quiet because the secondary windows were made from something called Silence glass. I do not have tons of money to install secondary windows in my new house. Are there better alternatives or a cheaper way to block traffic noise from coming through the windows without spending too much money?

There are other options besides secondary windows. Some are a fast and cheap alternative and some may cost a bit more. Here are some tips and tricks to help you to soundproof a window…

Check for any air gaps and seal them off with expanding sealer foam.
Apply a thick rubber double sided insulation tape around the window areas that open and close.
Check your wall insulation. Your walls may not be properly filled with insulation. There are DIY ways to soundproof your walls.
Purchase HEAVY DUTY window black out blinds (noise blocking window curtains) that will absorb noise as well as light. They are very heavy curtains that advertise noise and light blockage.
Have a professional Window company come out and quote you for window soundproofing. Professional soundproofing will block the traffic noise and the heat or the cold.
Install exterior storm windows to add to the thickness of the windows to block more noise and temperature.
Add a giant thick rug to the floor of the room as sound will absorb or dampen into it.
Install Acoustic Wedge Soundproofing Studio Foam Tiles on your walls as your walls may be leaking noise through just as your windows are.
Add furniture such as a couch or similar to the wall where the noise is coming from as furniture does absorb or dampen noise.

DIY Soundproofing – How to Soundproof a Window or Room
There are DIY methods that you can build and install on the inside of your windows that involve a metal frame that needs to be installed in the window. A perfectly cut Acrylic window is put into the window and is held in place by magnets over the steel frame that is installed. This will reduce noise and insulate your home. See picture below for an illustration of this process.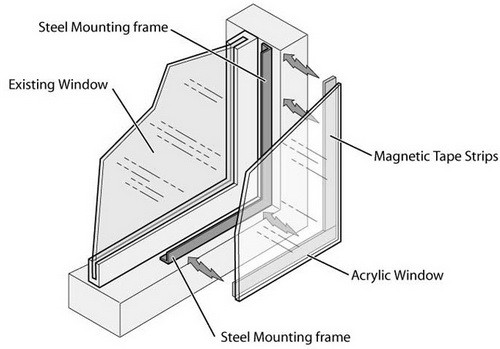 DIY Soundproof Window Method Using Acrylic Window and Magnetic Tape Strips
Below is a chart that shows Light soundproofing versus Heavy soundproofing. The items that are used for Light sound proofing are Drapes, Exterior storm windows, Plastic films, and Replacement. The items that are used for Heavy sound proofing is a Custom sound plug, a Secondary window, a Sound control window, and Remove and Replace.

Light and Heavy Duty Soundproofing Comparison
If you know of a better or more efficient and fast way of soundproofing a window, please leave a comment below to give us your insight. Any additional tips or tricks you can add are much appreciated.