Compact kitchens need efficiency. If you have a small to medium sized kitchen, you know that more storage and workspace is needed. To maximize the existing space in your smaller kitchen, you need to make it as efficient as possible. Using different types of storage layouts and workspace designs, you can achieve maximized storage and workspace. Below we will show you 35 ways to organize your pots, pans, pantry items, spices, food items, cutting boards, drawers, cabinets and more. More kitchen organization ideas here.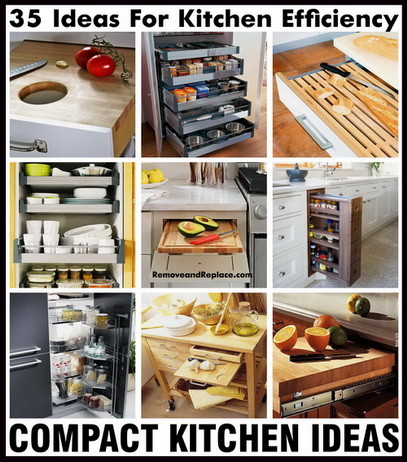 Martha Stewart's Tips for Easy Kitchen Organizing
Here is information on the kitchen work triangle from Kohler. It states… "Modern kitchens have three primary work areas: the refrigerator, the stove, and the sink. The work triangle consists of a logical, ergonomic arrangement of these three work areas to make kitchen work easier and more efficient."
Do you know of a simple or efficient way to maximize kitchen space? Please leave a comment below.