Should I rinse the dishes or leave them dirty when putting in dishwasher? I have heard that it is good to rinse off my dishes before I put them in the dishwasher. I have also been told to not rinse my dishes before putting them in my dishwasher. Which is the best and most efficient way, to pre-rinse the dishes or leave them dirty?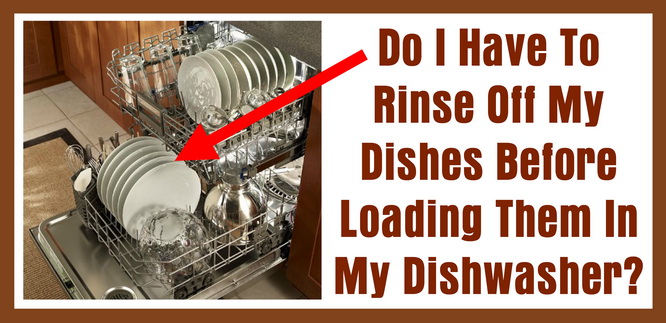 Quick Answer: When you rinse dishes before you wash them, you waste water and your time. Do not rinse off your dishes before putting them in the dishwasher. Your dishwasher is made to CLEAN your dishes using heat and enzymes from the detergent, so pre-rinsing is not necessary. However, do not leave large pieces of food on your dishes, plates, utensils, glasses, bowls, or cups as the chunks of food can fall down into the dishwasher and clog the drain.
The cups, dishes, utensils, etc, that you put in your dishwasher SHOULD be dirty for the dishwasher and the detergent to work properly to clean and do the job it was designed to do.
Why is leaving my dishes dirty better than rinsing before the dishwasher?:
If the dishes you put in your dishwasher are rinsed off and cleaned, the enzymes in your dishwashing detergent (such as Cascade) is not able to attach to the food on the dishes. If the detergent has nothing to cling onto, the dishes will not be cleaned and sanitized properly. If the dishes are rinsed off before putting them in the dishwasher, the cleaning detergent in the dishwasher has nothing to stick to and will get rinsed away prematurely.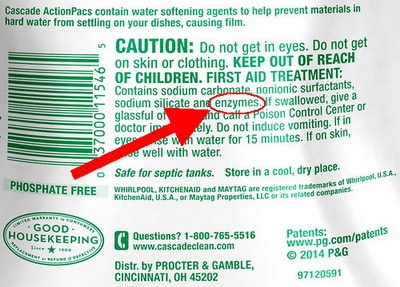 Dishwashing detergent has enzymes that stick to food on dishes to clean
Most people think that if you rinse and wash your dishes by hand before putting them in the dishwasher, the dishes will be cleaner after they are washed in the dishwasher. This is not true. Don't waste your time pre-rinsing by hand as your dishes will not get any cleaner. In fact they might not be as clean and sanitized if you pre-rinse the dishes before washing them in the dishwasher.
It has been shown that if you pre-rinse your dishes, you are wasting over 4,000 gallons of water or more every 365 days. Compare that to your dishwasher which uses at most 5 gallons of water per wash cycle. That number adds up to saving more money on your water bill by not pre-rinsing your dishes. So leave your dishes dirty, let your dishwasher do it's job, and save money on your water bill too!
NOTE: If you are going to have your extra dirty dishes sitting in the dishwasher for awhile before washing them, you may want to pre-rinse the dishes to pre-moisten the food particles. You can load them in the dishwasher and run a simple rinse only cycle. On most dishwashers, this will run for a quick 10 minutes and will moisten the food particles so when you go to wash, the dishes clean easier and faster.
Use a highly rated energy star dishwasher as this will save on electricity usage and use less water. Today's dishwashers are loaded with technology to help clean your dishes better and faster. New dishwashers are quieter, smarter, and more reliable than the dishwashers of older days. If you have a choice, buy one of the most highly rated dishwashers and you will have the cleanest most sanitary dishes and save money at the same time.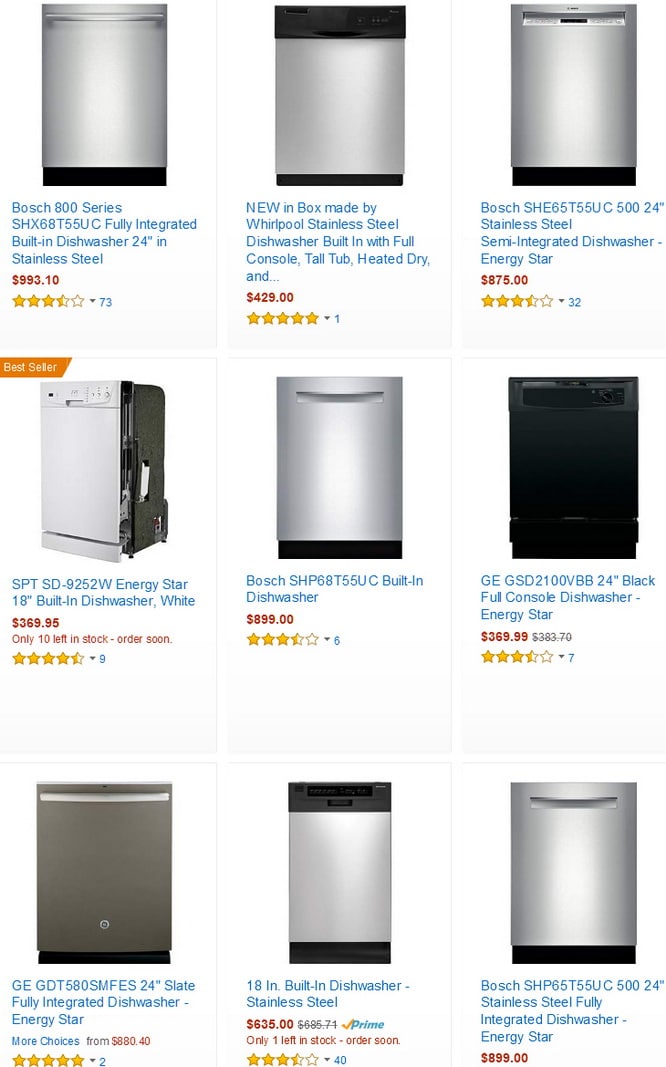 Best Selling Energy Star Built In Dishwashers
Use a dishwasher CLEAN/DIRTY magnet sign to let you know when the dishes are clean or when they are dirty. A clean/dirty sign is recommended if your family keeps re-washing clean dishes or putting dirty dishes in with the clean ones.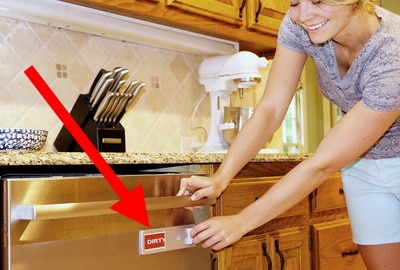 Dishwasher Magnet CLEAN DIRTY – Sign Tells If Dishes Are Clean or Dirty

Dish Nanny – Dishwasher Dirty Clean Sign