Save on your electric bill by replacing older incandescent light bulbs with LED light bulbs. An LED light bulb (LED = Light Emitting Diode) uses 80% to 90% less energy than the average incandescent light bulb.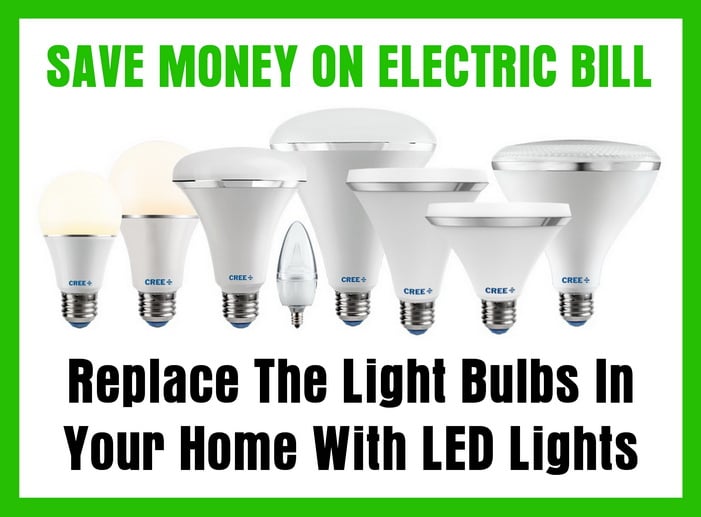 Replace The Light Bulbs In Your Home With LED Lights
Can I Save Money Switching To LED?
An LED light bulb can last for 20 years or 20,000 to 50,000 hours when used for 5 to 6 hours a day. LED light bulbs produce NO HEAT as this is the perfect solution for summer time when your Air Conditioner is running all day. As you can see, there are many advantages to using LED light bulbs in your home vs incandescent light bulbs.
If you choose to remove your incandescent light bulbs and replace them with LED bulbs, you will save approximately 80% to 90% in electrical energy costs. However, changing your bulbs to LED can be expensive and sometimes confusing. To buy the LED bulbs cheaper, you can purchase your LED light bulbs in bulk and save money.
Today's LED bulbs have gotten much cheaper and are now much more affordable than in the past. When you BEGIN replacing your incandescent light bulbs, begin in the rooms you use the most to get the highest use out of the LED bulbs. Check out the best priced LED light bulbs to buy in bulk. Read more info below to get tips on LED lights and the advantages of having them.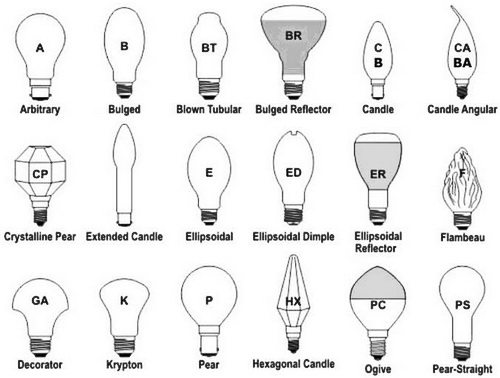 Here is a Light Bulb Shape Type Size Identification Chart
To make sure you are getting the correct LED bulb
INFORMATION EXPLAINING LED LIGHT BULBS
Lumens tell you how bright the LED will be – The higher the Lumens number, the brighter the light.
Warm LED lights are more YELLOW color and Cool LED lights are more BLUE color.
Choose the proper LED bulb for certain areas such as laundry room vs living room.
Be sure to get DIMMABLE LED LIGHT BULBS if the lights are going into a switch controlled by a light dimmer switch
Replacing bulbs in your refrigerator with LED are perfect as LED Lights emit NO HEAT.
Since LED bulbs produce NO HEAT, they are great to use in summertime so LESS HEAT is generated in your home.
Buy your LED light bulbs in BULK to save money when buying them to replace the old incandescent light bulbs.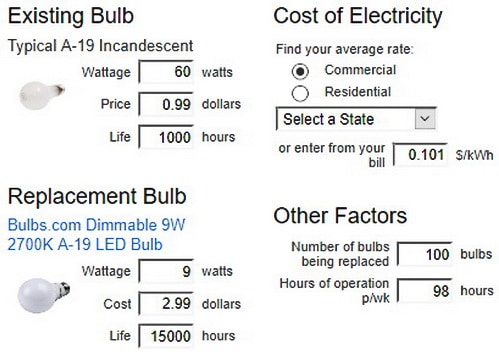 LED Light Bulb Savings Calculator
DO LED LIGHT BULBS EMIT HEAT?
For an example, if you have 4 incandescent light lamps turned ON and 8 ceiling incandescent lights turned ON in the summer time in your living room, this will produce excess or extra heat and will make your AC work harder to cool down the room or house. By replacing the incandescent bulbs with LED bulbs there will be no heat generated or emitted from the bulbs. This will also save you money as your air conditioner does not have to stay ON as long to cool down the room.
HOW LONG DO LED LIGHT BIULBS LAST?
Since LED lights last so long, they do not have to be replaced as much as a normal incandescent light bulb. This is a great advantage as some homes have high vaulted ceiling light bulbs or high chandeliers that are hard to reach. By replacing all the hard to reach incandescent light bulbs, you will not have to get that ladder out every 6 months to a year to replace the bulbs. LED light bulbs may cost more in the beginning but will save you a ton of money over a span of multiple years. It has been shown that you could go through or have to replace 25 to 30 incandescent light bulbs versus 1 LED light bulb.
LED BULB WATTAGE AND LED LUMENS CHART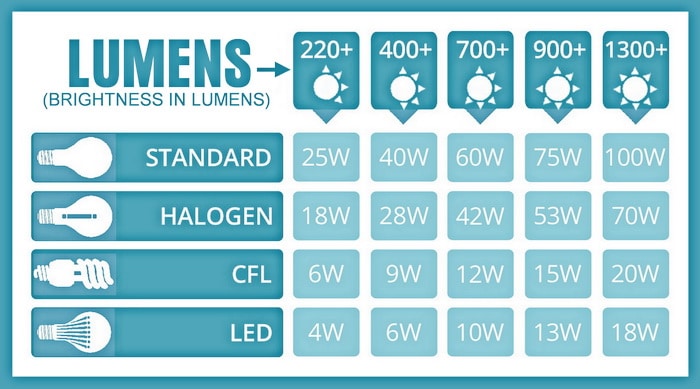 (Remember – The Higher The LUMENS, The BRIGHTER The Light Will Be)
4 WATT LED LIGHT BULB = 220+ LUMENS
6 WATT LED LIGHT BULB = 400+ LUMENS
10 WATT LED LIGHT BULB = 700+ LUMENS
13 WATT LED LIGHT BULB = 900+ LUMENS
18 WATT LED LIGHT BULB = 1300+ LUMENS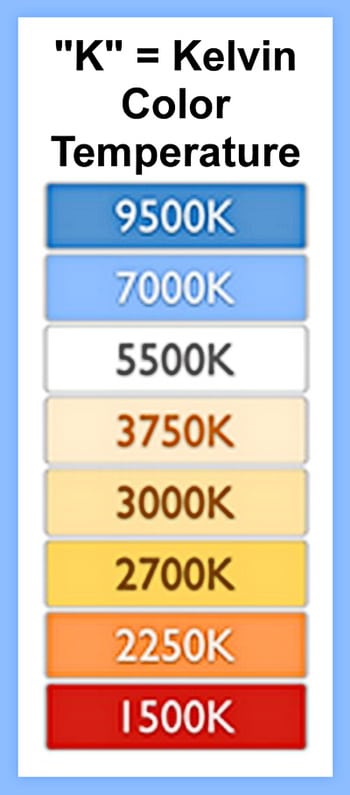 Kelvin "K" Color Temperature Chart
What Does the "K" in LED Bulbs Mean?
Kelvin Color Temperature relates to a measure of color a light source is to black at certain temperatures.
The WARM WHITE LED lights have a color temperature from 2700 to 3500K.
The BRIGHT WHITE LED or bulbs have a color temperature from 5000K to 6000K.
The DAYLIGHT LED bulbs have a color temperature usually over 6000K.
If you want a pure clean white light, use what is called a DAYLIGHT LED BULB.
An incandescent light has a low color temperature which is around 2800K or less and incandescent light has a yellowish glow.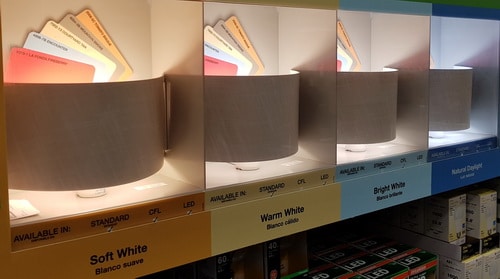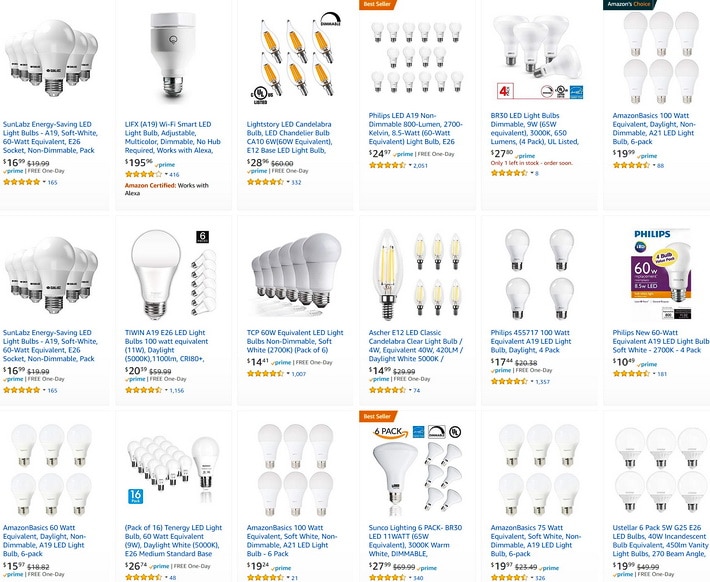 LED Light Bulbs in Bulk

LED Bulb Tips – LED Light Bulbs Information Explained