Changing your refrigerator's water filter ensures that you and your family are drinking clean, healthy water.
When the water filter on your refrigerator needs to be changed, it can be difficult to know which type of water filter to get, or where it should go in the fridge. This information will help you change the water filter on your refrigerator with ease.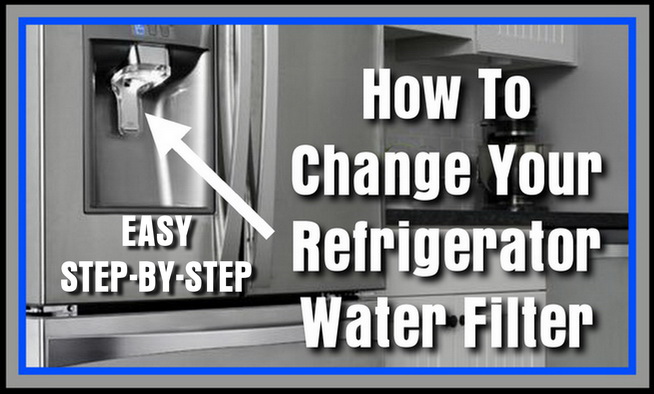 Change Your Refrigerator Water Filter
Why Is It Important To Change A Water Filter?
Refrigerator water filters remove impurities. Chemicals such as lead, chlorine, copper sulfate and mercury are filtered from the tap water. The fridge water filter makes it so we have clean and safe drinking water right from our fridge, so it is very important to change it on a regular basis. Your water will taste better if it filtered properly.
Where Is The Water Filter Located?
The first step is to locate the water filter that needs changed. On some refrigerators, this will be a small panel near the back or on the top interior of the fridge. It may also be behind or underneath the refrigerator itself.
What Type Of Water Filter Do I Need?
Once you know where the water filter is located, you need to know which type of water filter to get. You need to have the refrigerator water filter that will fit your refrigerator. You can do this by checking the water filter that is in your refrigerator at the moment. Locate the filter and write the information down or take a picture of the water filter.
Where Do I Get My Refrigerator Water Filter?
Now that you know which water filter to get, find your refrigerator water filter online and purchase the filter that will fit. You can also ask a local hardware store or appliance dealer to give you this information and help find your filter type. Once you have the correct water filter, you need to remove and replace the old one, see below…
Steps To Change The Filter On Your Refrigerator:
Locate the water filter in your refrigerator.
Remove the old filter from its housing by pushing in and turning to the left.
Check the filter housing to be sure it is clean and the new filter will install easily. (Check the O-ring on the filter housing for debris or damage if applicable)
Clean off any debris on the new filter and place it into the housing.
Push in and turn the water filter so it sits properly in the filter housing.
Run the refrigerator water dispenser for 5 minutes (5 gallons of water) to remove any air and debris from the water filter and water lines. (you may see the water coming out filled with small debris, this is normal)
Check the water filter housing and water filter in the refrigerator to be sure there are no leaks.
Once everything checks out, enjoy clean water and ice cubes filtered from your refrigerator dispenser.
More Tips About Water Filters
Important: Remember to change your fridge filter every six months.
NOTE: Some refrigerator models may have an indicator light that will come on when the water filter needs to be changed, or a low-flow warning in place of an indicator light.
Filtering your water is one of the most important things you can do to ensure that you are getting high-quality, clean drinking water. Changing your water filter is the easiest way to ensure you are drinking clean and healthy water. The water filter should last about 6 months and you can change it according to the model of your refrigerator and type of water in your area. If you have hard water, you should change your filter more often.
Check the refrigerator manual for more information on how often you need to replace a water filter in your appliance. Refrigerator appliance manuals here
Best Brands of Fridge Filters?
The best brands of refrigerator filters are the OEM brands that are made specifically for your fridge. You can find water filters for your refrigerator here.
This information for changing the water filter in your refrigerator can be used with all refrigerators including, Bosch, Frigidaire, GE, Haier, Hotpoint, Kenmore, KitchenAid, LG, Maytag, Samsung, Toshiba, and Whirlpool.
We can help you find out how often you need to replace your refrigerator filter. Leave a comment below if you have any issues or need help with changing out a water filter on your refrigerator.