*Updated July 26th 2014* If you have a USA Netflix account and you are in another country, we have the American U.S. DNS address codes for you to access your US Netflix account. This list is not meant or to allow anyone to break terms of agreements or streaming rules. The codes are for Americans temporarily living abroad, U.S. Military troops not stationed in the US, and other US citizens that want to access their Netflix account from another country.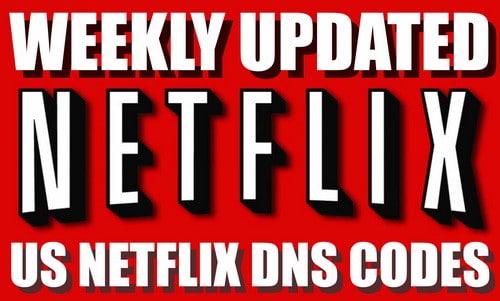 WEEKLY UPDATED USA NETFLIX DNS CODES
Why would anyone want to access there US Netflix account from another country? Well as some people have experienced, the Netflix streaming movie offerings in other countries do not compare to what the US Netflix offers. This means more choices and 10 times the selection. Americans that are temporarily overseas or in Canada will notice less of a selection. You will need to enter the DNS addresses in the network settings of your device. For example if you are using a ROKU, PS3 or an Xbox you can enter the DNS settings through the network settings on the device.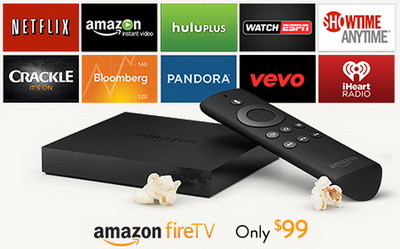 No more typing, simply speak the Netflix movie you want with the Amazon Fire TV!
This list offers different DNS codes to use with most recent at the top of the list (JULY 2014):
NEWEST! JULY 26th 2014:
Primary:  214.005.182.127
Secondary: 213.005.182.117
NEW! JULY 18th 2014:
Primary: 192.096.016.109
Secondary: 109.123.111.024

NEW! JULY 9th 2014:
Primary: 208.122.023.023
Secondary: 208.122.023.022
NEW! JULY 1st 2014:
Primary:  213.005.182.117
Secondary: 109.074.012.090
NEW! JUNE 25th 2014:
Primary:  192.168.000.001
Secondary: 88.80.186.67
NEW! JUNE 24th 2014:
Primary:  109.14.36.90
Secondary: 109.123.111.24
NEW! JUNE 19th 2014:
Primary:  165.243.065.031
Secondary: 109.014.036.090
NEW! JUNE 13th 2014:
Primary: 173.199.144.68
Secondary: 206.214.214.28
NEW! JUNE 9th 2014:
Primary:  109.74.12.90
Secondary: 213.5.182.117
NEW! JUNE 1st 2014:
Primary:  162.243.065.031
Secondary: 000.000.000.000
NEW! MAY 29th 2014:
Primary:  88.80.186.67
Secondary: 162.243.65.31
NEW! MAY 25th 2014:
Primary:  192.95.16.109
Secondary: 184.169.139.227
NEW! MAY 24th 2014:
Primary:  88.89.186.67
Secondary: 88.80.186.66
NEW! MAY 19th 2014:
Primary:  209.244.0.3
Secondary: 209.244.0.4
NEW! MAY 2014:
Primary:  213.5.183.137
Secondary: 214.5.186.119
NEW! APRIL 2014:
Primary:  88.80.186.67
Secondary: 88.80.186.66
NEW! APRIL 2014:
Primary:  69.42.58.18
Secondary: 213.5.182.117
The US Netflix DNS Codes below are not as recent as the ones above but may still be working.
Give them a try anyway as most users report that they still work perfectly.

Primary: 208.122.23.22
Secondary: 208.122.23.23
Primary: 23.21.182.24
Secondary: 50.22.147.234
Primary:  213.5.182.117
Secondary: 109.123.111.24
Primary: 184.169.139.227
Secondary: 177.71.180.81
Primary: 190.14.36.90
Secondary: 109.123.111.24
Primary: 149.154.158.186
Secondary: 199.167.30.144
Primary: 184.106.242.193
Secondary: 67.23.7.56
Primary: 176.58.107.53
Secondary: 54.247.108.9
Primary: 192.95.16.109
Secondary: 67.23.7.56
Primary: 69.197.169.9
Secondary: 192.95.16.109
Primary: 109.123.111.24
Secondary: 192.95.16.109

Regional Netflix DNS Codes – Free Codes For DNS Netflix United States
Asia: 108.174.147.177
Canada: 69.42.58.18
Europe Continental: 213.5.182.117
Europe North (GB): 46.149.22.148
Europe Scandinavia: 109.74.12.20
South America: 177.54.149.65
To watch US Netflix using an iPad or iPhone… go to SETTINGS, then to WI-FI and click the blue arrow for YOUR WI-FI NETWORK. Scroll down to DNS and enter 109.123.111.24 in place of what is already there. This will give your iPad the correct settings to watch American based Netflix.
If you are having any issues after entering the new DNS codes, the best thing to do is reboot your device to refresh everything. Many times while adding a new DNS to the PS3 or AppleTV, you will need to reboot or turn off your device and restart it. When this is done the streaming device will reboot with the new DNS codes and will fix the issue. The american dns codes and address settings on this page work in most international countries. They have been tested in the UK and Canada.
No matter what device you currently are using to access US Netflix, it will work if you enter in the proper DNS codes. You can watch US Netflix if you have an American Netflix account. You must enter the above DNS addresses in the Network settings of the device you want to use. This can be done on a Wii, Xbox 360, Playstation, PS3, PS4, Blu-Ray DVD players, AppleTV, PC computers, ROKU streaming player and much more. Watching Netflix can also be done on an iPad, Google Tablet, iPhone, Android Phone, Windows Phone and many other mobile devices using this method. When this method is applied to mobile devices and computers, your computer will think it is in the USA and certain Internet searches will be targeted for USA users. Remember to change your DNS settings back if you want your computer or mobile device to know what country you are in!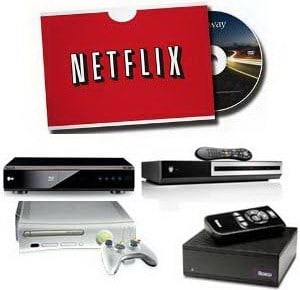 How to set the DNS codes on your PS3 for US Netflix:
Log into your PS3.
First choose Network Settings.
Then choose Internet Settings.
Answer Yes, and it will disconnect you from the internet.
Select the custom option.
Keep all settings except the DNS Settings.
Choose manual option.
Enter the DNS numbers.
Save your settings and reboot your PS3.
You can now watch USA Netflix on your Playstation in the UK and Canada.
How to set the DNS codes on your PS4 for USA Netflix:
Go to "Settings".
Go to "Network".
Go to "Set up internet connection".
Choose "Use Wi-Fi".
Choose "Custom".
Choose your Wi-Fi network and enter password.
Choose "Automatic".
Choose "Do Not Specify".
Choose "Manual".
Change your Primary and Secondary DNS codes.
Click "Next".
Choose "Automatic".
Select "Do not use".
Select "Test Internet Connection".
Go to Netflix and TEST.
How to set the DNS codes on your XBOX 360 for UNITED STATES Netflix:
Go to settings tab.
Choose system.
Go to network settings.
Choose your WiFi network.
Choose configure network.
Select the box with your DNS address.
Choose manual.
Edit your primary and secondary DNS servers.
Press done.
Press B to go back, and choose Test Xbox Live Connection.
After the test is done then test Netflix.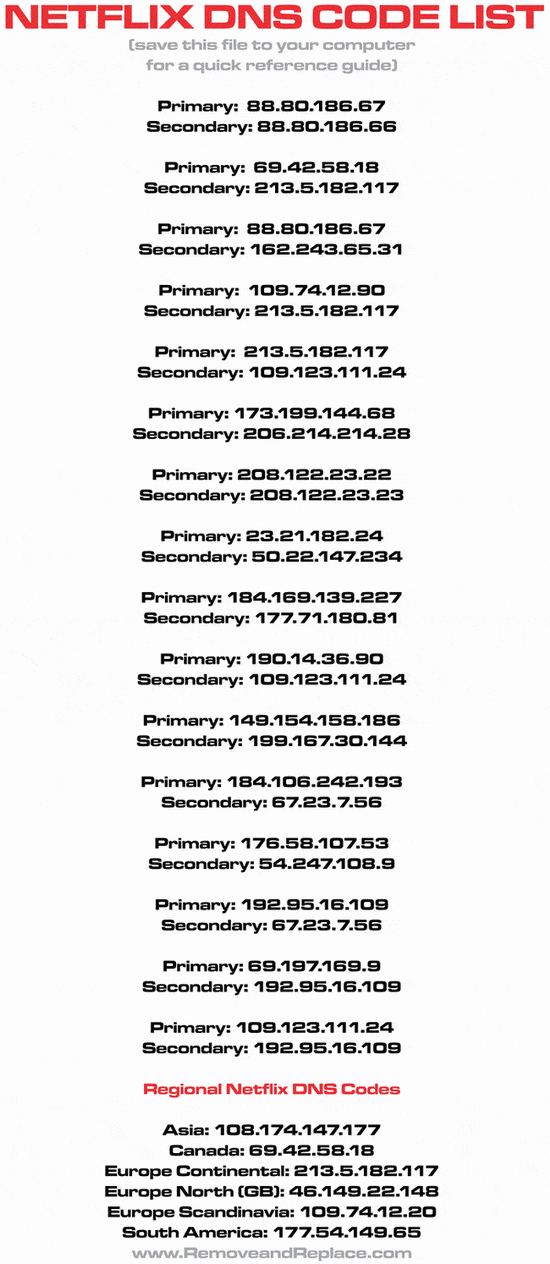 NETFLIX DNS CODE LIST – If you live outside the USA and use Netflix, you can use this DNS
code list to watch USA based Netflix and get a better selection of movies and tv shows to watch.
NOTE: All of the Updated DNS Codes For Netflix USA will work in the following countries…
Afghanistan, Albania, Algeria, Andorra, Angola, Antigua & Deps, Argentina, Armenia, Australia, Austria, Azerbaijan, Bahamas, Bahrain, Bangladesh, Barbados, Belarus, Belgium, Belize, Benin, Bhutan, Bolivia, Bosnia Herzegovina, Botswana, Brazil, Brunei, Bulgaria, Burkina, Burma, Burundi, Cambodia, Cameroon, Canada, Cape Verde, Central African Rep, Chad, Chile, People's Republic of China, Republic of China, Colombia, Comoros, Democratic Republic of the Congo, Republic of the Congo, Costa Rica,, Croatia, Cuba, Cyprus, Czech Republic, Danzig, Denmark, Djibouti, Dominica, Dominican Republic, East Timor, Ecuador, Egypt, El Salvador, Equatorial Guinea, Eritrea, Estonia, Ethiopia, Fiji, Finland, France, Gabon, Gaza Strip, The Gambia, Georgia, Germany, Ghana, Greece, Grenada, Guatemala, Guinea, Guinea-Bissau, Guyana, Haiti, Holy Roman Empire, Honduras, Hungary, Iceland, India, Indonesia, Iran, Iraq, Republic of Ireland, Israel, Italy, Ivory Coast, Jamaica, Japan, Jonathanland, Jordan, Kazakhstan, Kenya, Kiribati, North Korea, South Korea, Kosovo, Kuwait, Kyrgyzstan, Laos, Latvia, Lebanon, Lesotho, Liberia, Libya, Liechtenstein, Lithuania, Luxembourg, Macedonia, Madagascar, Malawi, Malaysia, Maldives, Mali, Malta, Marshall Islands, Mauritania, Mauritius, Mexico, Micronesia, Moldova, Monaco, Mongolia, Montenegro, Morocco, Mount Athos, Mozambique, Namibia, Nauru, Nepal, Newfoundland, Netflixfixer, Netherlands, New Zealand, Nicaragua, Niger, Nigeria, Norway, Oman, Ottoman Empire, Pakistan, Palau, Panama, Papua New Guinea, Paraguay, Peru, Philippines, Poland, Portugal, Prussia, Qatar, Romania, Rome, Russian Federation, Rwanda, St Kitts & Nevis, St Lucia, Saint Vincent & the, Grenadines, Samoa, San Marino, Sao Tome & Principe, Saudi Arabia, Senegal, Serbia, Seychelles, Sierra Leone, Singapore, Slovakia, Slovenia, Solomon Islands, Somalia, South Africa, Spain, Sri Lanka, Sudan, Suriname, Swaziland, Sweden, Switzerland, Syria, Tajikistan, Tanzania, Thailand, Togo, Tonga, Trinidad & Tobago, Tunisia, Turkey, Turkmenistan, Tuvalu, Uganda, Ukraine, United Arab Emirates, United Kingdom, Uruguay, Uzbekistan, Vanuatu, Vatican City, Venezuela, Vietnam, Yemen, Zambia, and Zimbabwe.
NOTE: You can use unlocator.com and UNOdns (unotelly.com) to also hide your DNS to watch Netflix in other countries.
If you have questions, comments or have found a DNS that is new and working, please leave a comment below so we can share it with everyone.