Is your refrigerator not cooling? Is your older or newer model refrigerator plugged in, getting power, the lights are on inside but the fridge will not cool and the freezer won't freeze? If your refrigerator or freezer has suddenly stopped cooling and the freezer won't freeze, we have multiple solutions for you.
If you hear a clicking sound coming from the back of your refrigerator/freezer, then the problem is most likely the compressor is overheating or not getting proper power and will not start. The compressor is the component on your refrigerator that allows your refrigerator to cool. If this component is not working properly your refrigerator will stop cooling. Most of the time the compressor is not the component that has failed.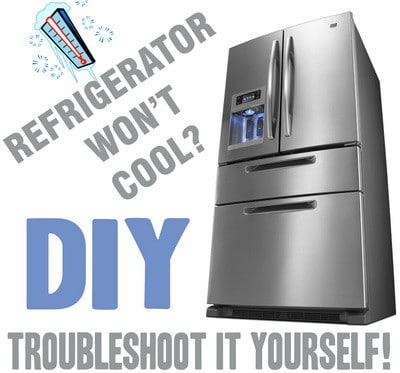 There are other parts on your refrigerator that have to start the compressor. The most common component that is most likely to fail is the capacitor. The capacitor is energized and sends a boost to the compressor to start. If this capacitor is bad then the compressor will not start. The "clicking" sound that you hear is the overload or overheating of the compressor. The compressor is trying to start and will get very hot and go into overload causing the clicking noise that you hear. (Also, the condenser coils may be dusty and dirty preventing your fridge from cooling properly, see bottom of page to fix).
What to check first and most Common Problems and Solutions for a Refrigerator that will not Cool:
1. DIRTY CONDENSER – CLEAN THE CONDENSER COILS AND FAN
2. TEMPERATURE SETTING TURNED TO LOW – TURN TEMPERATURE SETTING TO COLDER
3. CIRCUIT BREAKER TRIPPED – POWER SPIKE – RESET CIRCUIT BREAKER
4. COMPRESSOR WON'T START – FAILED CAPACITOR – REPLACE CAPACITOR
5. COMPRESSOR NOT STARTING – BAD RELAY – REPLACE RELAY
6. DEFROST TIMER MALFUNCTION – REPLACE DEFROST TIMER OR COMPUTER CONTROL BOARD
7. FAILED DOOR SEAL – REPLACE WORN OUT DOOR SEAL
8. FAILED COMPRESSOR – REPLACE COMPRESSOR
For other refrigerator issues, here is a DIY Troubleshooting Guide For Your Refrigerator.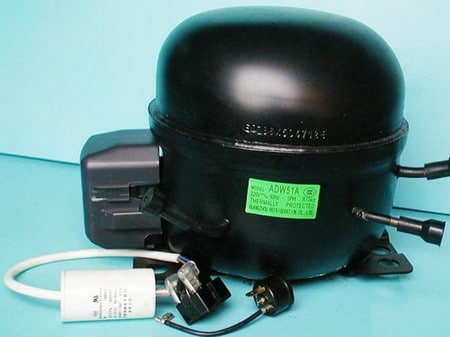 A compressor is what allows your refrigerator to cool and freezer to freeze.
If this sounds like the problem with your refrigerator and or freezer (a clicking sound and not cooling), you can fix it yourself fairly easy. First start by unplugging your refrigerator and getting behind your refrigerator. Using a multimeter, test the starting components including the capacitor and relay (if applicable) that is located next to the compressor. Most likely the capacitor or the relay will be the cause of the problem. When your refrigerator makes the clicking noise it means the compressor is trying to start but is unable too. The refrigerator part that starts the compressor is the capacitor/relay.
You can purchase a universal refrigerator capacitor that is designed for a refrigerator for around $10 dollars. If the capacitor is good, another part of the start system could be bad. Test everything with a multimeter and determine what part may have failed. If you determine that everything is working properly and is free from dirt but the refrigerator will still not cool, then the problem could be a bad compressor. At this point you should call a repair company. Most repair companies charge $200 or more to replace a compressor. A new refrigerator costs from $300 to $800. So, do the math and figure out what is the best solution for you.
If you know what Refrigerator Replacement Parts you need,
here is where to get them at a GREAT PRICE and most have FREE shipping.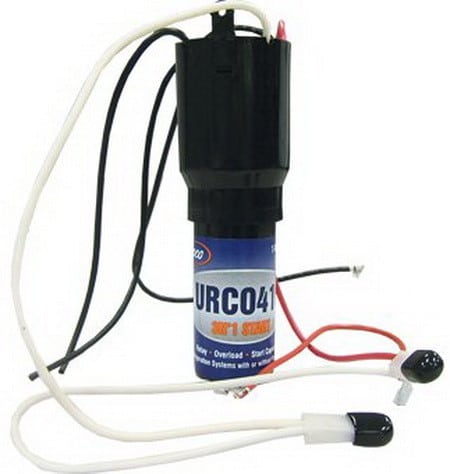 This is a Universal Capacitor designed for most older style Refrigerators and Freezers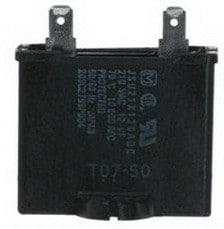 This is a Newer Style Capacitor/Relay designed for most new style Refrigerators and Freezers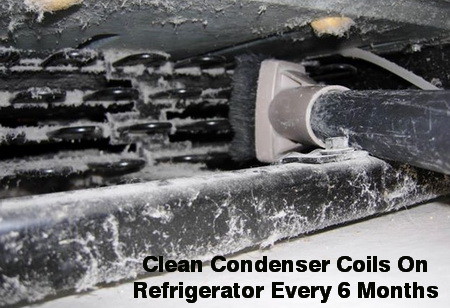 Clean your Refrigerator Condenser Coils every 6 months for Problem Free Operation.
Another very common problem with a refrigerator not cooling is a dirty condenser. If the condenser coils are dirty, the compressor will overheat and will cut off on the overload. There is a thermostat on the compressor that shuts it off when it overheats. This will also make a clicking noise about 2 to 3 minutes apart coming from the back of your refrigerator. That clicking noise is your compressor turning on and off as it overheats and then cools down.
To check to see if you have dirty condenser coils, unplug the power cord, get behind your refrigerator and remove the small panel at the bottom of the fridge. If you see dust or dirt buildup on the components, use a vacuum cleaner with a wand attachment or a coil cleaning brush and remove all dirt and dust. Once the coils are clean leave the fridge unplugged for an hour or so.
After an hour plug the refrigerator back in. Give the fridge a few minutes to start working properly and then check to see if it is running. You should hear the condenser fan running from the back. Leave the fridge alone for a little while and then check to see if the fridge and freezer is cooling. Do this by opening the freezer and refrigerator door and hold your hand where the cool air comes in. If everything is working properly you should feel cool air coming in. If so the problem is fixed. Remember to clean the coils on your refrigerator every 6 months to avoid this problem in the future.

Kenmore & Whirlpool Refrigerator – Not cooling or freezing – Diagnostic & Repair

Refrigerator Isn't Cooling — Refrigerator Troubleshooting
If you still need help, assistance, or answers to fix your Refrigerator Not Cooling problem, ask the
experts over at Appliance Repair Questions for free answers to fix your broken appliance!
Need help? Ask your Refrigerator question below and we can help.