The freezer drain hole and drain line in the bottom of my freezer keeps icing up. This issue causes water to drip down and into the refrigerator compartment. This causes water in bottom of the refrigerator. We have removed the cover on the inside of freezer to clean out any ice buildup. After we clean all the ice out, within a few weeks, it freezes up again and the water drips into the fridge and eventually onto the floor. There is a thin layer of ice on the bottom of the freezer. Can you tell me what could be causing this and how I can repair this myself?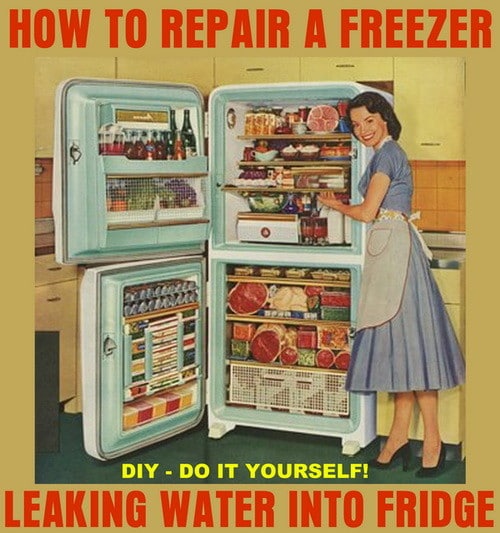 If your fridge and freezer are cooling NORMALLY, then this issue is most likely a plugged drain line. This usually means there are no issues with the defrost thermostat or defrost timer. This type of issue is common on the top and bottom style Whirlpool, Maytag, and Kenmore refrigerators.
The best way to go about unclogging the drain line is to remove the panel covering it and any ice or food particles that may be clogging it. Pour some hot water down into the drain line. The hot water will melt the ice clogging the drain line and stop water from leaking into your refrigerator. You can also use a hair dryer to defrost the ice but use caution. When the water begins to run freely and comes out the other end (into the pan), then it is clear and free of ice. This simple repair procedure should fix your problem. If however the drain line keeps freezing up, see below for how to prevent this from happening again.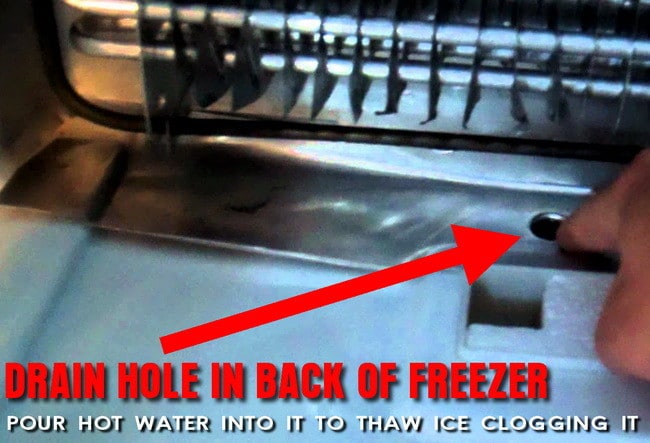 Freezer on top of refrigerator – Location of drain hole that may be frozen over
If the issue is not resolving itself by using a hair dryer or pouring hot water into the drain line, you may have to defrost the fridge/freezer for 24 hours or so. Defrosting the complete refrigerator and freezer will melt any ice that may be clogging the drain line. If your drain line is plugged up bad enough that you have to defrost the fridge and freezer, be sure to unplug and leave the doors open for the 24 hour defrost period. Remove food and items in fridge before defrosting and put them in another fridge while your main fridge defrosts.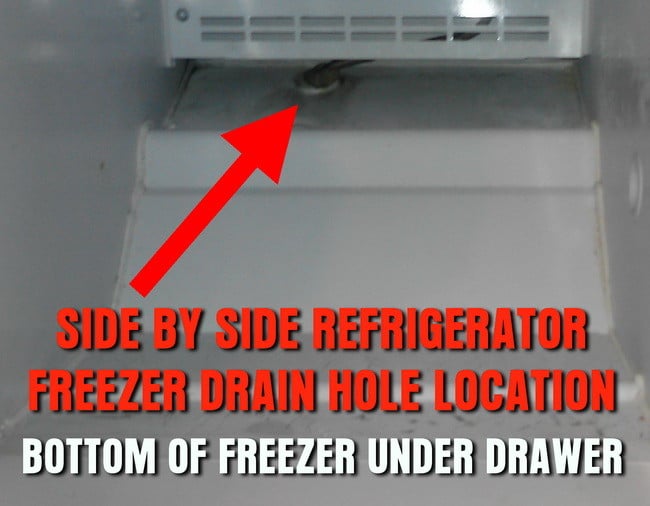 Side by side refrigerator – Drain hole is located in bottom of freezer under crisper drawer
To be sure this does not happen again, there may be a small heating element that is nonfunctional in your fridge. Some refrigerators have it and some do not. Either way, you can install this part to keep the drain line from icing up. It is a genuine replacement heat probe part that can be installed on most FREEZER ON TOP STYLE REFRIGERATORS. This part will come with instructions and should be fairly easy to install. With certain models of refrigerators, you may have to bend the heating element towards the drain to get the probe into the hole.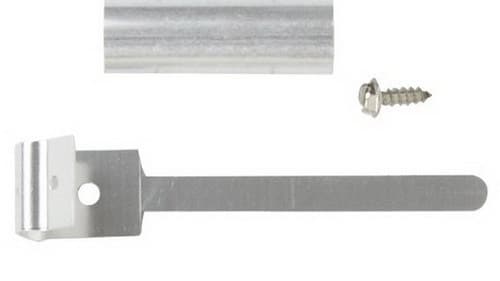 Heat probe for MOST refrigerators to keep drain line clear of ice
This part can work on most refrigerators with french doors, or top and bottom refrigerators. On most refrigerators, there is a heater for the evaporator drain line so it does not freeze up. Some people have reported that either their fridge did not have one or the one that came with the fridge did not work to keep the drain line unfrozen. This part (after defrosting your fridge or unclogging the iced up drain line) should make the issue of a frozen drain line to never happen again.
When the drain line in your fridge freezes up, it causes water to drip either into the fridge compartment or onto the floor (depending on your style of refrigerator). As we stated above, the easiest way to fix this yourself is to simply run hot water through the drain line to allow water to flow. However, if this issue keeps happening, then installing the small heater part for your refrigerator may be your best bet to solving the dripping water issue once and for all.
Many refrigerator manufacturers will add this heat probe for the the drain pipe to let water drain properly. Your part in your refrigerator could have burnt out and is not working. So if you are having the LEAKING WATER FROM FRIDGE ISSUE, then your element may be burnt out and needs to be replaced.

Here is a video to show you how to easily unclog your drain line (Freezer on top refrigerators)

DIY – How to Unclog a Refrigerator Drain Line (Side by side refrigerators)

Samsung Refrigerator Freezing Drain Problem Water Under Drawers
Have another solution for a clogged freezer drain line? Please help our other readers and leave a helpful tip below.