Full list of LG Air Conditioner Multi Split Units and Inverter Fault Codes. When error codes appear on the LG AC remote control or the LG AC LED panel wall unit, this tells the user there's a problem with the LG AC unit. The error code that is displayed will tell you the issue or problem that occurring with the AC.
Knowing what the error code means or its definition will help you to understand and troubleshoot the exact part that needs to be fixed, repaired, cleaned, or replaced. You can then clean, fix, or replace the part yourself therefore saving money.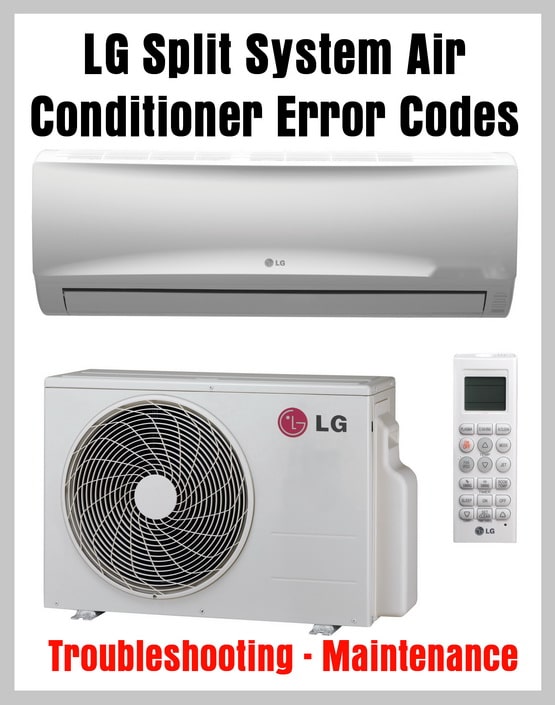 LG Split System Air Conditioner Error Codes – Troubleshooting – Maintenance

When there is a fault or error in your LG AC unit a 2, 3 or 4 digit code will show on the remote control led display. If your LG AC unit does not have a remote control that came with the unit, then the 2, 3 or 4 digit error code will display on the LED panel on the front of the indoor unit.

LG AC Location of LEDs
NOTE: If more than two errors occur at the same exact time, the lower numbered error code will be shown on the display first.
The first 3 LG AC errors are the most commonly reported – This is why they are listed first and out of order = These are Lights Flashing – CH05 – CH10
LG Air Conditioner Error = Lights Flashing
-Switch off the circuit breaker in your AC unit and then switch it on again.
-If there is no loose connection your air conditioner will start its operations normally.
-Check wiring connections for any loose connection on the unit.
-A low refrigerant charge can cause the air conditioner light to blink.
LG Split System Air Conditioner Error code = C5 or CH05
LG AC Fault Definition = Communication between indoor and outdoor units
Flashing Light = 5
Display = Indoor Outdoor
Indoor Operation = OFF
LG Split System Air Conditioner Error code = CA or CH10
LG AC Fault Definition = Discharge temp more than 130 °C – Faulty discharge thermistor
Flashing Light = 10
Display = Indoor Outdoor
Indoor Operation = ON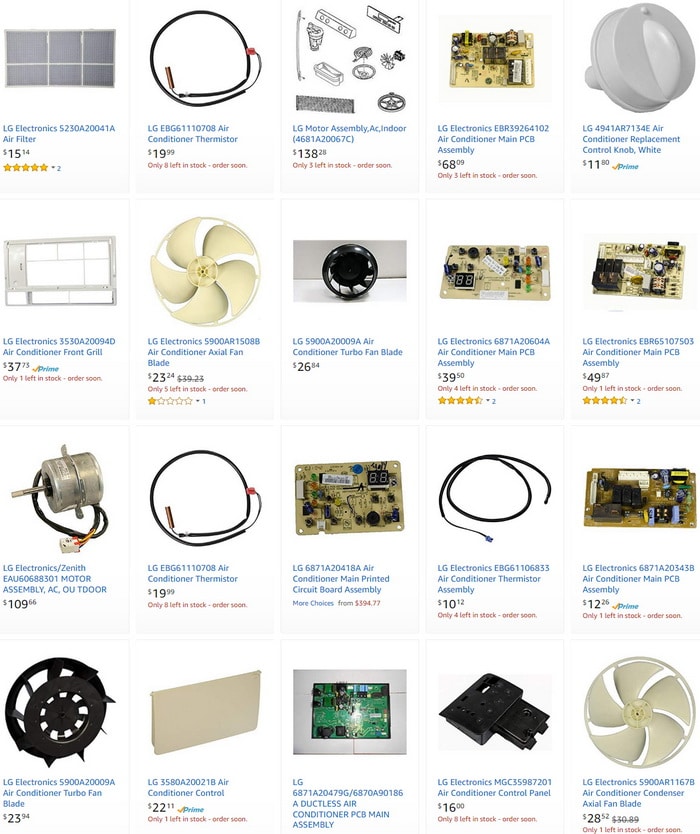 LG Air Conditioner Parts To Fix Error Codes
LG Split System Air Conditioner Error code = C1 or CH01
LG AC Fault Definition = Indoor temperature sensor open or closed circuit
Light Will Flash = 1
Display = Indoor
Indoor Operation = ON
LG Split System Air Conditioner Error code = C2 or CH02
LG AC Fault Definition = Outdoor temperature sensor open or closed circuit – Outdoor air or piping temperature thermistor error
(Measured the resistance of the two thermistors)
Flashing Light = 2
Display = Indoor Outdoor
Indoor Operation = ON
LG Split System Air Conditioner Error code = C3 or CH03
LG AC Fault Definition = Communication (Indoor Wired R/Control) Data Communication Fault
Flashing Light = 3
LG Split System Air Conditioner Error code = C4 or CH04
LG AC Fault Definition = Heat-sink temperature sensor open or closed circuit
Flashing Light = 4
Display = Indoor Outdoor
Indoor Operation = ON
LG Split System Air Conditioner Error code = C5 or CH05
LG AC Fault Definition = Communication between indoor and outdoor units
Flashing Light = 5
Display = Indoor Outdoor
Indoor Operation = OFF
LG Split System Air Conditioner Error code = C6 or CH06
LG AC Fault Definition = Excessive current at inverter DC power circuit – DC Peak Power
Flashing Light = 6
Display = Indoor Outdoor
Indoor Operation = SHUTDOWN
LG Split System Air Conditioner Error code = C7 or CH07
LG AC Fault Definition = Excessive compressor current
Flashing Light = 7
Display = Indoor Outdoor
Indoor Operation = SHUTDOWN
LG Split System Air Conditioner Error code = C8 or CH08
LG AC Fault Definition = Indoor fan not rotating
Flashing Light = 8
Display = Indoor
Indoor Operation = OFF
LG Split System Air Conditioner Error code = C9 or CH09
LG AC Fault Definition = Outdoor fan not rotating
Flashing Light = 9
Display = Indoor Outdoor
Indoor Operation = OFF
LG Split System Air Conditioner Error code = CA or CH10
LG AC Fault Definition = Discharge temp more than 130 °C – Faulty discharge thermistor
Flashing Light = 10
Display = Indoor Outdoor
Indoor Operation = ON
LG Split System Air Conditioner Error code = Flashing CH32
LG AC Fault Definition = Discharge temperature is high – Unit may be low on refrigerant or airflow is blocked – dirty coil or air filter
Display = Indoor
LG Split System Air Conditioner Error code = CC
LG AC Fault Definition = EEPROM error
Flashing Light = 2+1
Display = Outdoor
Indoor Operation = ON
LG Split System Air Conditioner Error code = CD
LG AC Fault Definition = Inverter module error
Flashing Light = 3+1
Display = Outdoor
Indoor Operation = ON
LG Split System Air Conditioner Error code = CL
LG AC Fault Definition = Child Lock Function selected – Not an error – Press Timer and Min buttons at same time for 3 seconds to toggle On/Off
Indoor Status = On
LG Split System Air Conditioner Error code = HL
LG AC Fault Definition = High Limit (Float Switch) – Float switch Open circuit
Indoor Status = Off
LG Split System Air Conditioner Error code = Po
LG AC Fault Definition = System in Power Mode – (not a fault)
Display = Indoor
LG Split System Air Conditioner Error code = Lo
LG AC Fault Definition = System in test mode (not a fault)
Display = Indoor
LG Split System Air Conditioner Error code = 01
LG AC Fault Definition = Air sensor (open/short) – Open / Short circuit
Indoor Status = Off
LG Split System Air Conditioner Error code = 02
LG AC Fault Definition = Inlet pipe sensor – Open / Short circuit
Indoor Status = Off
LG Split System Air Conditioner Error code = 03
LG AC Fault Definition = Communication (Indoor Wired R/Control) – Communication Issue
Indoor Status = Off
LG Split System Air Conditioner Error code = 04
LG AC Fault Definition = Drain pump / Float switch – Float switch Open circuit (High level water alarm)
Indoor Status = Off
LG Split System Air Conditioner Error code = 05
LG AC Fault Definition = Communication(Indoor Outdoor) – Communication Issue
Indoor Status = Off
LG Split System Air Conditioner Error code = 06
LG AC Fault Definition = Outlet pipe sensor – Open / Short circuit
Indoor Status = Off
LG Split System Air Conditioner Error code = 07
LG AC Fault Definition = Different operation mode – Indoor units set in different operation modes
Indoor Status = Off
LG Split System Air Conditioner Error code = 21
LG AC Fault Definition = (Compressor Over-current) – Compressor malfunction, IPM Fault
LED01G = 2 times (Red)
LED02G = 1 time (Green)
Outdoor Status = Off
LG Split System Air Conditioner Error code = 22
LG AC Fault Definition = CT 2 Max. Current – Current is 14A
LED01G = 2 times (Red)
LED02G = 2 times (Green)
Outdoor Status = Off
LG Split System Air Conditioner Error code = 23
LG AC Fault Definition = DC Link Low Volt – DC Link volt
LED01G = 2 times (Red)
LED02G = 3 times (Green)
Outdoor Status = Off
LG Split System Air Conditioner Error code = 24
LG AC Fault Definition = Low / High Pressure – Low / High press switch OPEN
LED01G = 2 times (Red)
LED02G = 4 times (Green)
Outdoor Status = Off
LG Split System Air Conditioner Error code = 25
LG AC Fault Definition = AC Low / AC High Voltage – Abnormal AC volt input
LED01G = 2 times (Red)
LED02G = 5 times (Green)
Outdoor Status = Off
LG Split System Air Conditioner Error code = 26
LG AC Fault Definition = DC Compressor Position
LED01G = 2 times (Red)
LED02G = 6 times (Green)
Outdoor Status = Off
LG Split System Air Conditioner Error code = 27
LG AC Fault Definition = PSC Fault (Reactor)
LED01G = 2 times (Red)
LED02G = 7 times (Green)
Outdoor Status = Off
LG Split System Air Conditioner Error code = 28
LG AC Fault Definition = DC Link High Volts – DC Link Voltage is 420V
LED01G = 2 times (Red)
LED02G = 8 times (Green)
Outdoor Status = Off
LG Split System Air Conditioner Error code = 32
LG AC Fault Definition = Discharge Pipe Temp High (INV)
LED01G = 3 times (Red)
LED02G = 2 times (Green)
Outdoor Status = Off
LG Split System Air Conditioner Error code = 33
LG AC Fault Definition = Discharge Pipe Temp High (Cons)
LED01G = 3 times (Red)
LED02G = 3 times (Green)
Outdoor Status = Off
LG Split System Air Conditioner Error code = 40
LG AC Fault Definition = CT Circuit malfunction
LED01G = 4 times (Red)
Outdoor Status = Off
LG Split System Air Conditioner Error code = 41
LG AC Fault Definition = D-Pipe sensor INV (Open/Short) – Open / Short circuit
LED01G = 4 times (Red)
LED02G = 1 time (Green)
Outdoor Status = Off
LG Split System Air Conditioner Error code = 44
LG AC Fault Definition = Air sensor Open / Short circuit
LED01G = 4 times (Red)
LED02G = 4 times (Green)
Outdoor Status = Off
LG Split System Air Conditioner Error code = 45
LG AC Fault Definition = Cond. Pipe Sensor Open / Short circuit
LED01G = 4 times (Red)
LED02G = 5 times (Green)
Outdoor Status = Off
LG Split System Air Conditioner Error code = 46
LG AC Fault Definition = Suction Pipe Sensor Open / Short circuit
LED01G = 4 times (Red)
LED02G = 6 times (Green)
Outdoor Status = Off
LG Split System Air Conditioner Error code = 47
LG AC Fault Definition = D-pipe Sensor Cons Open / Short circuit
LED01G = 4 times (Red)
LED02G = 7 times (Green)
Outdoor Status = Off
LG Split System Air Conditioner Error code = 48
LG AC Fault Definition = D-Pipe & Air Sensor (Open) – Dual Sensor unplugged
LED01G = 4 times (Red)
LED02G = 8 times (Green)
Outdoor Status = Off
LG Split System Air Conditioner Error code = 51
LG AC Fault Definition = Over Capacity – Over Load Combination
LED01G = 5 times (Red)
LED02G = 1 times (Green)
Outdoor Status = Off
LG Split System Air Conditioner Error code = 52
LG AC Fault Definition = Communication Error (Main micom Sub micom) – Poor/Loss of Communication
LED01G = 5 times (Red)
LED02G = 2 times (Green)
Outdoor Status = 0ff
LG Split System Air Conditioner Error code = 53
LG AC Fault Definition = Communication Error (Indoor Outdoor) – Poor/Loss of Communication
LED01G = 5 times (Red)
LED02G = 3 times (Green)
Outdoor Status = Off
LG Split System Air Conditioner Error code = 54
LG AC Fault Definition = Outdoor 3-Phase Power Supply Reverse Phase / Missing Phase – Incorrect Wiring
LED01G = 5 times (Red)
LED02G = 4 times (Green)
Outdoor Status = Off
LG Split System Air Conditioner Error code = 60
LG AC Fault Definition = EEPROM Check Sum – Check Sum Mismatch
LED01G = 6 times (Red)
LED02G = (Green)
Outdoor Status = Off
LG Split System Air Conditioner Error code = 61
LG AC Fault Definition = Cond Pipe Sensor Temp High – Cond Temp High
LED01G = 6 times (Red)
LED02G = 1 time (Green)
Outdoor Status = Off
LG Split System Air Conditioner Error code = 62
LG AC Fault Definition = Heat-Sink Sensor Temp High
LED01G = 6 times (Red)
LED02G = 2 times (Green)
Outdoor Status = Off
LG Split System Air Conditioner Error code = 63
LG AC Fault Definition = Cond Pipe Sensor Temp Low
LED01G = 6 times (Red)
LED02G = 2 times (Green)
Outdoor Status = Off
LG Split System Air Conditioner Error code = 65
LG AC Fault Definition = Heat-Sink Sensor Open / Short circuit
LED01G = 6 times (Red)
LED02G = 5 times (Green)
Outdoor Status = Off
LG Split System Air Conditioner Error code = 67
LG AC Fault Definition = Outdoor BLDC Fan Lock – Fan Motor/Circuit Problem
LED01G = 6 times (Red)
LED02G = 7 times (Green)
Outdoor Status = Off
LG Split System Air Conditioner Error code = 105
LG AC Fault Definition = Comms Error (Main board Fan board) – Poor/Loss of Communication
LED01G = 6 times (Red)
LED02G = 5 times (Green)
Outdoor Status = Off
LG AC Split System Error Charts and Lists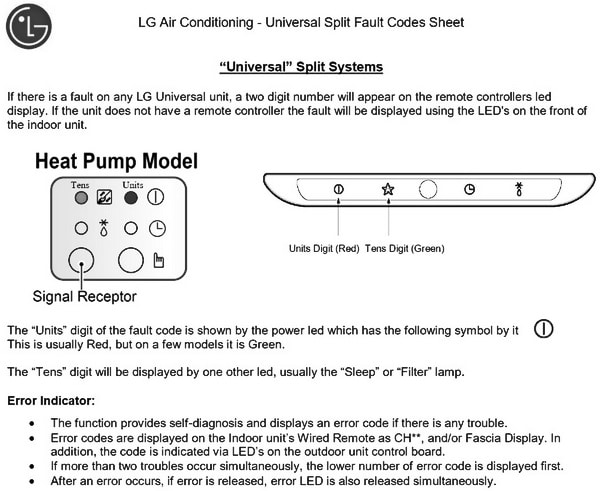 LG Split System Air Conditioner Error Indicators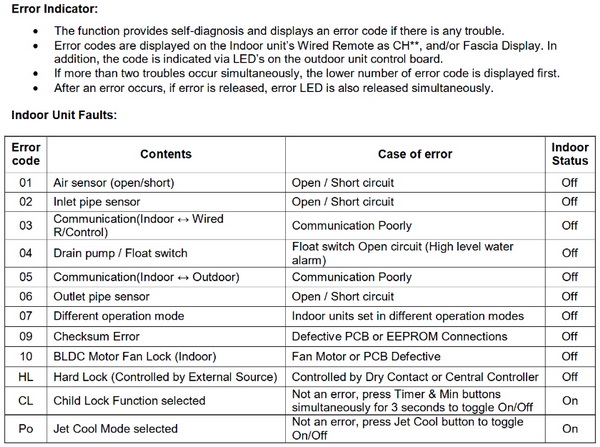 LG Split System Air Conditioner Error Codes 1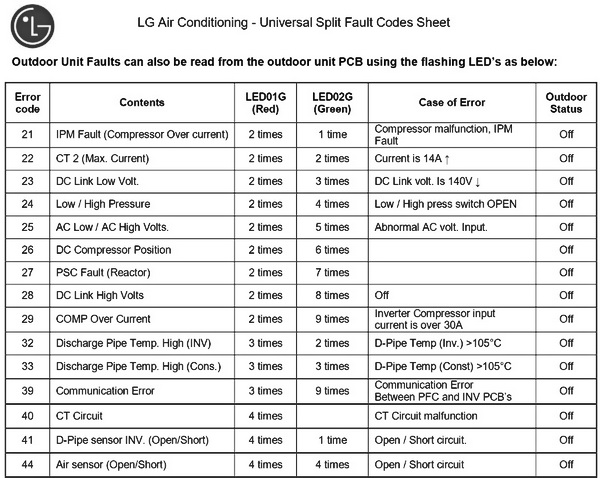 LG Split System Air Conditioner Error Codes 2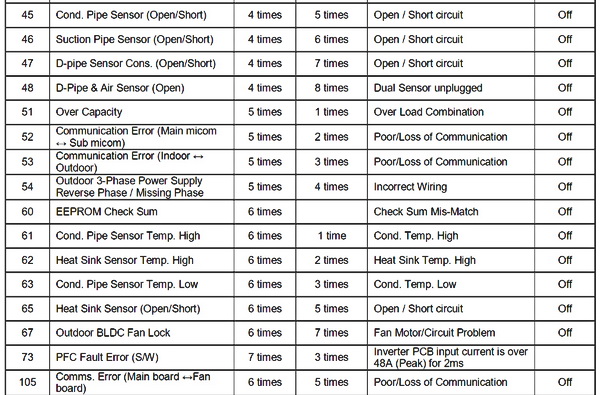 LG Split System Air Conditioner Error Codes 3
LG AC Inverter Error Charts and Lists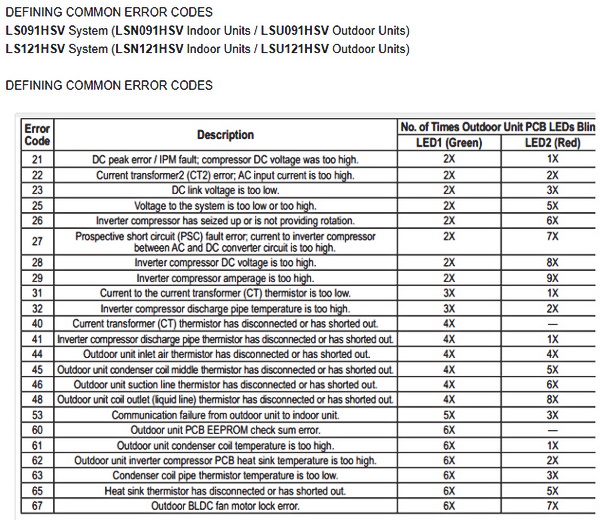 LG Inverter Air Conditioner Error Codes 1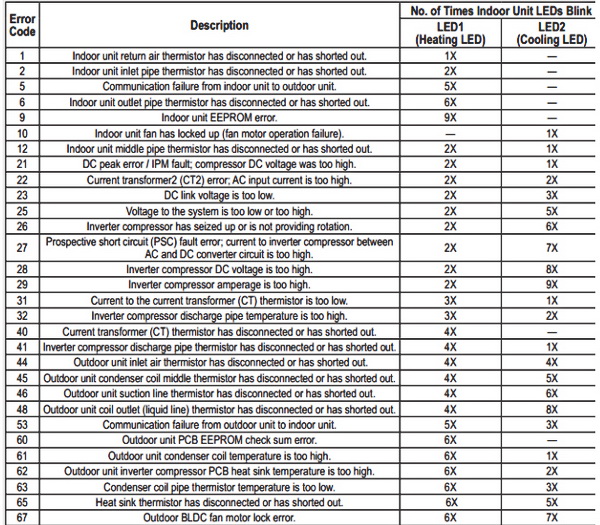 LG Inverter Air Conditioner Error Codes 2
DOWNLOAD: LG Air Conditioner Split System Error Codes PDF File

LG Split Air Conditioners: Moisture Sweating Issue

LG Air Conditioning: How To Use The Remote Control

LG Air Conditioners: Split AC Filter Cleaning

LG Split Air Conditioners: Auto Clean Feature – Smelly AC Air

LG Split Air Conditioners: Noisy AC Issues