If your freezer is cold but the refrigerator is warm, here are some tips to DIY. First of all, read the manual and inspect the refrigerator. There can be a variety of reasons your freezer is cold and the fridge is warm. You may need to do some easy troubleshooting to find the problem. These tips will show you what to check yourself. Parts and components may need to be cleaned and replaced. Most parts on a refrigerator can be purchased online at reasonable prices. Save money and fix your fridge yourself! The first thing to do is to make sure nothing is blocking the air vent in the back of your freezer.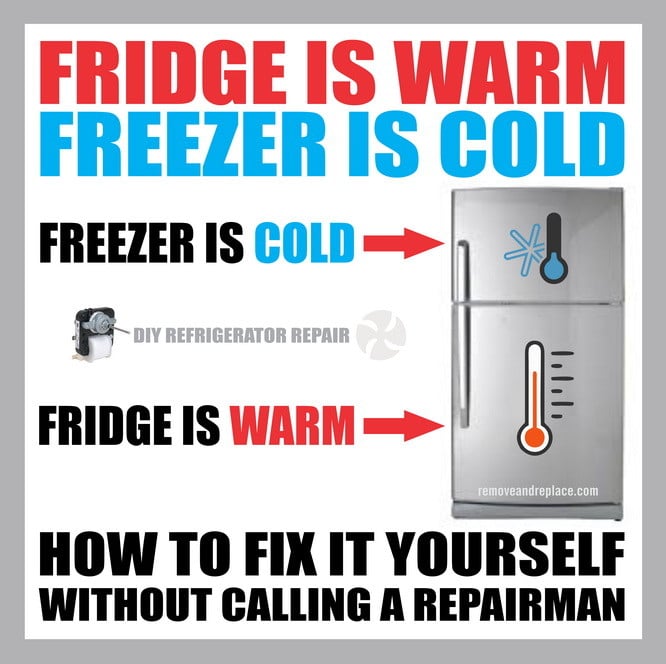 Common reasons a fridge is warm and freezer is cold:
1. Over packed or overfilled freezer blocking air flow
2. Evaporator fan is bad and needs replaced
3. Frost blocking airflow
4. Freezer area needs to be cleaned
5. Defrost system faulty
Looking for refrigerator parts with fast delivery and cheap prices? Find OEM Refrigerator Replacement Parts here.
Most refrigerators use a fan to move the cold air in the freezer into the evaporator and then push it into the fridge compartment to keep it cool. The evaporator fan is usually behind the back wall of the freezer compartment area. This is what pushes cold air into your refrigerator section to keep it cool. If piles of boxed frozen foods or something is interfering with the air flow in the freezer, you can have a warm fridge compartment.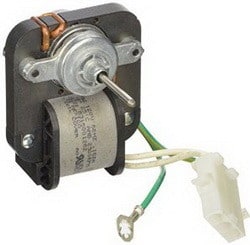 Evaporator motor for refrigerator
This is what blows cold air into your fridge from the freezer

If your fridge and or freezer is overstuffed, the cold air cannot circulate. The air needs to be able to move freely to circulate and keep items cool. If you have an over stuffed or dirty fridge/freezer, clean it out, throw some old food away, and rearrange the shelves so the air can flow. Once the items are not blocking the air flow, it should take an hour or two to get back down to the proper temperature.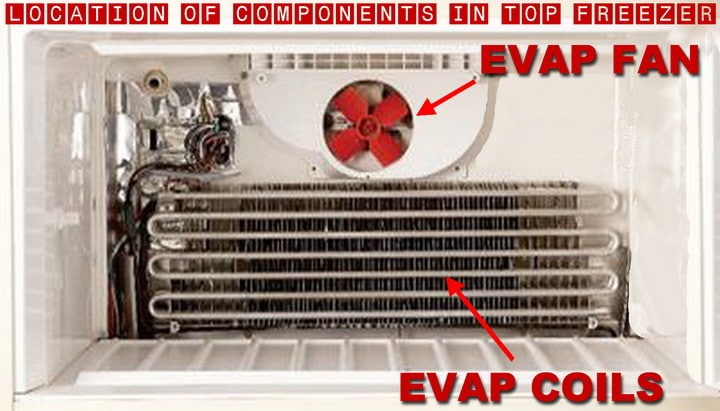 Location of evap coils and fan in freezer
Be sure to check the circulation fans and be sure you can hear them running. But remember, if any of the parts of the fridge defrosting system fails, your freezer may ice up. This will cause your freezer to seem cold but your fresh food section is too hot. So you may have to do some troubleshooting as to what part has failed. As stated above, the evaporator fan is most likely the faulty part. The methods given on this page will work for side-by-side refrigerators also.
To test to see if your fridge has a defrost issue…
1 – Unplug your refrigerator
2 – Leave the freezer door open for at least 12 hours
3 – Be sure floor of the freezer is no longer cold to touch
4 – Plug the refrigerator back in
5 – If the fridge seems to be working properly about 30 to 45 minutes after plugging it in, it is probably a defrost issue causing your problem

How to fix a warm fridge – freezer frozen

If you know of another reason a fridge would be warm while the freezer is cold, please leave a comment below to assist our other readers.