Having a countertop over your washer and dryer can help to organize your laundry room. Building one yourself involves measuring out the dimensions, purchasing the wood, and putting it all together. Some companies sell premade laundry room countertops but they can cost hundreds of dollars and some won't fit properly. Why not spend around $200 and build one yourself? Have a look below for many other ideas for laundry room countertops an a step-by-step method to build one yourself. For some great laundry room ideas see here.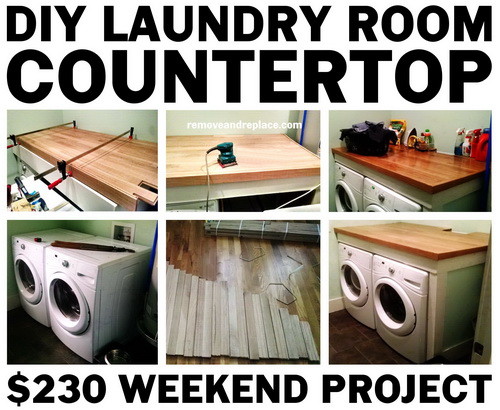 TOTAL COST FOR DIY LAUNDRY ROOM COUNTERTOP = $230 + BUILD TIME 6 to 10 HOURS
Supplies needed for this DIY laundry room countertop:
Wood for support frame
Flooring or quality wood for countertop
Wood screws
Wood glue
Wood putty
Wood gloss
Sand paper
White paint
Wood stain
Tools needed for making this laundry room DIY countertop:
Circular Saw
Jigsaw
Router
Belt Sander
Power Sander
Cordless Drill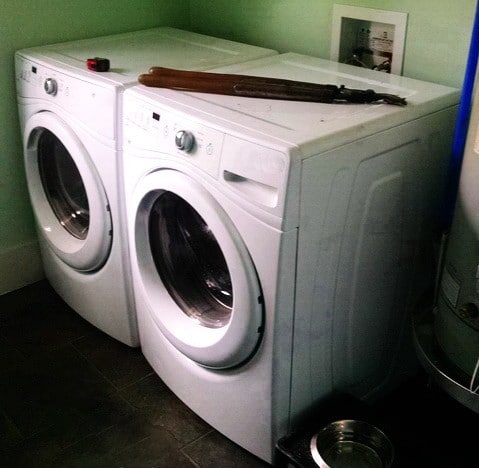 Step 1 – Start out by measuring the dimensions around your washer and dryer.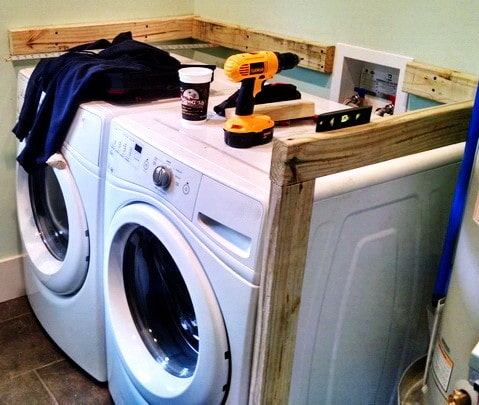 Step 2 – Purchase wood and create a frame around the washer and dryer using wood screws.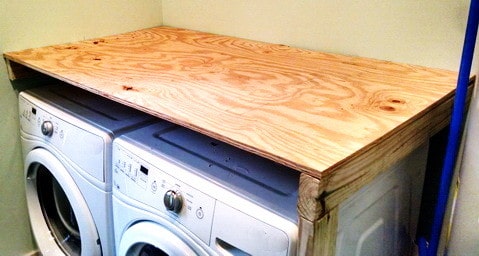 Step 3 – Build the top using a plywood sheet to be the base layer for the custom countertop.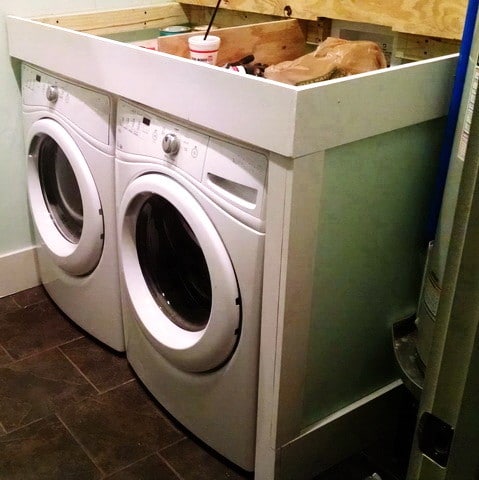 Step 4 – Paint the wood frame to the color of your choice (match the color of your appliances).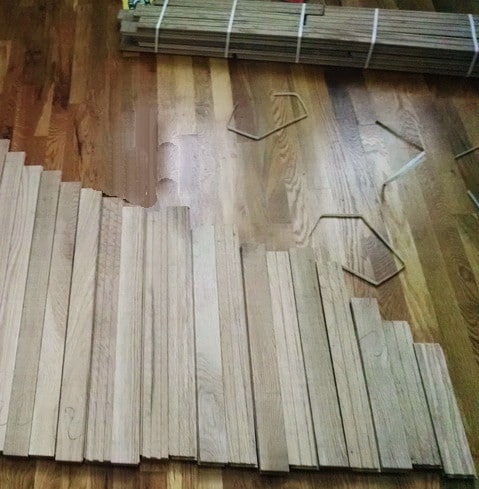 Step 5 – Purchase a custom type of wood of your choice to create the countertop.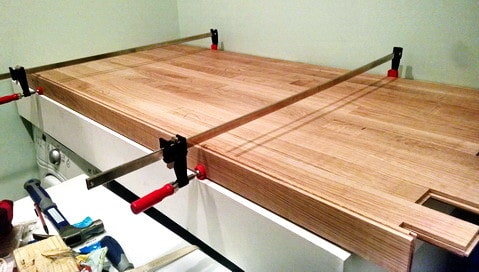 Step 6 – Cut the custom wood to fit the top and secure it in place with wood glue using wood clamps.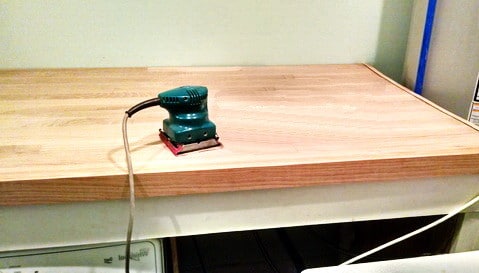 Step 7 – Once the wood glue is dry, sand the countertop to get the surface completely smooth.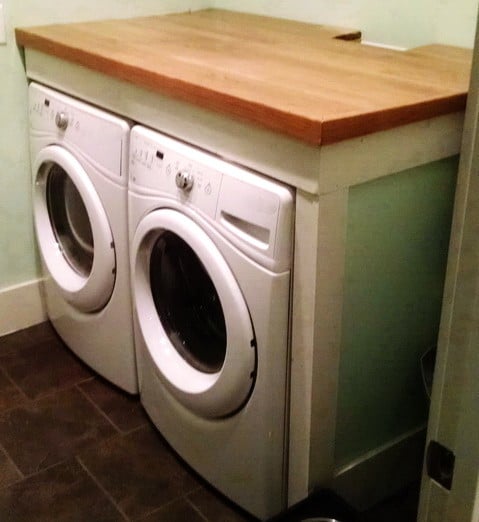 Step 8 – Use a wood stain and stain the wood darker to create a custom look.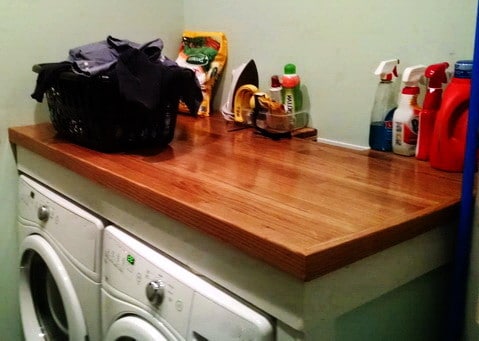 Step 9 – Use a wood gloss to create a barrier to protect the wood. FINISHED!
_______________________________________________________________________
The below 10 images are different laundry room countertop ideas to help inspire you!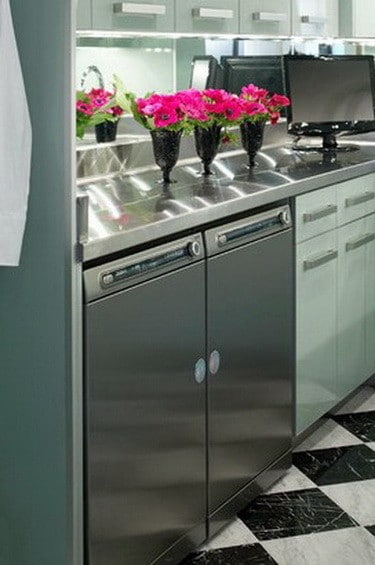 Stainless steel laundry room countertop idea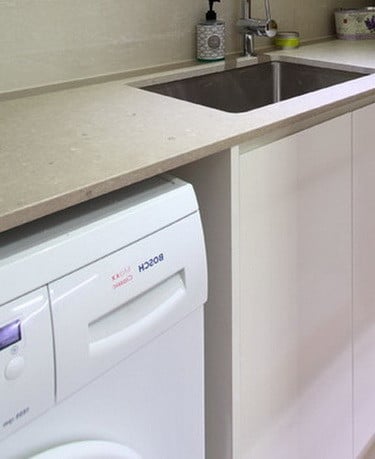 Formica laundry room countertop idea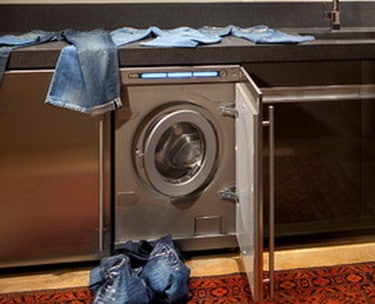 Custom laundry room countertop idea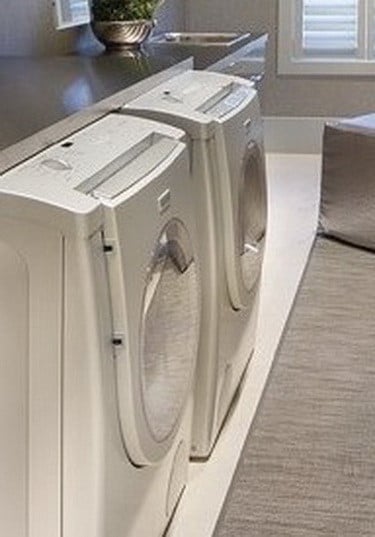 DIY laundry room countertop idea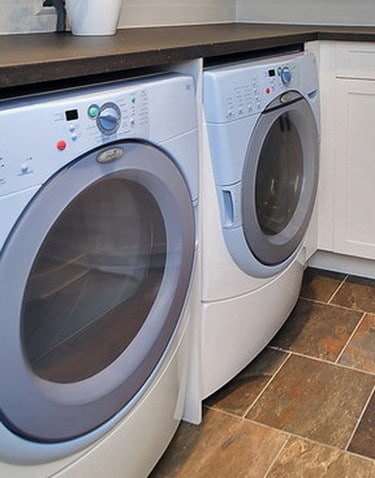 Custom built laundry room countertop idea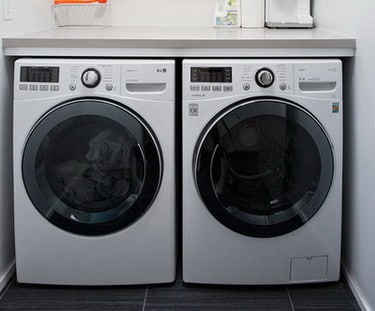 Laundry room countertop makes for an organized room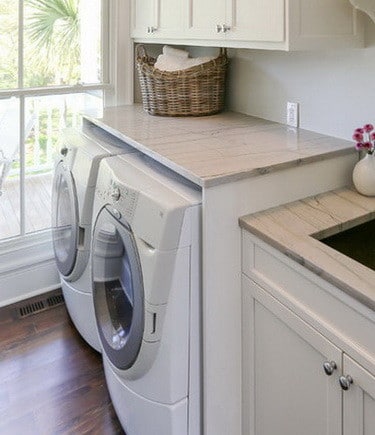 Wooden panel laundry room countertop idea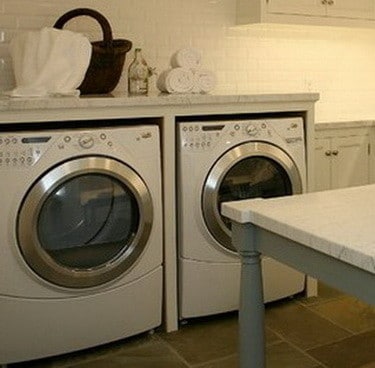 Marble laundry room countertop idea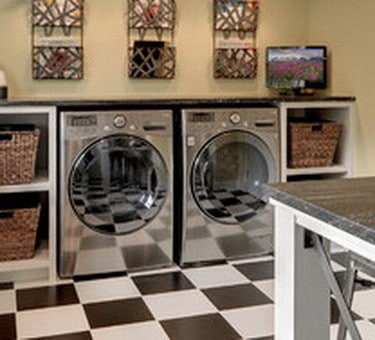 Concrete laundry room countertop idea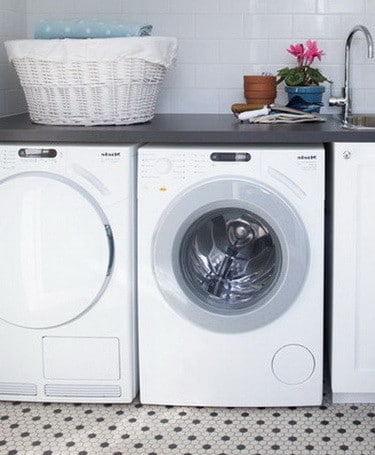 Beautiful laundry room countertop idea

DREAM LAUNDRY ROOM IDEA

HOW TO MAKE A WOODEN COUNTERTOP
There are many benefits to installing laminate countertops in your laundry room. Did you know that laminate cleans up super easy and is perfect for the laundry room as well?
If your laundry room is a dark and ugly place, turn it into a sanctuary of beauty with these tips. There are many different ways to make your laundry room become an organized and pleasing place to be in.
There are many different tricks to make your laundry room easier to get things done and be more productive. Consider baskets above your washer and dryer on shelves. Pull out drawers can also make doing your laundry easier by organizing and hiding from view all of your laundry cleaning supplies. Here are some amazing floating shelves for your laundry room to make organizing your stuff easier!
Do you know of an easier way to build a laundry room countertop? Please let us know by leaving a comment below.