An upholstered headboard can create a unique and comfortable look in your bedroom. The problem is that most high quality headboards that are professionally upholstered cost from $500 to $800 each. After looking at headboards at many stores and online, we decided to build one ourselves. We built our custom padded headboard from plywood for around $100 total. This project took us 4 hours and anyone with a drill and $100 bucks can do it.
Materials For the DIY Upholstered Headboard Project, You Will Need:
1 – Sheet of Plywood 1/2″ thick (length and width of headboard will be based on your bed and room size)
6 – Holding Grip Clamps (to hold foam to wood when gluing)
1 – Sheet of 1″ Foam (length and width will vary depending on plywood size)
1 – Bottle of Fabric Permanent Adhesive Glue (for gluing the foam to the wood)
1 – Sheet of Fabric (length and width will vary depending on headboard size)
1 – Fabric Button Kit (this kit allows you to make buttons from your fabric)
1 – Roll of Floral Wire (to hold buttons in place)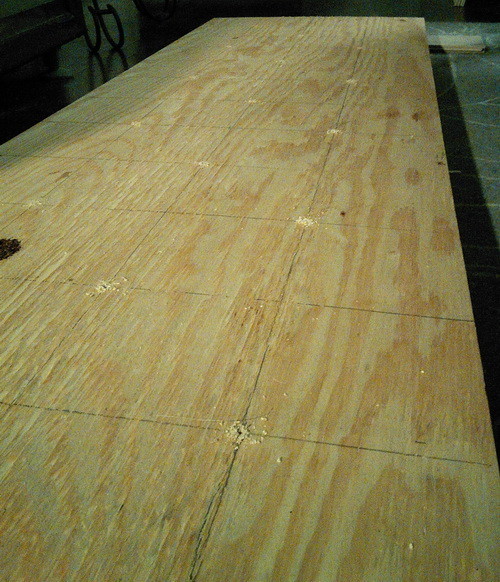 The first thing we did was drill holes in the plywood for our buttons.
(We had our wood cut at Home Depot for free)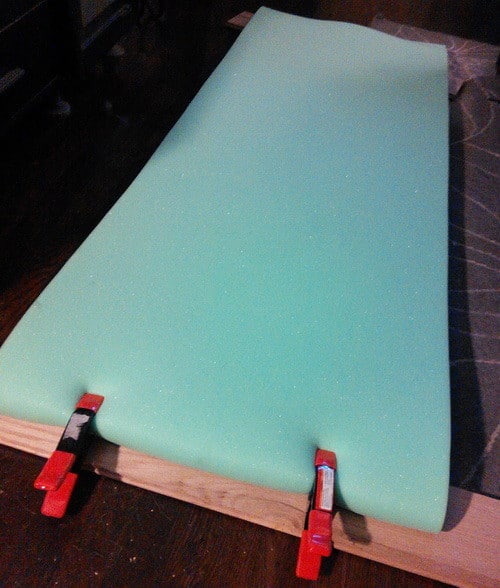 Next, we cut the 1″ foam to size and glued it to our piece of plywood.
We used holding clamps on the foam to hold it in place while the glue dried.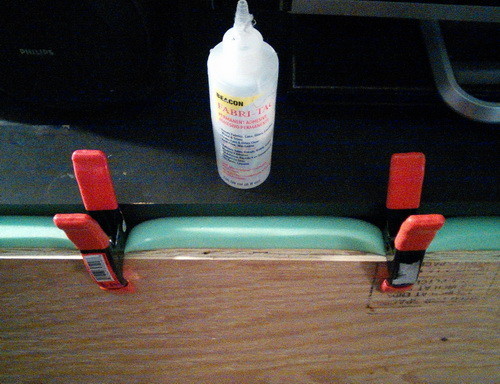 We found that it is best to do one side at a time when gluing.
We gave the glue 10 minutes to dry per side before we continued to the next step.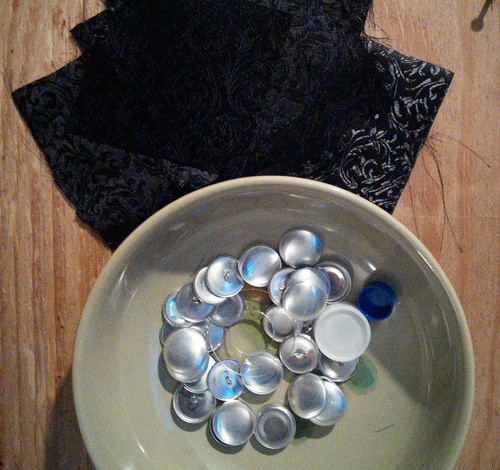 While the glue dried we cut the fabric to place over our buttons.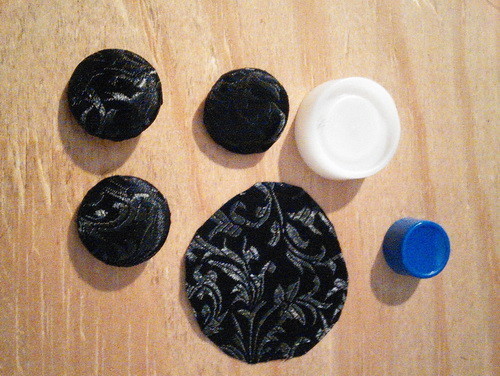 Here is a piece of fabric cut and a few buttons covered with our fabric.
The amount of buttons you will need will depend on your chosen headboard size.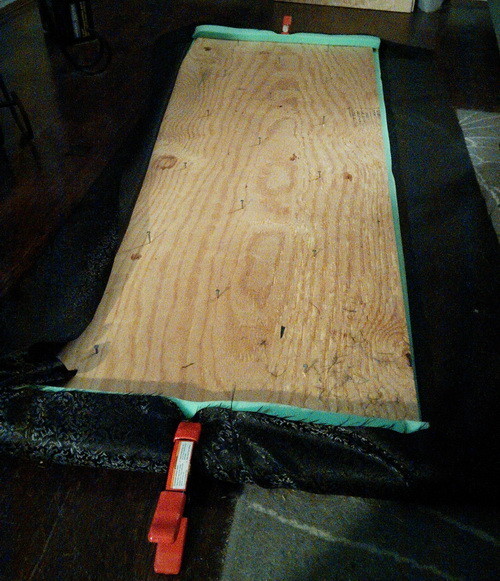 We then cut our fabric to size and carefully glued the fabric to the foam.
We did one side at a time so the fabric would be tight and to prevent wrinkles in our fabric.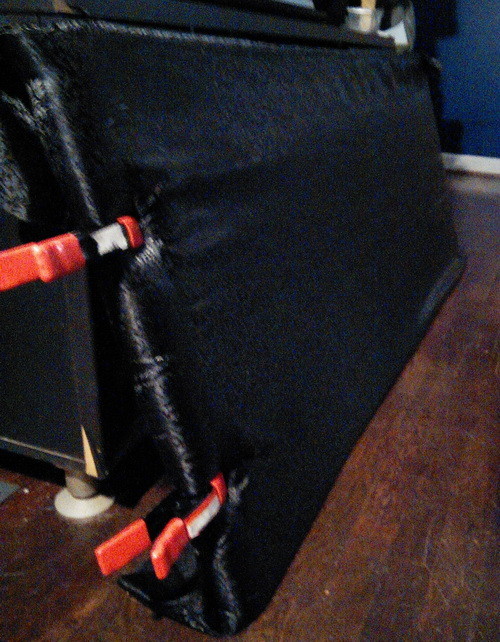 Here we are finished gluing our fabric to the headboard.
(Make sure the fabric is pulled tight when gluing each side or wrinkles will occur)
We gave the glue about 30 minutes to fully dry before proceeding.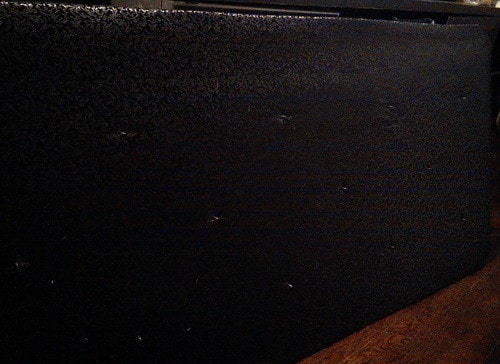 We then pushed long nails from the back to know where our button holes were located.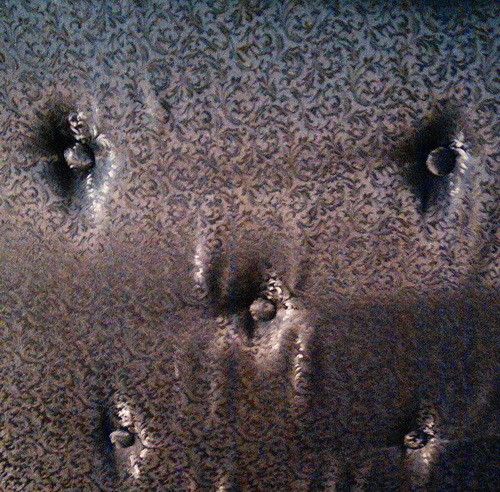 We then secured the buttons into the headboard using a roll of floral wire.
In this picture we have a few wrinkles near the buttons.
Once the buttons were pulled in all the way and tight, the wrinkles went away.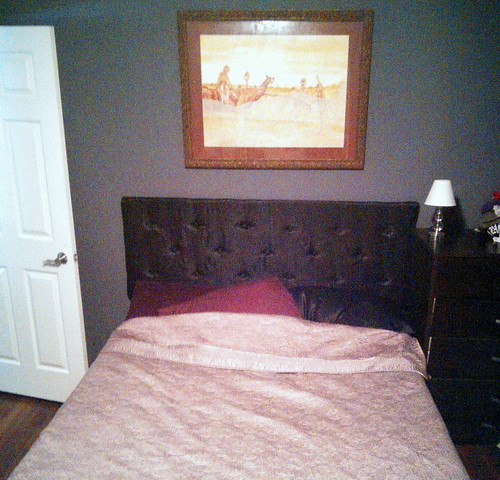 Once our upholstered headboard was finished we secured it into the wall behind our bed.
We used 4 toggle bolts to secure it into the drywall behind our bed.
It is best to secure the headboard into the wood studs if you have a stud sensor.
You can also use wooden legs to hold the headboard up instead of securing it to the wall.