A sturdy Tomato cage made from PVC pipe will provide support for your tomato branches. This is needed so the tomato stems do not break with the weight of the tomatoes growing on the branches. Cheap wire cages are available but they are to weak to provide the best support for a big tomato plant. A PVC pipe is very cheap and they are very strong. Cutting PVC pipe is super easy and can give you a sturdy tomato cage structure that will last for a very long time.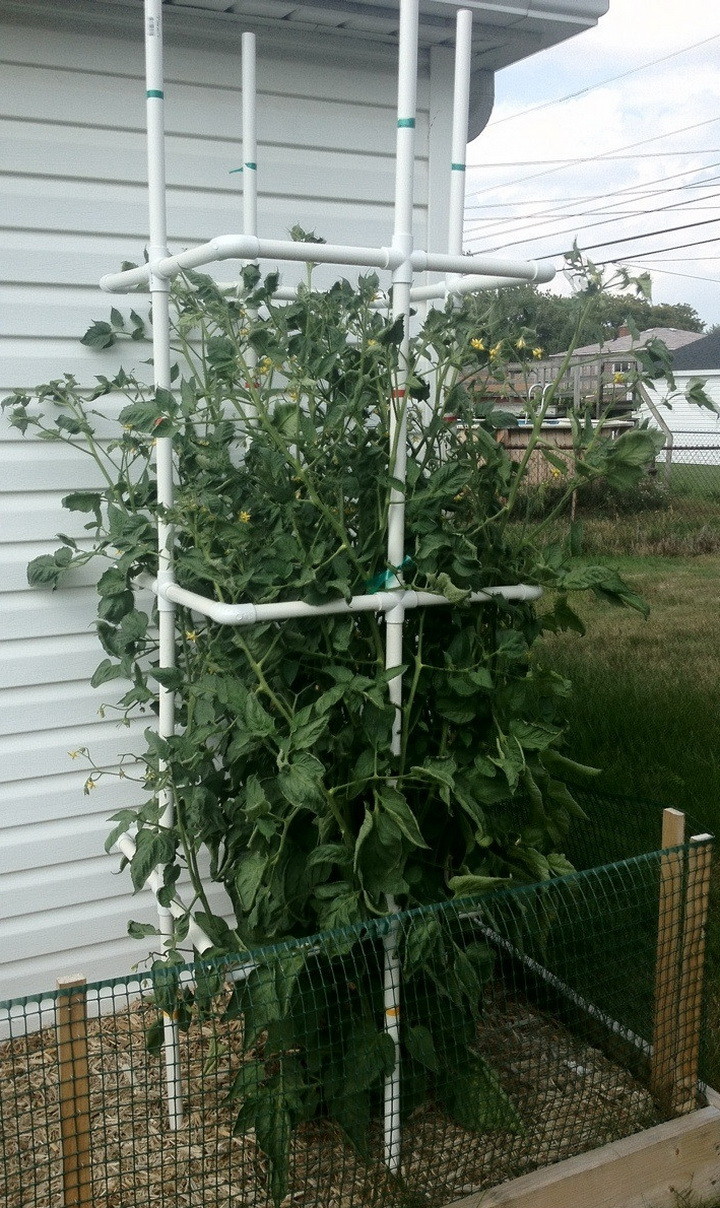 Follow the directions below to make a diy PVC Tomato Plant Cage:
Step 1 – Cut a 1″ PVC diameter pipe into 20″ sections using a hacksaw. You need 16 of these 20″ pipe pieces. (This is for the vertical part)
Step 2 – Attach four pieces of the cut pipe together using four 4 way 30 degree angled PVC connectors to create the tomato cage legs. Repeat for the remaining pipe sections until you have 4 sections. (See attached picture)
Step 3 – Cut the next 1″ PVC diameter pipe into 12″ long sections. Cut 12 sections. (This is for the horizontal part)
Step 4 – Insert an 12″ PVC pipe into the connectors going horizontal on one leg. Attach the opposite end of the 12″ arm to a second leg. Insert three more arms into the other side of the connectors and then attach the ends of these arms to the third leg.
Step 5 – Insert the set of three arms to connect the first and third legs to complete the tomato cage.
Step 6 – Run the 4 long metal rods into the vertical holes of the pipe. (These will be put into the ground for extra in the ground support)
Step 7 – Next put the cage over your tomato plant and insert the bottom metal rods and 10″ of each PVC leg in the ground to secure the cage. Then pull the branches out and through the PVC spaces as the tomato plant grows. Finished.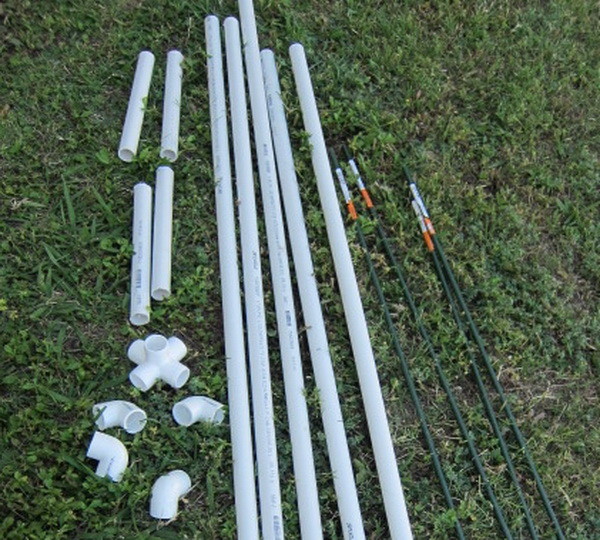 PVC Materials Needed For A diy Tomato Plant Cage