If you live on a lake or near a body of water then this DIY Floating Dock can be very useful. It involves 4 empty barrels, wood and some rope to build it. It should cost you under $200 dollars and take about 3 hours to construct yourself. See below for a detailed description of construction under each picture.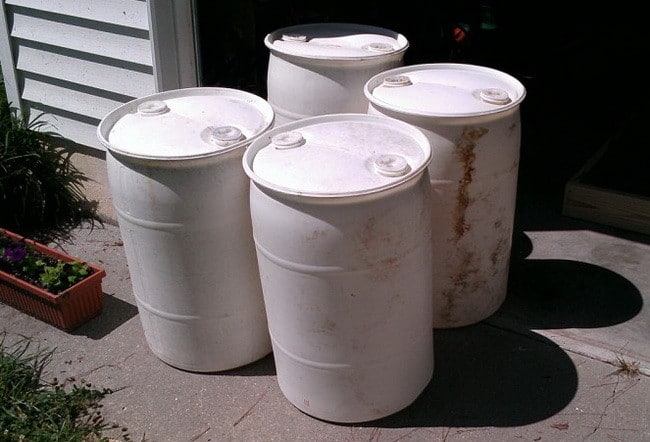 Find your deck flotation.
Purchase or find four 30 gallon plastic drums for your DIY floating deck project.
Each drum should provide around 250 lbs of flotation.
You will need to run a few beads of silicon caulk to the barrel plugs to make sure to keep the water from filling them.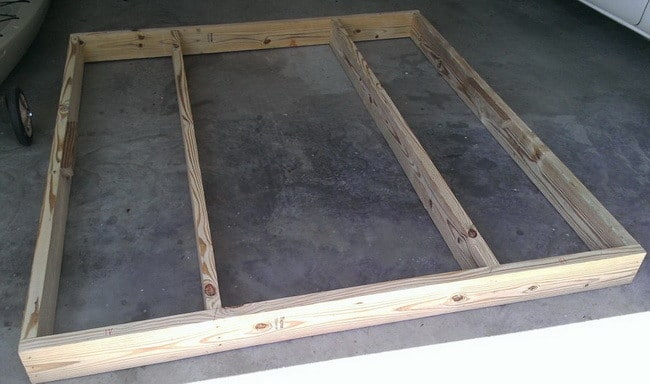 Build your deck frame.
It is best to use treated wood. Purchase 2×6 wood and make a 6 foot square deck frame.
Construct the frame to keep your flotation in place.
We used 3″ chemical coated deck screws to hold the frame together.
The wooden frame will help to hold the complete deck together as the barrels will fit snug under the deck.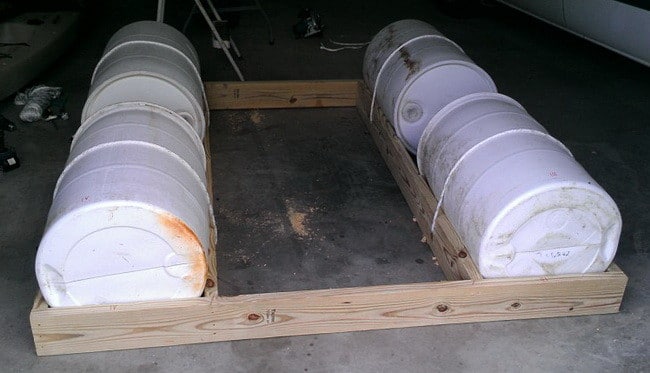 Secure your flotation to the deck.
Tie each empty barrel in place with a length of heavy duty rope.
The 2×6 wood frame will keep the barrels from sliding side to side.
The purpose of the rope is to keep the barrels snug under the dock in rough water.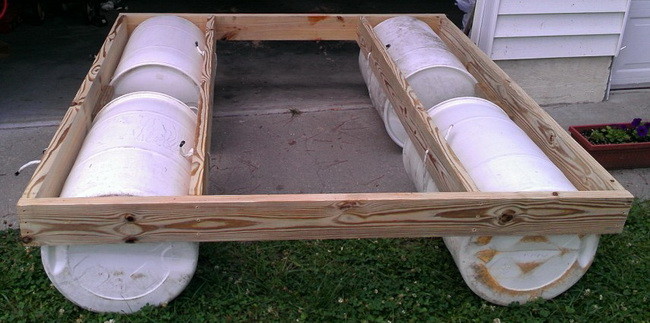 Prepare to install the top deck.
Flip the deck over so the barrels are touching the ground and install the top deck.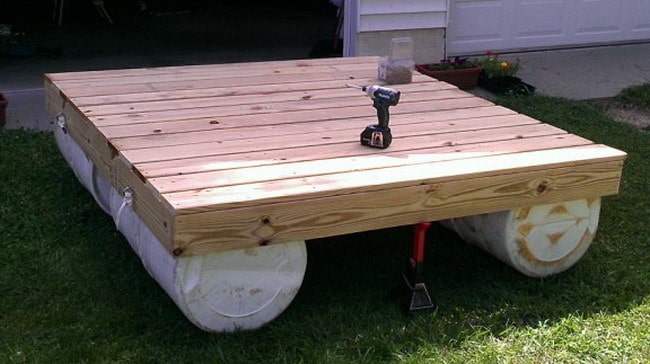 Install the top surface deck.
We used treated 6ft deck boards for the top and secured them with 3″ deck screws.
When securing the boards to the deck leave a 5/8″ gap between each board
to assist in keeping the wood dry and to reduce the deck from warping.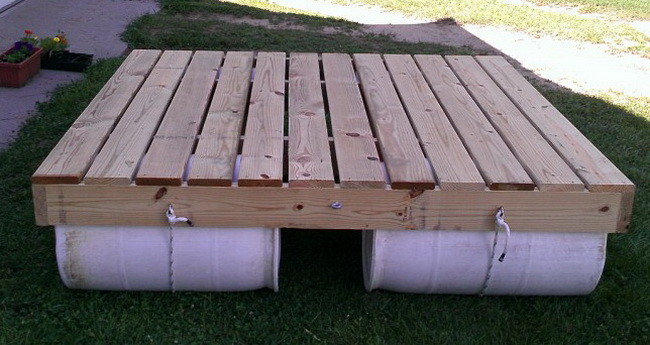 Install eyebolts for the anchor ropes.
Screw in an eyebolt on each side of the deck.
This attach point will be for an anchor to keep the deck in place.
You can either make a few DIY concrete anchors or use the eyebolts to attach the deck to
land so it does not float away. This deck weighs nearly 250 lbs and it would be wise to
make an anchor for each side out of concrete of at least 50lbs each.
This should be sufficient to keep the deck in place.