We have a 23″ Samsung LCD TV that we want to mount to the wall. The TV wall mount we are using is not wide enough and the positioning is not right to secure it into the wall studs. What is a proper and safe way to mount this to the wall without securing it into a wooden stud?
The best plan of action here is to get a 1/2 inch thick piece of plywood. Measure the space on the wall in between the studs to find the width. Use a stud finder to find where the wood studs are located. Once you know the width, cut the plywood wide enough so it can be secured into the wall studs. You can cut the plywood a little larger than needed as it will be hidden behind the TV. Once you have the piece of plywood cut into the proper size, then secure the plywood into the studs using the proper screws. The next step will depend on the type of TV wall mount you have. Some TV wall mounts need to be attached to the wall first, and then attached to the TV. So follow the directions on the instructions for the mount you are using.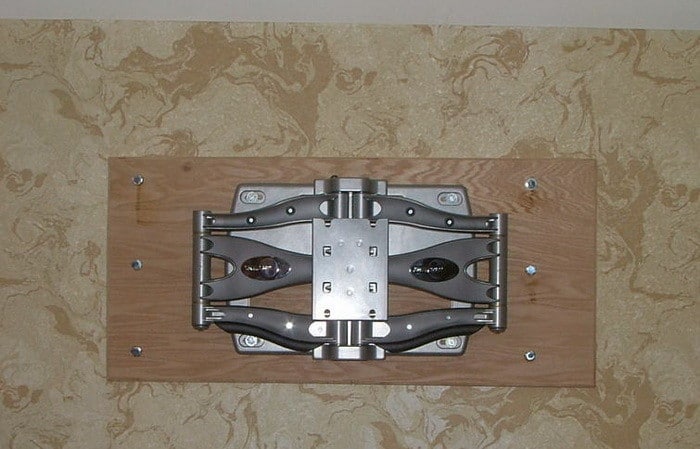 If your TV WALL MOUNT cannot be secured directly into the wall studs, use a piece of plywood.
If you for some reason you cannot attach a piece of plywood on the wall to secure into the studs, here is another safe way to mount your TV. You can use a Snaptoggle Anchor (video here) as these new types of wall anchors can hold hundreds of pounds. These bolts can be secured directly into drywall without worry. These are a good alternative to using a piece of plywood behind your TV. Follow the directions and install them properly.

A Snaptoggle wall anchor bolt can safely secure a TV wall mount into drywall
These are the 2 BEST ways to install a TV wall mount without securing directly into the wall studs. If you have other suggestions and ideas, please leave a comment below to assist others when installing a TV wall mount.