Vertical blinds won't turn or the vertical blind vane clip connector hole is broken? We have some simple solutions! Whether your vertical blinds are vinyl, plastic or cloth, these repair tips can help your blinds look like new again.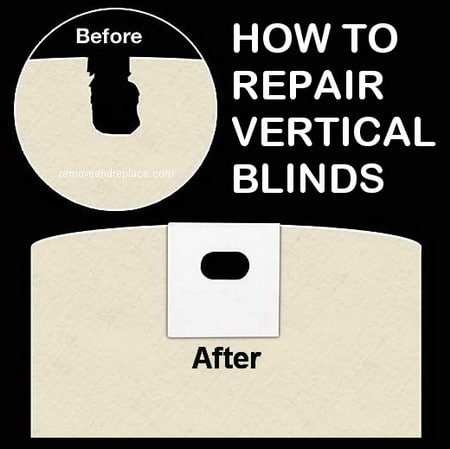 HOW TO REPAIR VERTICAL BLINDS IN THE MOST INEXPENSIVE WAY
To fix individual vertical blind vanes that have become broken on one end: There is a vertical blind repair kit that is under $10 dollars. This repair kit can fix broken slots in your vertical or mini blinds. Simply press one of the self adhesive tabs over the hole or broken area to fix it for good.
To repair vertical blinds that wont open: If you recently replaced any of the individual vertical vinyl vanes, then it is most likely that one may be installed backwards or may be overlapping another. Make sure all the individual vertical slats are in the correct position.
To fix vertical blinds that won't rotate: First inspect the mechanism in the track to see if there is anything preventing the blinds from turning. Look for obvious things that may jam up the mechanism from turning. If everything looks normal, spray some lubricating spray (such as WD-40) where the twister rod is connected for rotating the blinds. Spray a very small amount while turning the rod. Spraying with lubricant will loosen and lubricate the turning mechanism and open the blinds. You can also spray some on the roller on the other end of the blinds and in the track itself. Once you finish spraying, turn the twist rod back and forth and pull the string to make sure everything has freed up.
BELOW ARE COMMON PARTS NEEDED TO REPAIR YOUR VERTICAL BLINDS




COMMON VERTICAL BLINDS PARTS TO HELP YOU FIX AND REPAIR YOURSELF
Nowadays vertical blinds are very inexpensive. Repairing them can cost more than a new one. You can take a quick measurement of the height and width and go to your local home improvement store and just buy a new one. If purchasing new vertical blinds is not an option, then most likely you will probably need vertical blind parts to fix your blinds. These links can help you find Valance Clips, Vane Savers, Carrier Clips, Pull Chains, Brackets, Control Ends, Fabric Vane Parts, Retainer Clips, Lift Cords, Tensioners, T-Handles, Tilt Mechanisms, Wands, and Headrails.
For finding even more help for fixing and repairing your blinds, we recommend watching some How To Fix Vertical Blinds videos on YouTube to see what may be your specific problem.