If your favorite pair of work boots, skate shoes, or tennis shoes have become worn, here are a few easy DIY methods you can do to repair them yourself. Most shoes begin to show wear when the sole starts to come off of the shoe. Another sign of wear is when a tear has started on the fabric of the shoe.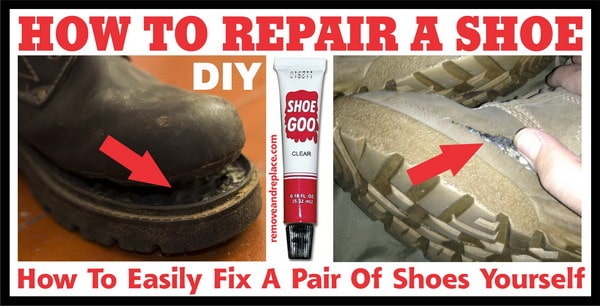 Best ways for repairing cracks, rips, tears, holes in shoes:
Choose an adhesive that is ideal for shoe repairs. (Shoe Goo works the best) Most shoe repair glues are easy to apply and fully cure in 24 hours.
The best method for repairing a shoe with a hole or that has become torn:
Make certain that your shoe is clean and fully dry and roughen the surface for better adhesion. (Completely remove grease from your shoes or any dirt that may interfere with the adhesive)
Seal holes or torn area from the inside with duct tape or similar before applying the shoe glue to the outside.
Seal the hole or open seam with a bead of the adhesive.
Spreading the adhesive is the hardest part because it is sticky. (A good trick to spread the glue around the surface of your shoe is by using an ice cube. The adhesive won't stick to the ice and the glue will flow evenly where you need it. The cold temperature of the ice also helps to make the glue set.)
Once the glue is fully dry remove the piece of duct tape from the inside of the shoe.
Any excess material that needs to be removed can be cut off or removed with paint thinner.
To reattach a sole to a shoe that has come off:
Clean the shoe and sole surfaces that are going to be glued together.
Remove the sole completely if that will make it easier to work with.
Apply the shoe glue to both the sole and the bottom of the shoe.
Line up the sole with the bottom of the shoe evenly and have them make contact with one another.
Wipe any excess glue coming from in between the shoe and sole.
Use a heavy object to set on top of your shoe to add pressure to make a tighter bond.
Wait 24 hours for glue to cure.