Installing a flat panel TV on the wall and have no way of hiding the wires in the wall? Installing a flat panel LCD or LED TV on the wall can mean ugly exposed wires. If the TV is being installed on a wall where the wires are going to be exposed, this is the easiest way to hide them.
If it is near a fireplace or the wall is brick, it may be impossible to hide the TV wires in the wall. The easiest way to conceal the wires or cords without going through the wall is by using a flat panel TV cord cover kit. This kit is under $20 dollars and can be installed to hide TV cord in a matter of minutes. A wire hiding kit can also be painted to match the wall making it blend in and hiding it even further. If the wall is drywall but you do not want to make any holes, you can also use this kit without cutting the wall. This is also a great way to hide TV wires when living in an apartment and you are not able to make large holes in the wall!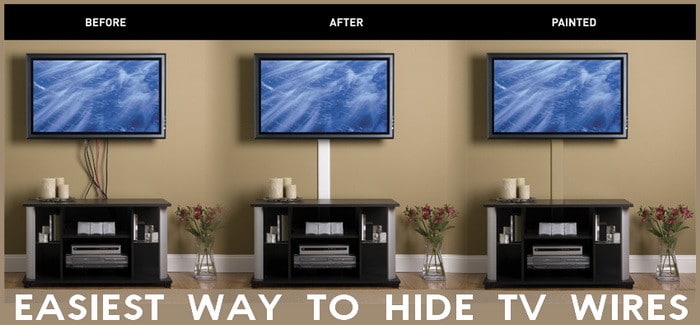 Can't hide TV wires in the wall?
Here is the easiest way to hide flat panel TV wires and cords for under $20 dollars!

Want to permanently hide TV wires in the wall?
This TV wire kit makes all the ugly unorganized wire go through the wall instead!
If you are able to hide the wires in the wall, there is a kit that will make things easy for you. It is a TV cable organizer kit with power outlets. This kit is installed by cutting holes in the drywall. This is a permanent solution compared to using the cord cover method above. This is one of the best types of TV hide wire kits to install as you will see no wires hanging from the bottom of the TV.