If your fireplace needs a reface, here we will show you step by step how to do it yourself. Your fireplace is most likely the centerpiece of your living room. If it has seen better days, why not give it a custom refinish with your choice of tile, stone, brick, marble, or other material. You can also get creative and choose the perfect wooden trim that will surround your fireplace to match your style. When finished, you can spruce things up with different fireplace accessories! The total cost of this fireplace reface project was around $400 and took about 7 hours. The amount of money and time it will take you to complete this project will vary depending on different variables. Below we will show how to reface a fireplace the easiest way possible with the minimum amount of money.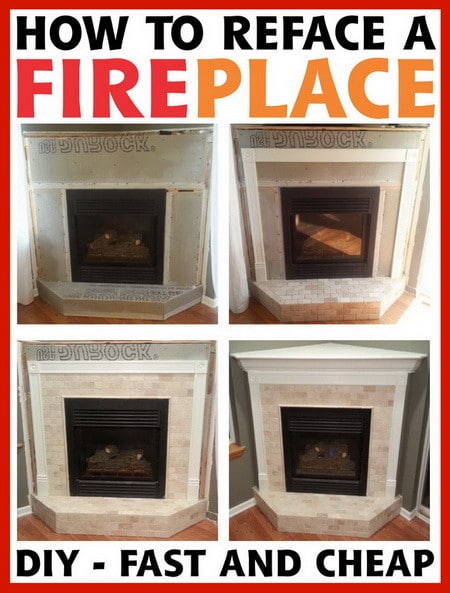 Materials Needed For A DIY Fireplace Reface:
Cement Board
Wooden Trim
Tile, Stone, or Brick
Thin Set
Brad Nails
Drywall Spackle Compound
Liquid Nails (Construction Adhesive)
Paint (Your choice of color)
Wood Screws
Grout
Tools Needed To Reface A Fireplace:
Pry Bar
Utility Knife
Putty Knife
Caulking Gun
Hammer
Cordless Drill
Screwdriver
Wood Saw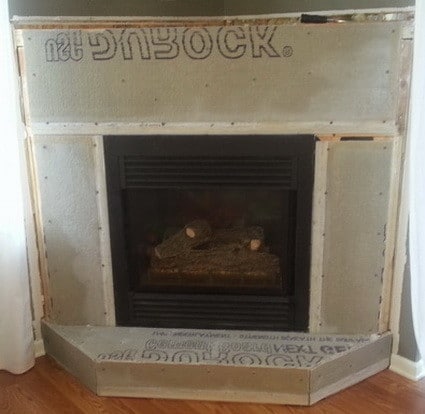 Step 1: Turn off gas if applicable and remove the old fireplace face until the wooden frame is exposed.
Cut to size and attach the cement board to the existing wooden frame as seen above.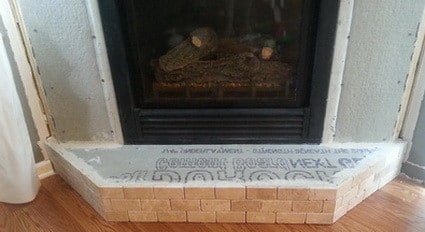 Step 2: Measure and cut the tile to fit around the bottom step.
Carefully begin laying your tile cutting and trimming as you go.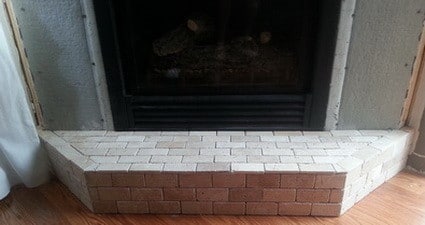 Step 3: Continue laying the tile until the bottom step is complete.
Once complete, let dry before continuing as per package instructions.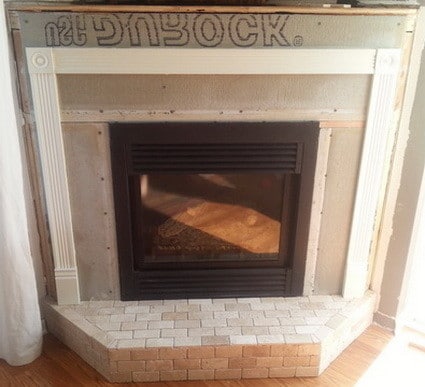 Step 4: Measure and cut the wooden trim you have chosen to surround the fireplace.
Attach the wooden trim pieces with brad nails and use a level to be sure they are at the perfect angle.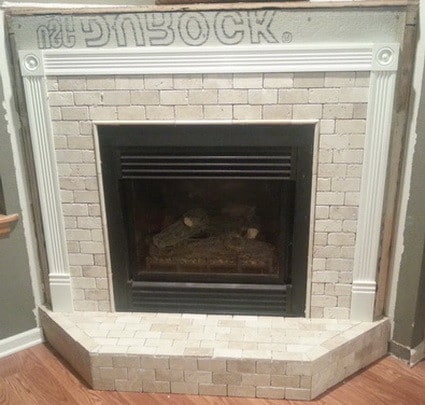 Step 5: Measure and cut the tile to fit inside of the wood trim.
Begin laying the tile inside the trim while cutting and trimming as you progress.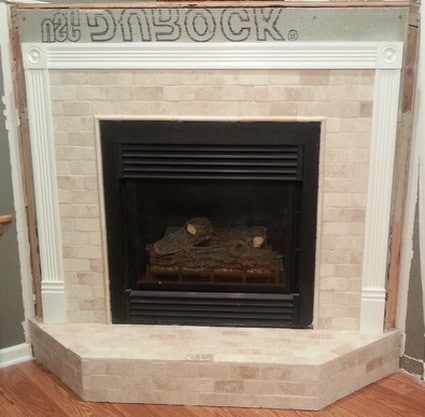 Step 6: Continue tiling until the fireplace is completed.
Once all of your tile is in place, begin the grouting process until complete.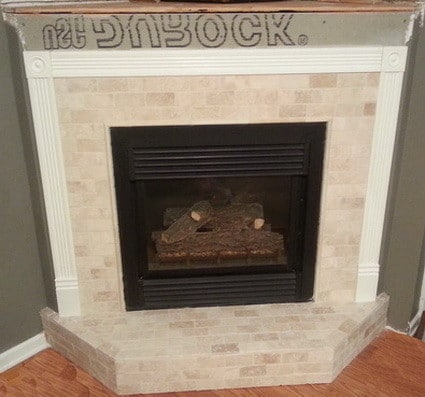 Step 7: Fill any areas (using spackle) on the sides of the fireplace and paint over them.
You can paint the sides to match the fireplace or to match the walls.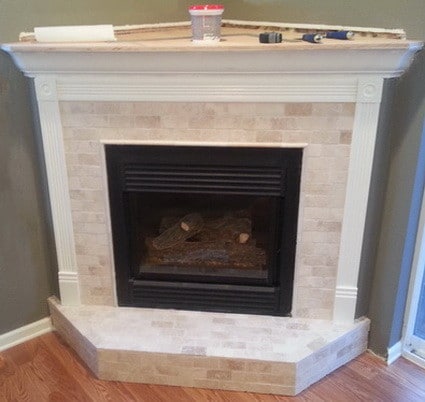 Step 8: Measure and cut the top trim and top shelf of the fireplace (if applicable).
Attach the top trim piece and top shelf and paint with paint color desired.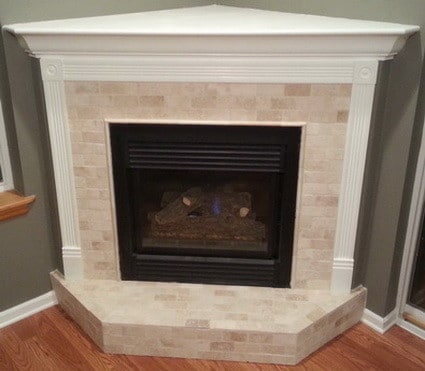 Step 9: Touch up the fireplace with paint if needed.
Your fireplace reface in now complete!

How To Reface A Fireplace From Brick To Tile
For more great ideas and layouts for fireplace refacing, see this Pinterest fireplace refacing page for many creative and amazing ideas.

Updating Your Fireplace For Less
Whether you are looking to cover your existing fireplace with wood, brick, tile, stone, or any other material, there are many ideas and methods on YouTube and Images online that will assist you in creating the perfect fireplace!

DIY Stone Fireplace Surround
Do you have a better less expensive method for refacing a fireplace? Please leave a comment below.