One of the most impressive and relaxing things you can add to your backyard or in your home is a water wall. A water wall is similar to a waterfall or a fountain. Water walls can be built in many shapes and sizes. If you have a backyard pool, a water wall is a great addition. Building a water wall can create a complete serene atmosphere while you relax. These can also be made to be part of your garden. They can be built with large rocks or a smooth surface depending on how you want it to look and sound. All that is needed is a water pump similar to a pump in a fountain or waterfall. Have a look below for 30 creative and relaxing ideas to make your backyard feel more like a resort hotel!
Here is a great DIY water wall instructions and construction guide.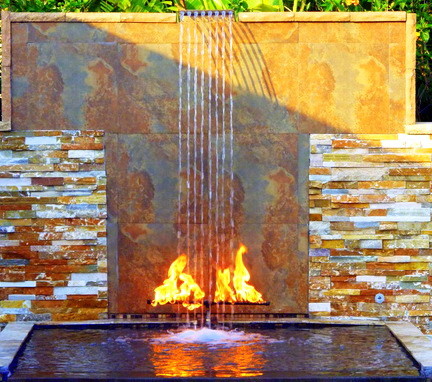 The 4 stages of building a water wall are:
build your structural wall.
building the reservoir for water catch.
create the water wall effect.
cladding a stone finish.
If you want to purchase a DIY water wall kit, they can be inexpensive and can be assembled in hours not days. Here are a few places you can purchase: DIY Megastore, Water Motion Energy, or Make one with IKEA parts.

Water Wall/Water Fall Ideas (Garden/Pool/Outdoor)

How To Build A Water Wall Indoors
Do you have some other interesting ideas where to put water walls or an easy way to construct or build them? Please leave a comment below.