Your washing machine is not working properly. Guessing at what the problem may be by changing certain parts will waste time and cost you money. When your washer is not working, make sure to use common sense, troubleshoot the reasons correctly, and have a plan of action: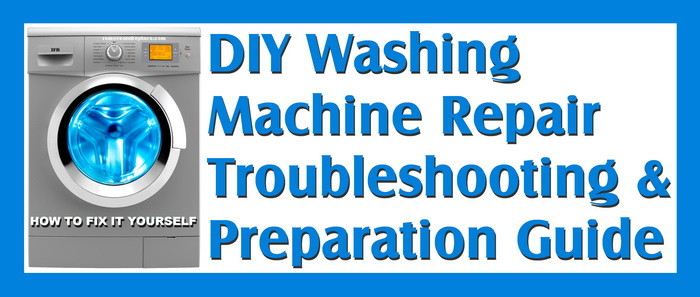 Before doing any repairs on your washing machine, disconnect power, turn off the water supply to the washer and remove the water hoses. To avoid water spillage when doing repairs, put towels around the bottom of the washer. This also helps protect the floor from being scraped and causing damage. We also recommend to use a bucket, rags, and have a mop handy in case of water spillage. The tools you will need to take the machine apart as you are troubleshooting will be simple basic tools. You should have screwdrivers, basic "grabbing" pliers, needle nose pliers, and a flashlight. To be able to test any of the washers components that you believe may be bad, a multimeter that can test ohms and voltage is essential.
Step 1. Observe the washers problem.
Find out when the issue is taking place when the washer is running and write it down. This will allow you to have the necessary information to begin to fix your troublesome washing machine. Be sure to note any and every symptom the washer is having as it goes through its complete cycle.
Step 2. Troubleshoot your washing machine.
You know the basics of how your washer works. (If you do not know how a washing machine works, see the videos below for a brief explanation to assist you to troubleshoot your washer) By finding out when the washers problem occurs, this will help you to find out what part may be faulty. For example, if the washer will fill with water but not spin, inspect the lid switch (top load) or door latch (front load). If the tub fails to fill with water, the issue may be the water is off or you have a faulty water inlet solenoid valve. If your washing machine has trouble draining out all the water, check the drain pump as well as the drain hose. Be sure to make a list of any and all things that may be preventing your washing machine to operate properly.

FRONT LOAD WASHING MACHINE – How It Works

TOP LOAD WASHING MACHINE – How It Works
Step 3. Take the washing machine apart.
Gain access to the parts you believe are the cause of the problem. Visually check the parts of the washer you believe are not working. If you have a multimeter, you can also test the parts if desired. Remember to start with the simplest part first.

HOW TO DISASSEMBLE A TOP LOAD WASHING MACHINE

HOW TO DISASSEMBLE A FRONT LOAD WASHING MACHINE
Step 4. Remove, repair, or replace the parts that are faulty.
Fixing some things on your washing machine will not always require new parts. Some parts, such as a drain pump, may simply be clogged or jammed. Other parts that have completely failed will need to be removed and replaced. When you need to order new parts for your washer, use the manufacturer company, model number, and serial number to find the correct parts. You can find these numbers by looking at the "name plate" usually located near the top lid opening (top load) or front door (front load) of the washer.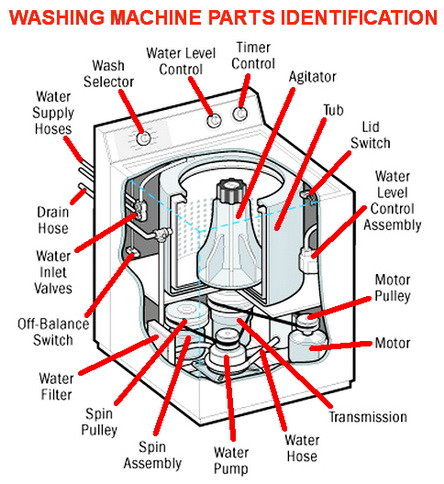 Washing machine parts identification and location chart
Once you have all info from your washer, here is a good place to order washing machine parts.
Step 5. Test the machine after repair.
You will need to reassemble your washing machine after you install a new part. It may be possible to test the washing machine before fully reassembling it. If you are able to do this, try it as this will save you time. If you cannot test the part without putting the machine back together… Use all the screws that you have removed to gain access to the inside of the machine. Be sure to put all screws, hose clamps, components, belts, etc, back into place before reassembling the washer. Test your washer and see if your troubleshooting and DIY repair worked. If so, GREAT! If not, feel free to ask us any washing machine repair question below in the comments area.
If you have other suggestions for troubleshooting a broken washing machine, please leave a comment below to assist our other readers having washer issues.