I have a very expensive pair of shoes. I have owned them for a few years and have not taken very good care of them. These shoes are made of leather and I have gotten them wet several times. I have not cared for them and the leather needs some TLC. I attempted to clean them by wiping them down with a wet cloth. This made the leather texture look worse but did make the color of my shoes a little better once they were dry. My question is this, is there a way to salvage these shoes? I payed over $800 for them and I do not want to throw them away. Is there a technique, method, or product that can make them look brand new again?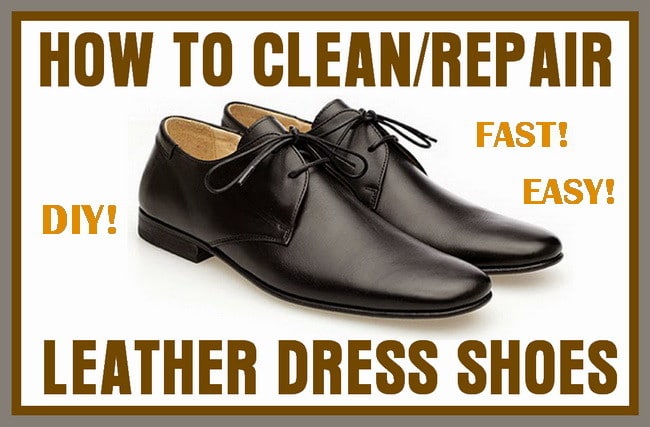 How to clean, repair, condition, preserve, and waterproof your leather shoes
Yes, there are many ways or methods to renew and maintain a pair of leather dress shoes. If done correctly, you can make them look brand new. Follow some of our methods below to begin to repair and clean a pair of expensive leather dress shoes. NOTE: The methods below are to clean, repair, condition, preserve, and waterproof your leather shoes.

Method 1.
Get all the dirt and debris off your shoes by wiping with a slightly damp soft cloth. Get a soft bristle brush and some mild soapy water. Lightly scrub the shoes until they are completely clean and wipe down with a dry soft cloth. If they are still damp, leave them in the sun to fully dry but not for to long. Once clean and 100% dry, get some mink oil. Apply the mink oil all over the leather surface and let sit for a day. Do not wipe off. You want the leather to soak up the oil. This should renew the leather on your shoes making them look as close to new as possible. The mink oil will also waterproof your shoes to make them last even longer.
Method 2.
Clean your shoes off making sure no dirt or dust is present. Get a bottle Neatsfoot oil and some ultra soft rags. Using the soft rags, slowly work the oil into the leather until it begins to soak in. It will take some time and effort but in the long run will be worth it as this will make your shoes look very close to new again. If you can't find Neatsfoot oil, you can use saddle soap which should be just as effective. Just remember that you may need to complete this procedure a few times to make the leather look shiny and new again.
Method 3.
You can use any mild household cleaner on the upper portion of your shoes. Then any type of shoe oil that you choose to use. Once you have the oil applied to the leather, use a magic eraser on the soles of your shoes. The magic eraser works well on the soles of your shoes as it contains a mild abrasive. This abrasive material will cut through the dirt and discoloration on the soles and show the true color of the underlying rubber.
Method 4.
If your shoes do not look much better after doing the cleaning and oiling them yourself, consider using a pro. Take them to a local shoe repair company (aka cobbler). A cobbler will clean, oil, and detail your shoes. Usually a shoe repair place will charge you from $30 to $50 to 100% renew your shoes but they will look brand new and ready to wear.
Have an even better way to clean, repair, and preserve a pair of leather shoes? Please leave a comment below to assist others.