Cut or shorten a bolt easy! Most people will put a bolt in a vise and try to cut it with a hacksaw. This works but takes much effort and energy by doing it manually. When working on a project and you need to shorten a bolt fast, here is a tip how to cut it the easiest way. Get clever and let the tools in your toolbox do it for you.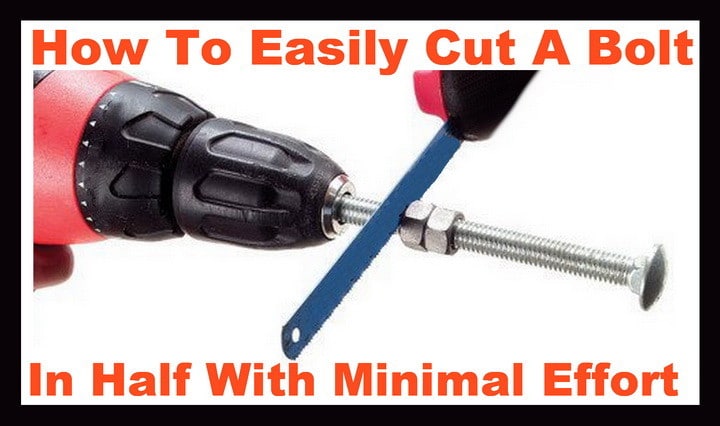 How to shorten a bolt
Cut the bolt with a drill (cordless or electric):
When you need to cut a bolt to make it shorter, get out your cordless drill or electric drill. Let the power tool do the work for you.
To do this you will need:
1. Cordless or electric drill
2. Two nuts that thread onto the bolt
3. The bolt that needs shortened
4. Strong hacksaw blade
5. Sharpie marker
6. Measuring tape
7. Wrench for nuts
8. Workbench or sturdy table to work on
9. Thick pair of industrial work gloves (optional)
10. Protective eye wear (optional)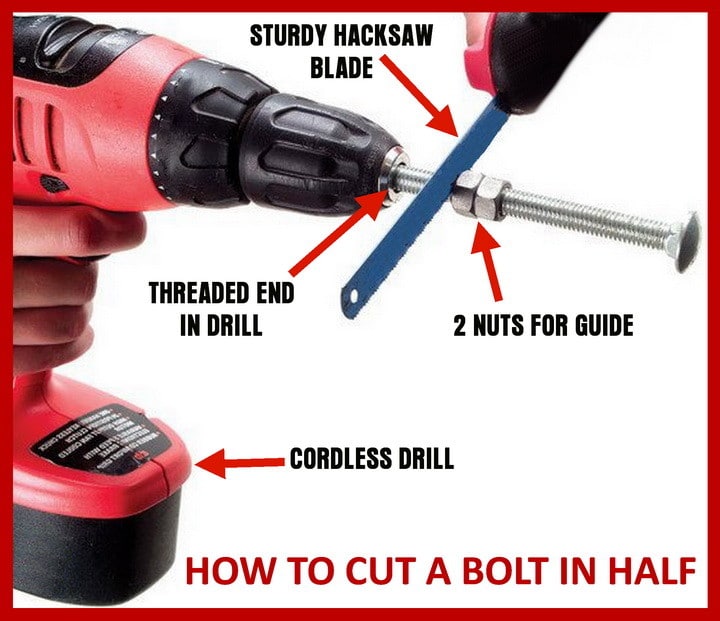 How To Easily Cut A Bolt In Half
The first thing that you will need to do is measure where the bolt needs to be cut.
Mark the bolt where it needs to be cut with your sharpie marker.
Next, thread 2 nuts onto the bolt.
Thread the nuts so the that one of them lines up exactly where you need to cut the bolt (on the marker line).
Get the proper sized wrench and make sure the nuts are very tightly against each other so they do not move from the vibration.
Put the threaded end of the bolt into the drill and secure it as tight as you can.
Get a hacksaw blade and lay it on the marker line where you are going to cut.
Run the drill while holding the hacksaw firmly on the bolt cut line.
Keep holding pressure on the hacksaw blade until the bolt is cut in half. The two nuts will assist you to keep the blade steady. When you unscrew the 2 nuts, they will clean off the burrs from the end of the cut bolt.
If you know of an easier way to cut a bolt in half fast, please leave us a comment below.