I have a question about the water filter in my GE refrigerator. Is it every 3 months or 6 months? Can I change the filter myself? If so, how do I change the GE water filter if I have never done it? I am also unsure where the filter is located and which type my fridge uses. The water and ice on my GE refrigerator is starting to taste bad. Please help.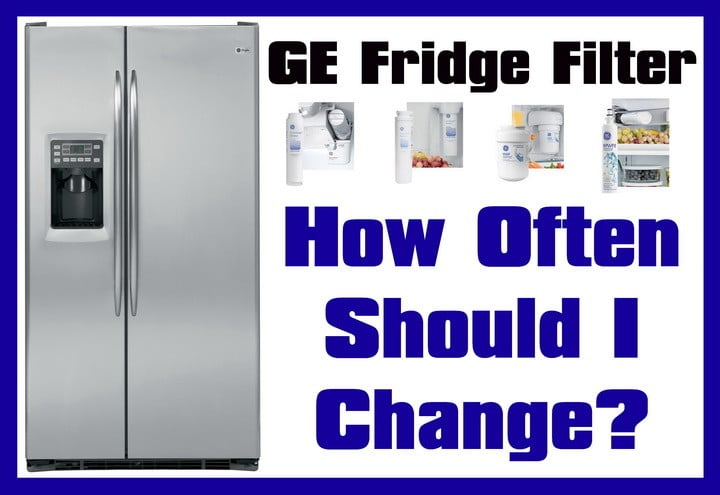 Quick Answer: The water filter should be replaced AT LEAST every six months or more often depending on use. (To find out How to replace your fridge water filter, here is a guide on how to replace your refrigerator water filter)
If you have a GE fridge in your home, you will need to replace the water filter eventually. The water filter cleans the water for the ice and the water. You may start to notice a strange taste in the ice cubes or the water. When this happens, replace the filter ASAP.
There are many different types of GE refrigerators. When it is time for you to change the water filter, be sure you find the correct one that fits your fridge. GE makes side-by-side, top freezer, french door, swing-door bottom-freezer, french-door, and bottom-freezer refrigerators.
A GE Refrigerator Water Filter cartridge should be replaced:
Every 6 months or if the refrigerator has not been used for more than two weeks. If you notice the flow of water decreasing or strange tastes in the water or ice it should replaced.
Almost all GE filters can be purchased at Lowe's, GE, Walmart, and Amazon.
Do you need help finding the correct GE refrigerator water filter?
There are many types of GE filters: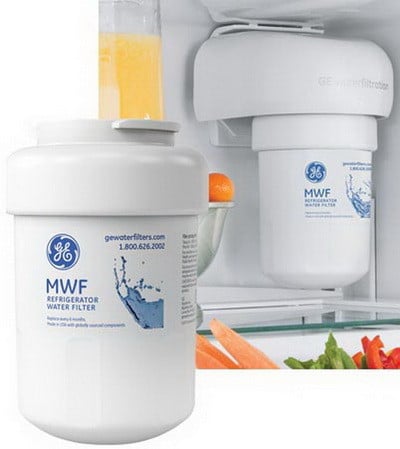 GE MWF MWFA filter
The MWF water filter is for GE side-by-side and french door bottom-freezer refrigerators.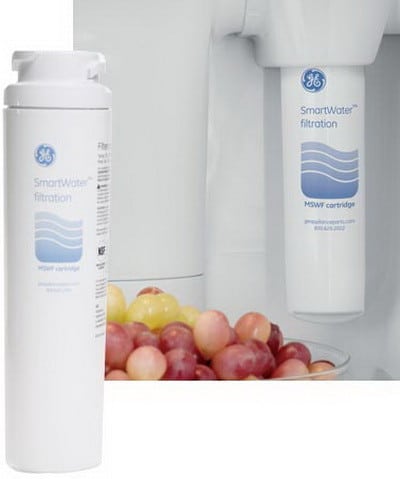 GE MSWF filter
The MSWF filter is for GE side-by-side and french-door refrigerators.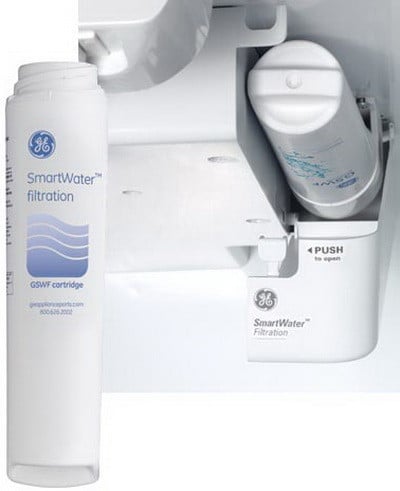 GE GSWF filter
The GSWF filter is for GE top-freezer, french-door and swing-door bottom-freezer refrigerators.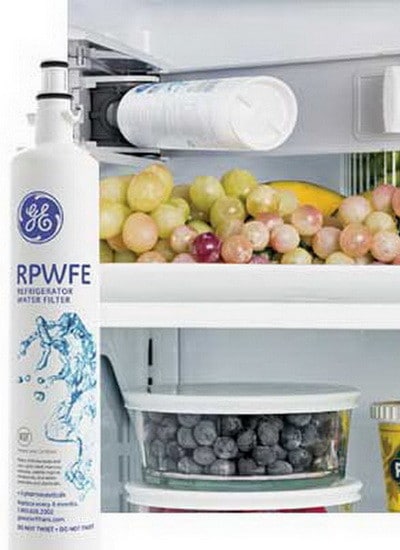 GE RPWFE filter
The RPWFE water filter is for select GE french door refrigerators.
Also replaces RPWF in-the-door filters.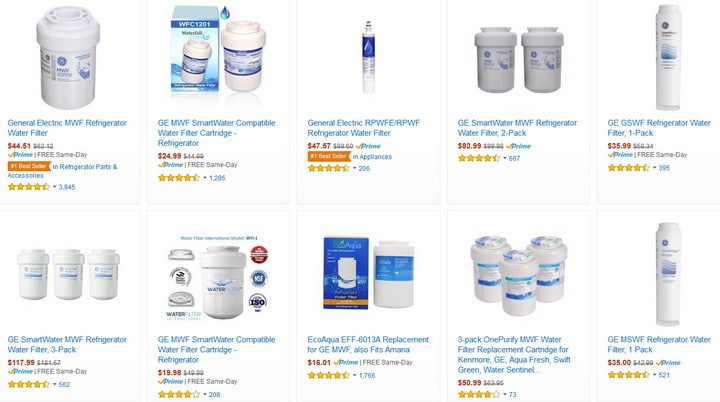 GE fridge replacement filters
OTHER FILTERS:
Inline water filters are filters that are put "inline" with the water tube behind the fridge. This usually involves cutting the water line behind your fridge and adding the filter "inline".
Installing an inline water filter is easy…
1. Shut off the water supply to your refrigerator
2. Remove the filter from the 1/4 inch plastic water supply line
3. Remove new filter out of GE package
4. Put the water line ends into the new filter
5. Tighten the nuts on the ends of the filter
6. Turn on water
7. Test for water leaks
How to change GE refrigerator (replacement instructions) water filter videos:

How to Replace a GE MWF Refrigerator Water Filter

How To Replace RPWFE Water Filter in GE Fridge

How to Replace a GE Profile Refrigerator Water Filter Head Assembly

How to Replace a GE RPWF Smartwater Replacement Water
Do you have any other info on how often to change a GE refrigerator water filter and where to buy for less? Please leave a comment below.