If you own a Keurig® 2.0 coffee maker, you know you have to use authorized coffee K-Cups®. These K-Cups can get extremely expensive. You can pay upwards of $50 US dollars per pound of coffee when using K-Cups. The Keurig 2.0 has a reader in the top lid that only recognizes certain patterns and inks on the new K-cup lids. This is a DRM (Digital Rights Management) system that makes it so you are forced to only use the authorized K-cups. If you want to use any type of coffee in your Keurig 2.0, we have many ways to sort of "hack" the Keurig and make any coffee brew in your Keurig saving you loads of money.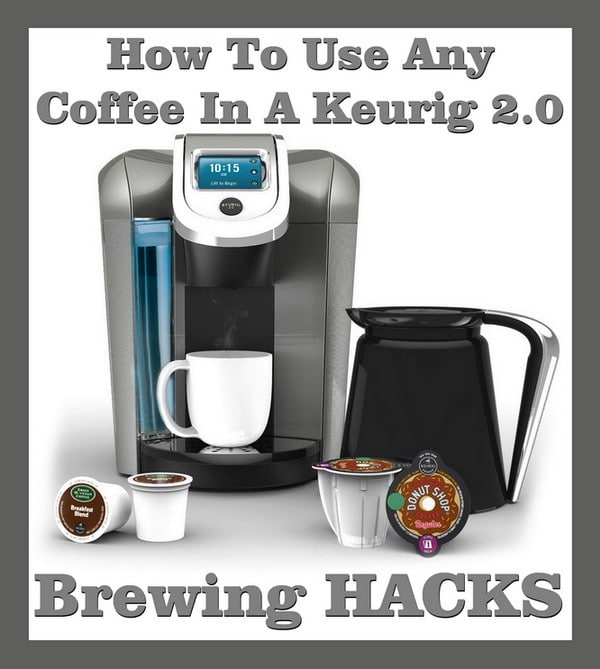 How To Brew Any Coffee In A Keurig HACK
Option #1 to make your Keurig 2.0 brew ANY COFFEE POD or CUP:
There is a clip hack that has been created by San Fransisco Bay Gourmet Coffee Company. This "Freedom Clip" for Keurig® 2.0 brewers simply clips into your brewer. It will make it so your Keurig can brew any coffee brew pod designed to work in a Keurig K-Cup brewer. You can buy a OneCup 3 pack that will come with a free Freedom Clip for only $1.99 and free shipping. Amazing deal, great coffee, and you get a special clip that makes it so your Keurig will brew just about any pod.

Freedom Clip for Keurig 2.0 brewers
Option #2 to make your Keurig 2.0 brew ANY COFFEE POD or CUP:
Buy a few Fill it Yourself k-cups. Available online and are a few dollars each. See the refill cups below.
Items Needed To Hack your Keurig 2.0:
1 – Exact O knife
2 – Sandpaper
3 – Epoxy
4 – A few used newer brand 2.0 K-cups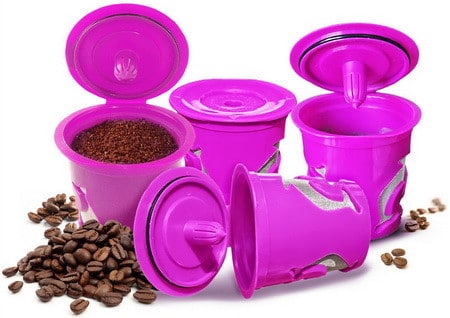 Keurig Refill Cups
Instructions How To Make Your Keurig 2.0 Brew Any Coffee:
Get the exact o knife and cut the lip of the cup by removing the top portion. Use your knife and get the top lid and cut out a half inch sized circle in the middle. This will let the needle and the water enter into it. Use your sandpaper and remove the plastic from the back of the top disk. Get your epoxy and glue the disc to the lid of one of the refillable cups. Once you have glued the lid on the reusable cup, make sure the glue is dry and the cup is washed and clean. Let it air dry. Next add your coffee to the refill cup and try brewing your coffee. coffee and brew. For more ways to do this, see the videos below to assist you in hacking your Keurig.
Options #3 to make your Keurig 2.0 brew ANY COFFEE POD or CUP or CARAFE:
See below for some highly detailed ways to make your Keurig 2.0 brew any coffee you choose without using the authorized K-cups.

Keurig 2.0 Hack: ANY K-Cup, Easy & Permanent Fix
The Keurig 2.0 restricts competition and choice.
This PERMANENT FIX will let you use ANY K-Cup with your new Keurig 2.0 Brewer.
This hack is also compatible with the Solofill refillable Vue/K-Cup cups for those of use who prefer fresh ground coffee.

Best Keurig 2.0 Hack
All menu choices unlocked and for your use

Keurig 2.0 K-Cup Easy Hack:
Use Refillable Cups & Other Single Cups with this Permanent Fix

Keurig 2.0 "Hollow Carafe" Hack Unlock 14oz cups and favorites.
No magnet. No tape.
Simple hack for 14oz cup of coffee and favorites.
To brew a cup after you've made your Hollow Carafe:
1. Insert the single K-cup and close the lid to pierce the bottom of it.
2. Take the K-cup out of the brewer.
3. Insert the Hollow Carafe.
4. insert the K-cup inside the Hollow Carafe and close the lid.
5. Select section 2 and brew your coffee.

Hacking the Keurig 2.0 Full Menu (No magnets or unscrewing)
Do you have other ways or methods to brew any coffee in a Keurig 2.0 brewing system? Please leave your Keurig hacks, tips, and tricks below.