Do you have the money for a $40,000 dollar television? Either do we, but you can buy a 98″ LG TV on Amazon for the price of a new car. Check out the 5 most expensive TVs below and see for yourself. (Prices and time of offers are from April 2016 on Amazon)

Top 5 most expensive TVs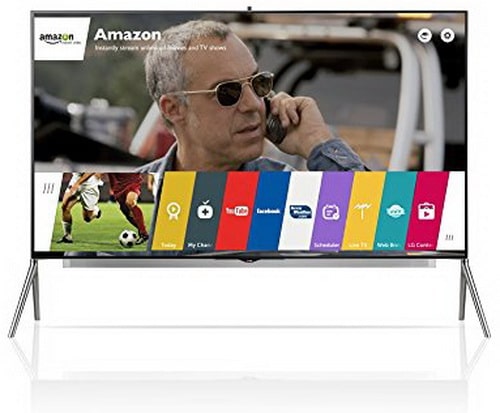 MORE TV DETAILS HERE
#1 – LG Electronics 98UB9800 98-inch 4K Ultra HD 3D Smart LED TV
$39,999.99 FREE Scheduled Delivery
Refresh Rate: 240Hz (Effective) with IPS Panel; Ultra Clarity Index: 1560 (Effective)
Backlight: LED (edge-lit w/ local dimming)
Smart Functionality: Yes – , Includes Magic Remote
Dimensions (W x H x D): TV without stand: 87.1" x 50″ x 4.5", TV with stand: 90.7" x 63.1" x 18.4"
Inputs: 4 HMDI 2.0, 1 USB 3.0, 2 USB 2.0, 1 RF, 1 Component, 1 Composite, 1 Digital Audio Out (optical), 1 LAN, 1 RS232
Weight = 225.3 pounds
Product Dimensions = 93.9 x 18.4 x 63.1 inches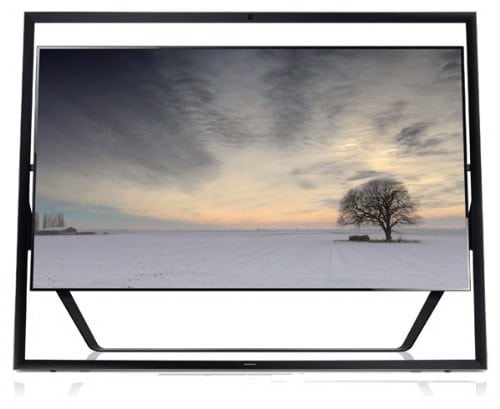 MORE TV DETAILS HERE
#2 – Samsung UN85S9 Framed 85-Inch 4K Ultra HD 3D Smart LED TV
$35,999.00 Free shipping
Refresh Rate: 120Hz (Native); Clear Motion Rate 1200 (Effective)
Backlight: LED (Edge-Lit)
Smart Functionality: Yes – Voice and Motion Control with Built-In Pop Up Camera
Dimensions (W x H x D): TV without stand: 78.9″ x 64.4″ x 2.8″, TV with stand: 78.9″ x 64.0″ x 22.9″
Inputs: 4 HDMI, 3 USB, 1 Ethernet, 1 Component, 2 Composite In, 1 RF In, 1 Optical, 1 Audio Out
Accessories Included: 4 SSG-3550CR 3D Active Glasses, Samsung Smart Touch Remote Control
Weight = 189.2 pounds
Product Dimensions = 78.9 x 22.9 x 64.4 inches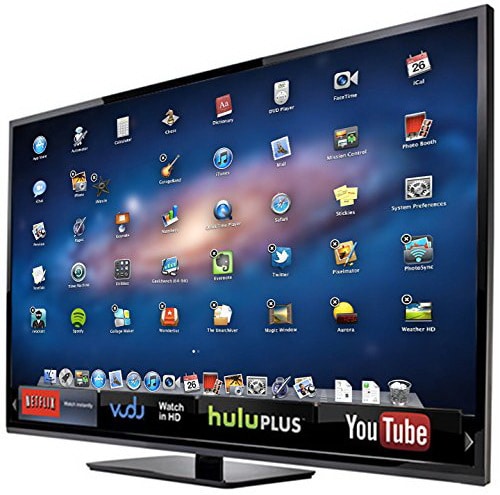 MORE TV DETAILS HERE
#3 – Music Computing MCLCDTTV8410 Motion Command 84″ 10 Touch 4K/3D Touchscreen Smart TV
$34,999.00 FREE Prime Shipping
84″ LED Computer Touchscreen and HD 4K/3D Smart Television in One (10-touch)
Multi-touch gestures in Mac OS X, and Windows 7/8/10
Motion COMMAND works with any software or webpage
3840×2160, 4k Resolution, HEVC Decoder, 4K 3D+, 3D Glasses(6 pair), Harmon Kardon sound
HDMI/HDCP, RGB, USB, LAN, Component, AV, RF, PC Audio
Weight = 148 pounds
Product Dimensions = 66 x 92 x 10 inches
MADE IN USA!!!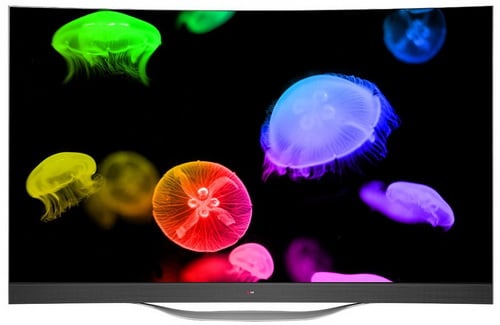 MORE TV DETAILS HERE
#4 – LG Electronics 77EG9700 77-inch 4K Ultra HD 3D Curved Smart OLED TV
$24,997.00 & FREE Shipping
LG OLED TV uses a revolutionary technology that delivers truly exceptional picture quality.
8.3 million pixels for four times the resolution of Full HD TVs.
LG Smart TV* with the new webOS (TM) platform is quick to learn and fun to use.
Weight = 95.4 pounds
Product Dimensions = 67.6 x 12.7 x 43.7 inches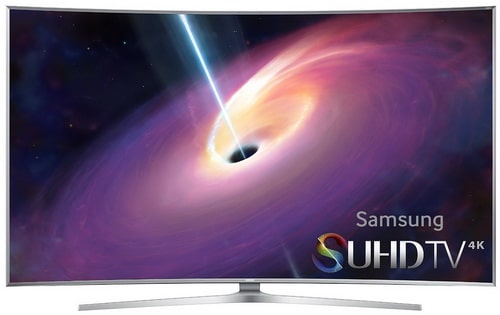 MORE TV DETAILS HERE
#5 – Samsung UN88JS9500 Curved 88-Inch 4K Ultra HD Smart LED TV
$19,997.99 FREE Scheduled Delivery
Refresh Rate: 240 CMR (Effective)
Backlight: LED
Smart Functionality: Yes, Built in Wi-Fi: Yes
Dimensions (W x H x D): TV without stand: 77.3″ x 44.7″ x 7.5″, TV with stand: 77.3″ x 47.9″ x 17.1″
Inputs: 4 HDMI, 3 USB
Weight = 141.1 pounds
Product Dimensions = 77.3 x 17.1 x 47.9 inches
Do you know of a more expensive TV than 40 grand? Please let us know and leave us a link below.