(Last Updated On: December 2, 2016)
LG Fridge displays the Er FR fault code? The LG refrigerator Er FR error code on the refrigerator's display mainly indicates an abnormality with the refrigerator's fan motor. This can be caused by a faulty refrigerator fan motor, wiring issue, or a faulty control board (PCB). Below we will show you what to check and test to fix the ER FR error code on your LG refrigerator.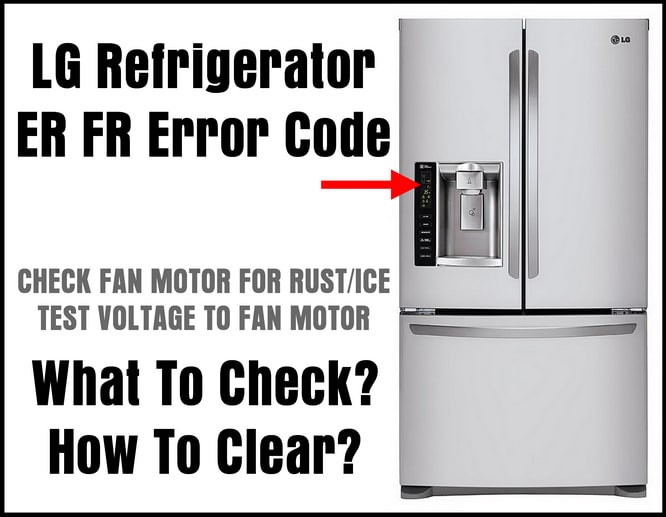 LG Refrigerator ER FR Error Code – What To Check – How To Clear
Troubleshooting Your LG Refrigerator With ER FR Error Displayed:
– Reset the refrigerator (unplug fridge for 10 minutes)
– Input unit to test 1 mode on PCB board (press button one time)
– Open freezer door and check air flow
– If no airflow, check fan motor for rust or ice (replace if rusty, iced up, or not easy to turn)
– If there is airflow, check the fan motor voltage from board




How To Troubleshoot Your LG Refrigerator With ER FR Error Displayed?
For checking voltage on board for fan motor voltage:
(Use CONNECTOR 6 as shown on the main control board picture below)
Use a meter and check Connector Pins 1 and 2 – If below 12V then Change the Main Control Board PCB
Use a meter and check Connector Pins 1 and 3 – If 0 or 5V then Change the Fan Motor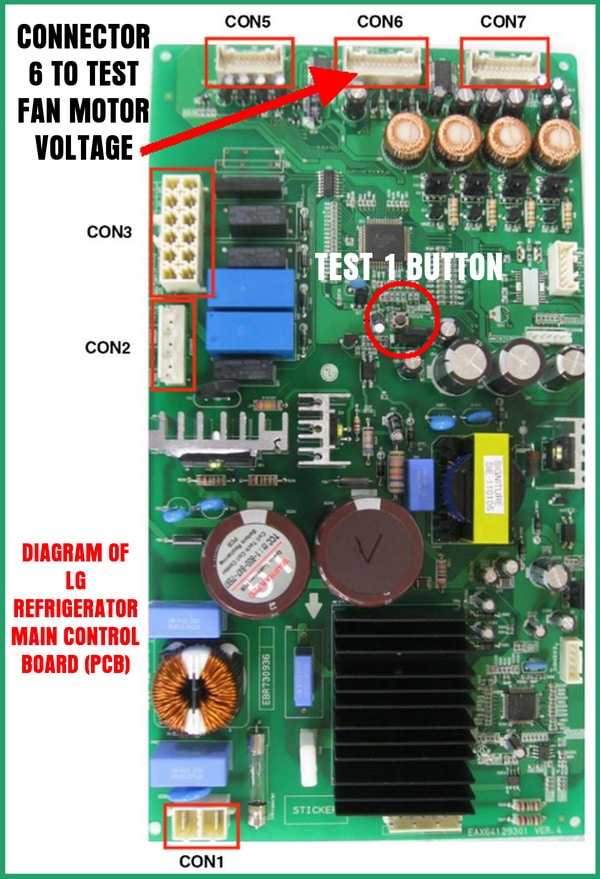 LG REFRIGERATOR ERROR CODE ER FR
CHECK FAN VOLTAGE ON MAIN CONTROL BOARD PCB
NOTE: The Main Control Board PCB, is located at the back of your refrigerator. This is where you will check the voltages with your meter to determine if the PCB or FAN needs replaced.

LG REFRIGERATOR CONTROL BOARD PCB

LG REFRIGERATOR FAN
BEST PRACTICE: If you determine the Main Control Board PCB to be faulty and you install a new one: After installing it and the fridge is set to be tested, leave the fridge on overnight with a slightly colder setting to be absolutely sure the ER RF error message does not display again.
Allen is the author and creator of this website. He has years of experience with appliance repair, commercial food machinery maintenance, electrical, HVAC, plumbing, vehicle maintenance, and critical aviation related systems.