What is VPN? VPN means Virtual Private Network. A VPN is a secure tube between two or more devices.
For those who follow Internet and technology news, the recent December 2017 FCC ruling has pretty much killed the concept of Net Neutrality. This leads to potential abuse and even a type of extortion by your Internet Service Providers (ISP). They now have the ability to legally slow down (or throttle) traffic to select sites and indicators are that they are will not hesitate to boost their profits through such tactics.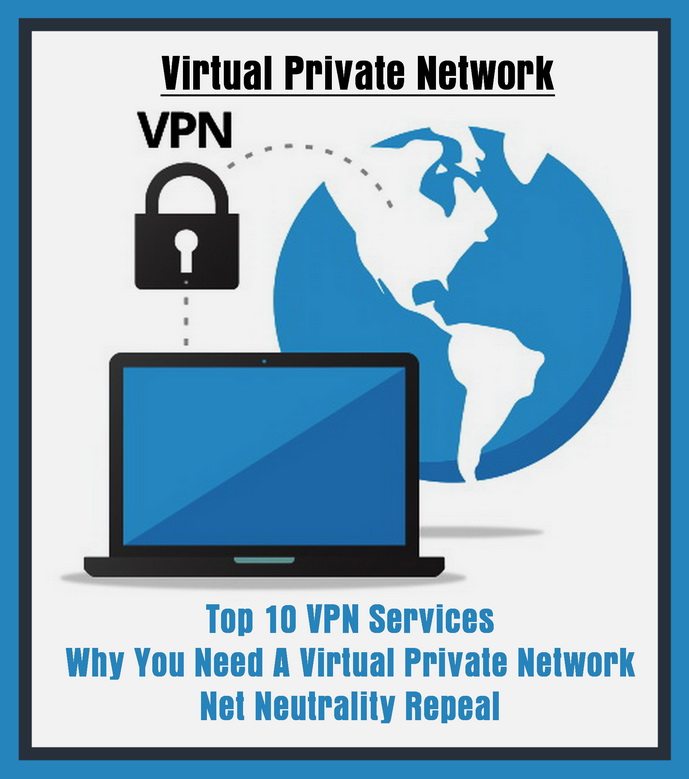 Top 10 VPN Services – Net Neutrality Repeal – Protect Yourself
Instead of shouting into empty space about the injustice of this unpopular act, it is better to become proactive and find a solution that will keep your favorite sites operating as smoothly as ever.
VPN to the Rescue
One Internet service in particular is positioned to benefit from this unpopular and unfair ruling: VPN services. VPN stands for Virtual Private Network; it is way of allowing you to privately cruise along the Internet without your ISP being able to monitor where you are going or what data you are collecting or sharing. It is an effective cloak between you and your ISP.
For the time being, using a VPN service appears to be the best way for you to duck under the radar of this FCC ruling. There are plenty of VPN services to pick from; listed alphabetically below are ten reputable VPN services along with pricing and a feature highlight for each company:
1 – Golden Frog VyprVPN – Priced at $5 per month, billed annually. Offers a 3 day free trial to test their service; works with Android, iOS, macOS, and Windows.
2 – Hotspot Shield – Their one-year subscription works out to $5.99 per month, but their best deal is a one time payment of $119.99. Free version available to test drive.
3 – Hide My Ass VPN – Offers a one-year subscription which equals $6.56. Besides their rather clever and unusual name (which comes to the point!), this is great for newbies to Internet security.
4 – IP Vanish VPN – Best price offered is $6.49 per month, paid annually. It supports most operating systems, so it is good with an array of devices and computers.
5 – NordVPN – Lowest subscription price is their 2-year plan which comes out to only $3.29 per month. Covers all operating systems except Linux and offers a free test version.
6 – Private Internet Access VPN – They offer a 2-year program for just $2.91 per month. Popular with power users and offers ad blocking for extra speed.
7 – PureVPN – Best recommendation is to try out their 3-year subscription that breaks down to only $1.91 a month. Supports many operating systems and good for fast connections and downloads.
8 – TorGuard VPN – Prices ranges between $5.95 to $11.54 per month, depending upon features selected. Particularly popular among BitTorrent users.

Anonymous VPN Proxy Anonymous Proxy Services TorGuard
9 – TunnelBear – Costs a little higher than other services at $4.16 per month, but popular with new users. Also offers a free version limited to 500MB of data monthly.
10 – VPN Unlimited – The very best deal is their lifetime offer at only $134.99. Users who travel a lot have found their service reliable and easy to use.
The Final VPN Pick
As you can see from the many services available, there are plenty of options. While it is tempting to jump at the lowest price, take a little time to check out each service. Once you have narrowed down your choices, your next step is to dig a little deeper.
Google each of the remaining candidate's company names, appended with "reviews" (for example, if NordVPN ends up on your shortlist, Google "NordVPN reviews"). Read a few reviews from different sites; try to go with reputable or recognizable websites and seek out review sites from users, not from vendors selling their wares.
In the long run, you cannot go wrong by any of the above providers. In fact, even if you pay a few cents more per day for the privacy and speed you want, it will be worth it for the protection and security you deserve.
At Remove and Replace, we honor and support the efforts of individuals willing to do it themselves, whether it means fixing a faucet or keeping your Internet flowing smoothly. If there is a topic that you would like to know how to do by yourself, just let us know by leaving a comment below.
More "Do It Yourself" DIY Tips, Tricks, Ideas, Repair: