I have a 2 year old dishwasher. The dishwasher is digital and does not dispense the liquid detergent soap properly. The dishwasher is not opening the soap dispenser door. If I use dishwasher detergent tablets, the tablet will not dissolve. The dishwasher runs the complete cycle but never uses any of the detergent. The soap door does not seem to be open at end of cycle. What steps can I take to fix this problem and get my dishwasher working again?

Dishwasher Not Dispensing Detergent
To fix a dishwasher not dispensing or dissolving tablet/liquid soap detergent:
– Be sure to check the soap dispenser for any sign of detergent building up in it or around it.
– If you find residue from the detergent, scrape it off and dispose of it. (See picture below)
– Clean the dispenser by hand with hot water and be sure nothing is preventing the dispenser door from closing.
– When using tablet detergent be sure the tablet is properly in position in the dispenser to be sure the dispenser door closes.
– Make sure there are no plates or other that could be in contact with the detergent dispenser door thus making it impossible to open.
– Make sure that nothing inside the dishwasher is blocking the spray arms from spinning as this will cause no hot water to detergent compartment.
– Be sure the small nozzles on the spray arms are not clogged or blocked with hard water.
– Be sure the water is hot enough to dissolve the tablet detergent.
– Set your hot water tank to a higher temperature to get at least 120F to 125F hot water to the dishwasher.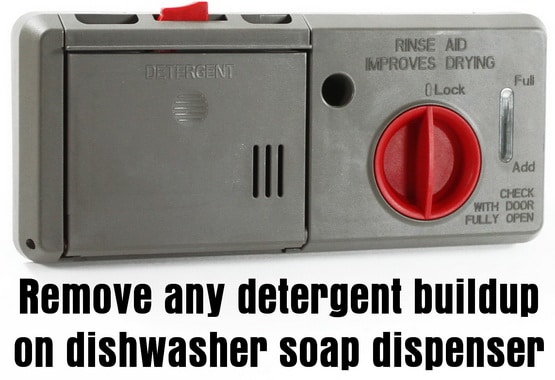 Clean out any detergent buildup on dishwasher dispenser – Inside and out
To test your dishwasher to be sure the detergent dissolves:
Hint: Make sure all the above is done and set correctly
– Empty your dishwasher of any plates or utensils.
– Fill the detergent dispenser up to the line with detergent or add tablet.
– Run a test wash with your dishwasher fully empty.
– After the wash cycle completes and if the dispenser is empty, you have the issue fixed.
– If the detergent has not dispensed, then there are further issues and more troubleshooting is required.

Dishwasher Detergent Cup Not Working or Opening – How To Fix
Please Note: There may be an issue with the soap dispenser door not being able to open or close properly. Be sure the dispenser door is is working order. Examine it and if damaged, you will need to replace the detergent door or the complete assembly. (Soap detergent doors and complete dispensers for dishwashers are available below, click the image below if you have determined you need a new soap dispenser for your dishwasher)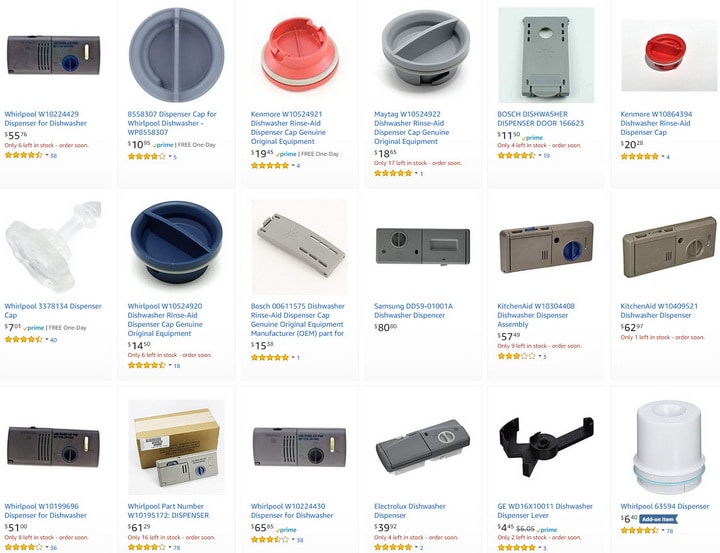 Dishwasher Dispenser, Soap Doors, and Assembly
If an error code shows on the dishwasher display because of the soap
dispenser

:

Tip 1: An error code in this situation may mean EXCESSIVE SUDS, an PROBLEM WITH SOAP DISPENSER, or WATER NOT HOT ENOUGH. If you need help determining what the error code is that shows on your dishwasher, click to go to our Dishwasher Error Codes page. You will find error codes for Frigidaire, Fisher & Paykel, GE, KitchenAid, Bosch, Kenmore, Hotpoint, Haier, Electrolux, LG, Maytag, Asko, Samsung, and Whirlpool Dishwashers.

Tip 2: Be sure that you are only filling the dispenser to the line indicated, do not overfill.
If the detergent dispenser has been overfilled, the excessive amount of bubbles or suds should be wiped up from the dispenser using a rag or cloth.

If you need more assistance with your dishwasher not dispensing detergent soap or dishwasher error codes, please send us your model number and an explanation of the issue by using the comment forms below. We will help you find out what might be wrong with your dishwasher and recommend parts or what type of problem you may have with your dishwasher.














More "Do It Yourself" DIY Tips, Tricks, Ideas, Repair: