You can watch YouTube videos on your TV using your phone. The simplest way to do this is by using the app on your phone with the YT app on your smart TV and control it with your phone. Both Apple or Android will work to play YT on your TV.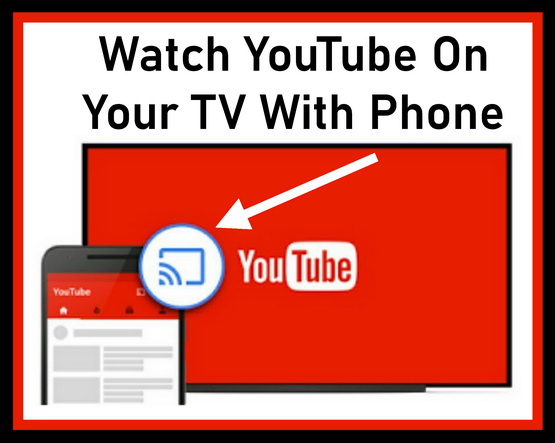 Watch YT On TV Using Phone
Turn on your smart TV with the YT app already installed.
Go to YT on your phone and find a video you want to watch.
Open the video, let it play, and once the ads are over click anywhere on the screen and you will see a small TV box on the top right of the screen on your phone.
Click that box and it will give you a choice of all TVs connected to your WIFI.
Select the TV you are sitting in front of. If confusing, it will say make of TV and size. Choose the right one.
Once the correct WIFI connected TV is selected, the YT video will play on your TV.
You can then use your phone as a YT remote. YT phone app does not connect to TV


How to watch YouTube on a TV
YouTube on TV Using Phone
There are two ways to use your smartphone to play YouTube on your TV.
Casting/Screen Mirroring – If you have the YouTube app installed on your smartphone or tablet, screen mirroring or screen casting will let you send YouTube to a smart TV without wires.
You can also stream from YouTube to your TV using a media streaming device that supports this feature, such as Chromecast, Blu-ray player, or game console.
Use TV Code Link – In addition to screen mirroring and screen casting, there is a YouTube Link with a TV Code option that will let you connect your smartphone or compatible device running the YouTube app to your smart TV.
This offers a different way of sharing your favorite YouTube video on your TV or other devices. Here's how:
Launch the YouTube application on your TV by going to Settings.
Copy the link on YouTube and click it on your TV.
Open the YouTube app on your compatible smartphone and tap on Settings in Profile.
In Settings, tap Watch on TV.
You need to have a TV or device connected to your TV that you want to use. Tap the appropriate account, then enter the TV code provided by your TV in Step 2.
Your smartphone may also provide an automatic link option that doesn't require input of a TV code.
When you play YouTube on your phone, it's shown on both mobile device and TV.
You may also see an alternate YouTube TV and Phone option in the Settings of your TV or connected device.
If it is not grayed out, click that button and enter the TV code from your YouTube app on your phone.
Other Ways To Watch YT On TV
If you don't have a smart TV, an external streaming device like Chromecast, Amazon Fire Stick, Apple TV, Roku or a console to your television can convert your old TV into a new smart TV where watching YouTube is easy.