Phone not getting a charge? There are several reasons why your phone is not charging. The reasons an iPhone or Android phone will not charge can be fixed using these easy solutions. Follow the information below to fix your phone and get it charging again.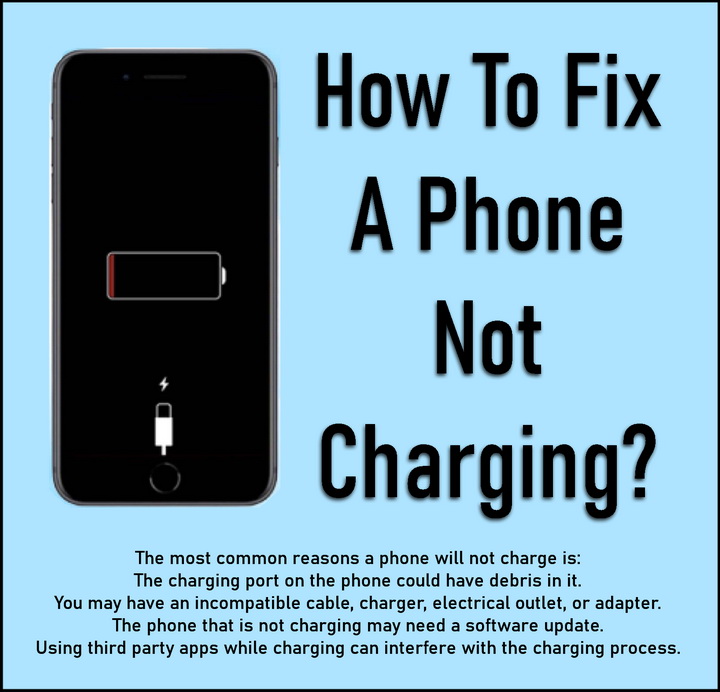 How To Fix A Phone Not Charging
Reasons a Phone Will Not Charge
The charging port on the phone could have debris in it which causes it to not charge.
You may have an incompatible cable, charger, electrical outlet, or adapter.
The phone that is not charging may need a software update.
Using third party apps while charging can interfere with the charging process.

Clean Out Debris In Charging Port On Phone
Phone Battery Fully Drained
If your phone is not charging, there are a few more solutions to troubleshoot the problem. One main issue could be that if you haven't used your smartphone for a long period of time, the battery has run down. If the battery is completely dead or fully drained, you will need to let it charge for up to 10 minutes before you will see that it is charging. Give the drained battery on the phone some time to charge.
Phone Won't Charge On Wall Outlet
If that does not get your phone to charge the battery, simply try a different cable, adapter, or another electrical wall outlet. The wall outlet you are using might be a GFCI outlet and it could be tripped, meaning no power to the outlet. Try another wall outlet in a different area of your home or apartment and use other cables and chargers to see if the phone will charge up.
Phone Charging Cable Damaged
You may be having issues with the charging cable or charging port. Check the end of the wire that goes to your phone for any faults or if the pin is bent. Check the full charging cable to make sure there is no damage such as a kink in the cable or if the sheathing of the cable is coming off. If you find issues with the charging cable, replace it with a working cable and try charging your phone once again. Check the charging port on your phone for any debris or if you see any part of it bent or not the right shape. This will cause the charging cable to not connect to your phone properly and the phone will not charge.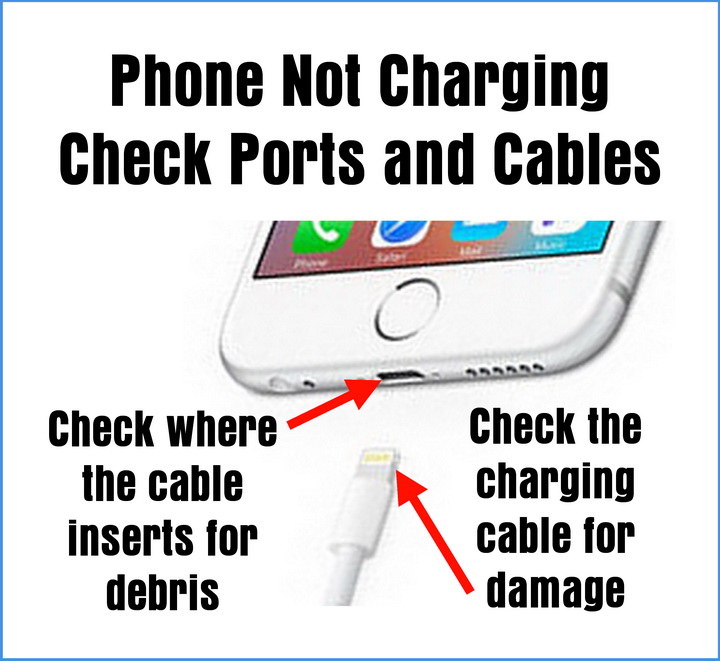 Phone Not Charging – Check Cables And Port
Phone Charging Wall Adapter
If you plug your phone into a wall adapter or charger and the phone still does not charge then the issue is the wall adapter. This is the component that plugs into the wall outlet to give power to the USB cable plugged into it. If the light on the phone wall charging adapter does not come on or does not charge your phone, then try another wall outlet. If the adapter still will not charge your phone, then the adapter may be faulty. Try charging your phone with just the charging cable and plugging it into a USB outlet instead.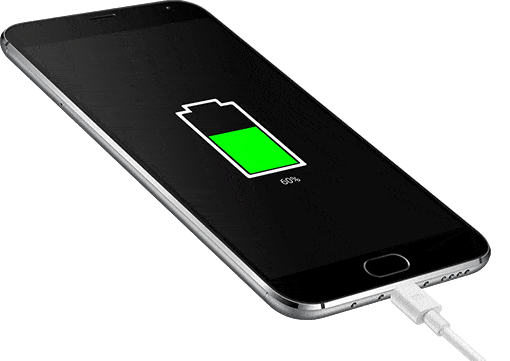 Phone Battery Recharging
Restart Your Phone
If your phone still has juice, consider performing a restart or reboot. By restarting your phone, the smartphone will reset the temporary memory and may fix the problem if a software issue was causing it to not charge. To restart your Android phone, press and hold the Power and Volume Down buttons for a few seconds until the device restarts. To restart an iPhone, turn your iPhone or iPad off by pressing and holding the SIDE BUTTON until the POWER OFF option appears. For restarting an iPhone X, 11, 12, or 13, simply press and hold a VOLUME BUTTON and the SIDE BUTTON until the POWER OFF slider shows up. After restarting or rebooting your phone, try charging it to see if the restart has corrected the charging problem.
Phone Is Too Hot
If your phone battery is hot from overuse by playing intensive games then this may affect your phones ability to charge up properly. If you use multiple apps at once or you are streaming massive content for hours on YouTube, this causes the battery to heat up and can effect the charging of your phone. Close any apps that are still running on your phone. Let the phone cool down if the battery is hot. After the battery has cooled, try charging it again and you should have no issues.
Phone Battery Needs Replaced
If you have an older phone and you use it many hours a day, the battery may need to be replaced. Some phones have a removable battery but newer phones have a sealed battery compartment. If you suspect the battery has reached it's end of life, change out the battery or if the battery is sealed, take it to a phone repair shop and they can do it for you. If the battery replacement is too costly, consider getting a new unlocked phone for a cheaper price than at a retail phone company store. Simply go to Google and type: Unlocked Cellphones
Help with fixing your phone: Samsung Phone Repair – Apple iPhone Repair – LG Phone Repair – Google Pixel Phone Repair – BLU Phone Repair – TCL Phone Repair – Sony Phone Repair – Xiaomi Phone Repair – Huawei Phone Repair
What other issues do you have with your phone that you cannot get it to charge? Let us know what type of phone you have and how you are trying to charge it and we can have someone help you out.