Are you attempting to sign in to your Hulu account but it's not working? You may have trouble signing into Hulu, but several of these issues can be resolved. We'll go through a number of typical Hulu login problems and how to fix them.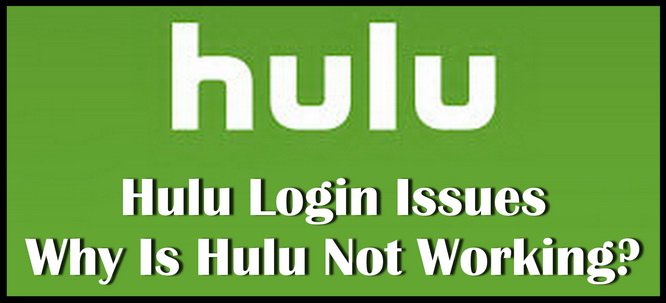 Hulu Login Not Working
Why Can't I Login To Hulu?
If your login details are incorrect, the Hulu.com sign in login will not work, recheck your password. Be sure your password was not reset somehow, check your email account to see if Hulu has reset your password and you need to confirm this.
Is Hulu Down?
You can check certain websites to see if Hulu is down. If you have tried everything and still can't login or you cannot get to the Hulu login page, check here to see Is Hulu down?
Hulu Account Expired?
It may be possible that your Hulu subscription is expired, be sure you still have an active Hulu account. This will happen if you didn't make a payment or if your subscription was canceled.
Your Hulu account has not been activated, check on the Hulu website to be sure your account is in good standing. If you signed up with a 3rd party, you will need to get into the account you singed up at and activate your Hulu subscription there. Check your emails if you do not remember where to activate Hulu.
Reset Hulu Password
You can reset your password by clicking Forgot Password on the Hulu website, and they will send an email for you to change it. Click here to go to the Hulu website.
Hulu Send Me A Reset Link
If all else fails you can ask Hulu "send me a reset link" to get things refreshed with your password or to update any information that may have changed.
Are You Using Home Network?
You must use your home network to access Hulu, if in another location other than home, your Hulu service may not let you login. You can use Hulu's live TV service away from home on a mobile device, like an iPhone, but you must check in to your home network once every 30 days to make this work. Hulu check in here.
Password Button Issues
If you cannot find the password button, try refreshing the page or use that same link and copy it, and paste it into a different browser. If the password button is not visible in an email sent to you by Hulu, try clicking in the email where it says "view in browser".
Restart Your Device
If you're still having trouble connecting your phone, restart it and/or double-check to see if you're using a Wi-Fi connection or a 4G/5G connection. It's also a good idea to double-check how much data is being used per hour.
Delete Hulu From Device
Try deleting the Hulu app from your device and reinstalling it. This may help if the app was out of date or for other reasons. Also if you are using Hulu on a device you have not used in awhile, it may simply need the most updated version of the Hulu app.
Hulu Terms Apply
Read the terms apply section of Hulu to be sure the account is still active and if you have an ad supported plan or Hulu with no ads. With an ad supported plan, or no ads, Hulu should work perfectly when all is set properly and you have a "supported devices". If you have all the requirements, you will have access to the Hulu streaming library and you can watch shows and movies.

Hulu not working on Samsung Smart TV – Fix it Now
Can't Login To Hulu.com Issues
Not being able to log into Hulu might also be caused by ad blockers, browser issues, slow internet, or out-of-date firmware.
The Hulu activation page may be disrupted by an ad blocker. If the Hulu activation page does not display, turn off or uninstall ad-blocking software on your PC or phone.
Use another browser such as Firefox to attempt to get into the Hulu activation area. Some browsers simply work better when attempting to get into Hulu.
If you have an issue with any browser getting you into the Hulu website, simply clear the cache of the browser or just restart your computer and try again.
If using a mobile device such as a tablet or a phone, try restarting the device to clear some memory.
You may have issues with slow internet or Wi-Fi issues at home or away on vacation. Try going to a web speed test website to test your internet speed. This will let you know if slow internet is causing the issues. Try FAST to test your internet connection speed.
If your device has updates pending, like an Apple IOS update to your phone, or an update with your android phone, be sure to update the device first to be sure it is up to date and can work as needed with all apps and functions. This may get the device to work with all apps including Hulu.
Hulu is a fantastic streaming service with sometimes "hulu no ads" for watching your favorite shows, with several advantages. However, when the app is not functioning correctly, it may be frustrating to have faulty viewing experience.
If you're having difficulties with your sign in or the video quality seems poor, there are a few things you should try to fix before contacting Hulu.
If you still have issues and you cannot activate, login, have password problems or can't watch Hulu away from home, let us know the device you are using, such as watching on a tablet, phone, or a TV.
Please describe the issue and the precise problem you are having and we can have some assist you to get Hulu working properly.