If you are experiencing sound or volume problems with your Samsung TV, there are a few things that you can try. This article will show you how to fix your volume control not working on your Samsung TV.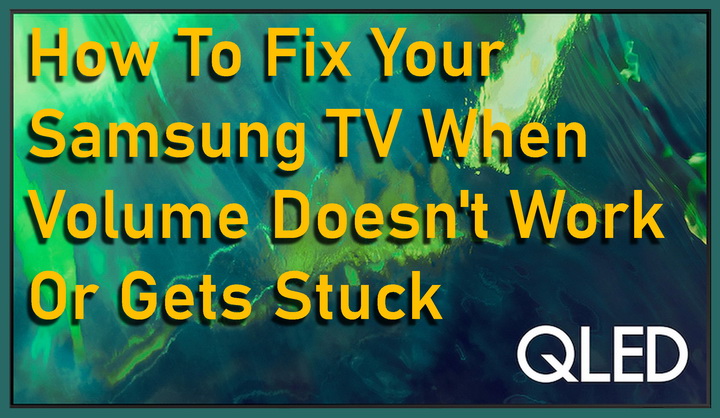 How To Fix Your Samsung TV When Volume Doesn't Work Or Gets Stuck
If the volume on your Samsung TV does not respond or is stuck and volume cannot be raised or lowered, try these troubleshooting methods:
Fix Samsung TV Volume Control Problems
Try using the Cable or SAT/DISH remote to control the Samsung TV volume.
Check the infrared area on the TV and be sure nothing is blocking it.
Add new batteries into the Samsung remote control that controls the TV.
Power down the TV and then turn it on again (unplug the TV for 5 minutes to attempt a reset).
Reset the audio settings in the menu to be sure speakers on TV are ON.
Remove the batteries from the Samsung remote and hold down the power button for 10 to 60 seconds.
Go to the Options menu and turn off Auto run Smart Features. Go to: SETTINGS > GENERAL > SMART FEATURES > AUTO RUN SMART HUB (then disable it). OR, Go to: SETTINGS > SUPPORT > SELF DIAGNOSE > RESET SMART HUB.
If nothing above has worked, reset the Samsung TV to factory settings by entering the menu and going to FACTORY RESET.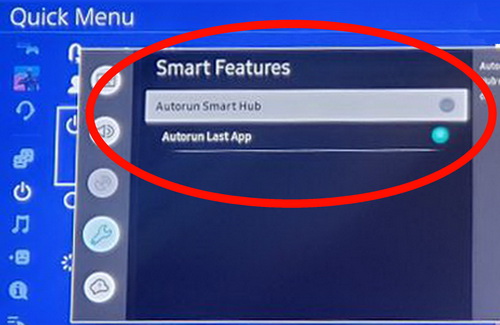 Samsung TV Autorun Smart Hub – Turn Off

Samsung TV Volume Stuck or Not Working PROBLEM SOLVED
So, replacing the batteries in your remote, resetting the smart hub, turning off auto run on the smart hub, or holding down both the DOWN and PAUSE buttons simultaneously until a message appears with REMOTE LEARNED are just a few options for resolving this Samsung TV sound/volume control issue. Trying the above suggestions should get your Samsung TV to control the volume.
Samsung TV Clear Memory
Another issue is the problem could be too many downloaded apps. These apps take up memory and cause the TV to have issues. To fix this issue perform a reset on the TV (Settings > Support > Self Diagnosis > Reset), followed by an initial setup (Settings > General > Initial Setup), then log back into your Samsung account on the TV. Then you will need to get access to the Smart TV Apps function. Check any downloaded apps and remove any of them that have downloaded automatically. Delete every app except the ones you regularly use. This will clear out the unused apps and free up needed memory for the TV to function faster and perform functions as designed. Following the above will keep it so the TV has extra memory remaining. After performing a RESET and REMOVING APPS that are not needed or used, try the remote and volume control, the TV should now operate normally.
Samsung TV Has No Sound
If your Samsung TV has no sound at all, go through the steps to complete a Self Diagnosis to find out the issue. See video below for help…

Samsung Televisions – Low Or No Sound from TV
Volume Control On Samsung TV Unlock
If the above did not work, access the volume control on your Samsung TV, you must reset the code to its default value of 0000. To do so, press the POWER button, mute the television, press 8-2-4 on the remote control, and then press the power button once more. This will reset the television to its original settings and then go into your menu to turn off the V-chip Parental lock.
Samsung TV Volume Turns Up
If the volume on your Samsung TV suddenly rises without your involvement, you should first check the Intelligent Mode Settings. To prevent them from operating independently, go to General -> Intelligent Mode Settings and turn off the settings.
MORE TV HELP: No Sound From Speakers – TV Will Not Turn ON – How To Fix A TV Remote Control – How To Reset A TV Remote Control – TV Does Not Recognize HDMI Cable – TV Not Casting – Can I Wall Mount My TV To One Stud
Are you having volume/sound or remote control problems with your Samsung TV? Please tell us the model number of your Samsung TV as many Samsung TVs work differently when controlling or resetting the volume controls. Please leave a comment below and someone can assist you.