Can't get your TV to cast? There are many reasons why your TV is not casting. From checking the WIFI connection and settings to having an issue with cables or hardware. We'll go over some potential solutions for when your TV isn't casting properly, to help you get it casting quickly.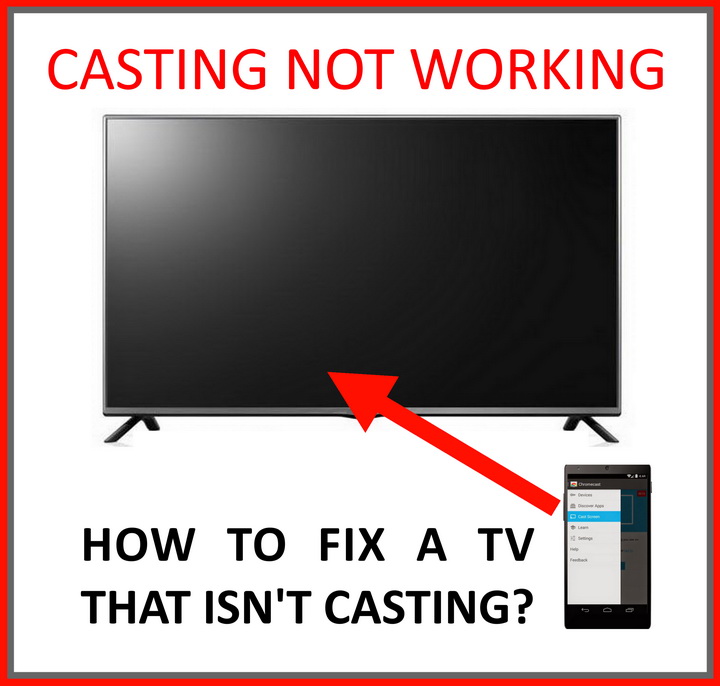 How to fix a TV not casting
TIP: Check to ensure that both devices such as the TV and the smartphone are connected to the same Wi-Fi network. Your phone or tablet is probably connected to your cellular data network. Switch the device to the Wi Fi the TV is connected to. Both devices have to be on the same Wi Fi for casting to work. Help with… My TV won't Connect To WIFI
If you still can't get your TV to cast an app such as YouTube, try the following…
Be sure the app you're using is cast capable.
Check to make sure your TV is capable of casting.
Be sure your device such as a phone, tablet, or PC, is capable of casting.
Make sure you are running the latest version of the Chromecast-enabled app.
Check the connection between your TV and the Wi Fi connection.
Make sure the device you'll be using to cast is on the same Wi-Fi network as your Chromecast.
Check that the TV is on the correct input setting (if applicable).
Try to connect to another network (WIFI or LAN).
Reset the router using the power button or unplugging.
Remove all of your devices from power for 5-10 minutes, then plug them back in one by one.
Once the casting issue is resolved, cast an app from your phone or tablet to your TV as a test.
To cast from Chromecast apps to your TV:
Open a Chromecast enabled or casting app.
Press the cast button.
Find and click on the device that you are casting to.
Select an app and cast it, watch YouTube or the videos from your device or phone.
You should now be able to cast videos and movies to your television.
To halt the casting, press the cast button and disconnect it.

Chromecast related apps
MORE HELP: Your TV will need to be able to connect to a Wi-Fi network in order for you to screen mirror or cast wirelessly. If you don't have a smart TV, you'll need a casting device like the Amazon Firestick, Samsung AllShare Cast, or a stand alone Chromecast. You'll need a Chromecast or a television with casting built in to watch your phone's screen on your TV. You can watch material from your Android, iOS, or other device on your TV screen via casting or mirroring. This function is also known as screen casting and displays video content from phones or tablets to the television screen.
Need help with casting from your phone or tablet to your TV? Trying to watch YouTube on your TV from your phone and it isn't working? Let us know the issue below and we can have someone assist you.