Be ready for any emergency situation when driving long distances. You should have a roadside emergency safety kit in your car. This checklist will get you started on putting together a DIY roadside emergency kit with the most essential items. Begin by choosing a container that can hold all of the items and keep them organized. Put the bag or box in your trunk or in the back seat. This list is assuming you have a cellphone to call for help if needed, but you may not always have reception.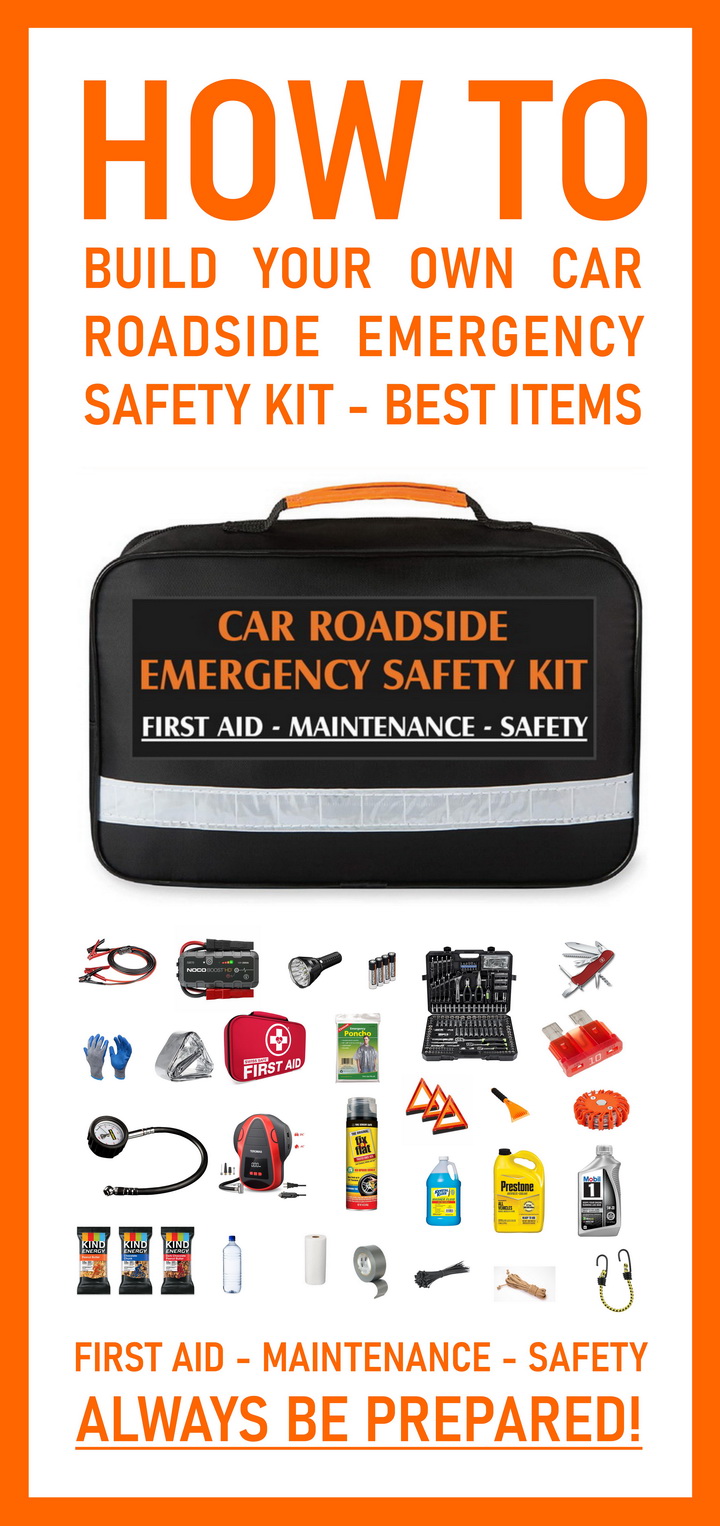 Car Roadside Emergency Safety Kit
(You can zoom in on this image on mobile!)
First things first… If your automobile breaks down, be sure to pull over on to the shoulder well away from traffic. If you're stranded on the side of the road with nowhere to go, switch on your emergency hazard flashers and begin finding out what is wrong with your vehicle or await assistance. If you have AAA or similar roadside help and a phone, call them and stay inside your car until help arrives.
These are important items you should carry in your vehicle, fill a duffel bag or backpack with the following items…
Car Roadside Emergency Safety Kit Items:
Full first aid kit
Jumper cables
Portable lithium battery car battery jumper with jumper cables
Fix-a-flat tire inflator
Portable DC/AC air pump tire inflator air compressor
Tire pressure gauge
Car fuses
Full tool kit
Pocket knife or multitool
Flashlight
Extra batteries
Triangle reflectors
Motor oil
Radiator coolant
Washer fluid
Paper towels
Gloves
Face mask
Hand sanitizer wipes
Poncho
Rope
Duct tape
Bungy Cords
Zip-ties
Blanket
Granola/energy bars
Bottled water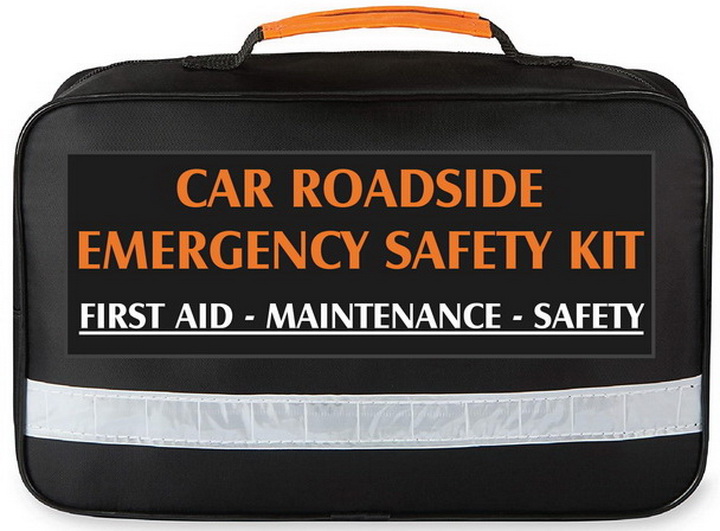 DOWNLOAD THE CAR KIT CHECKLIST HERE:
DIY Car Survival Kit Checklist in pdf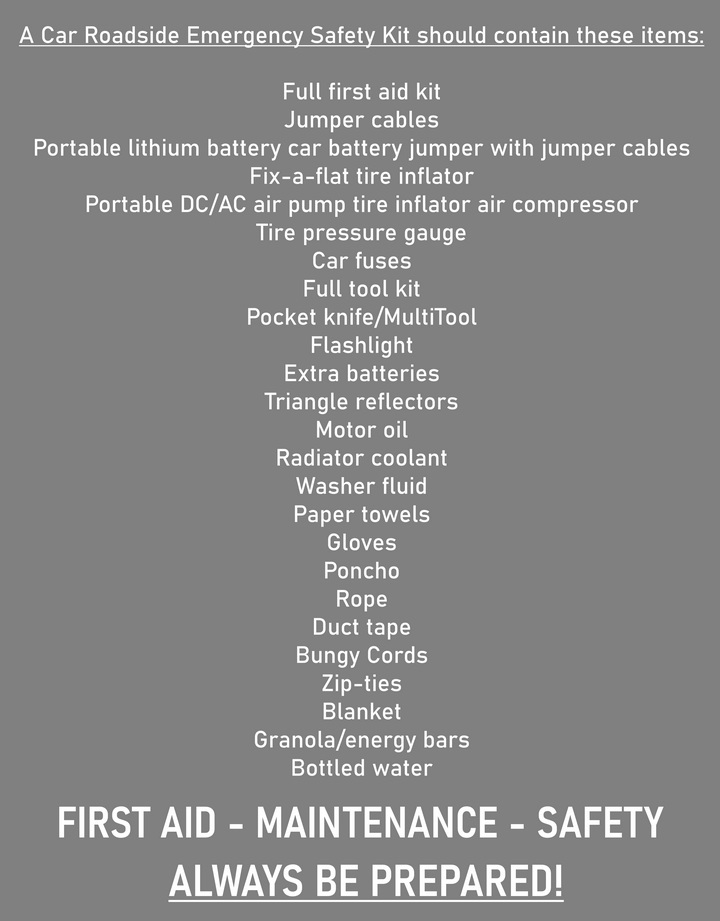 Car Roadside Emergency Safety Kit Checklist
Who to call if your car breaks down?
Emergency phone numbers to call if you need assistance when your car is broken down, out of gas, have flat tire, a dead battery, the car won't start, or locked out of car…
AAA 24/7 roadside assistance 1-800-222-4357.
Call your insurance company as you may have emergency roadside assistance included.
Call 911 and ask for Roadside Motorist Assistants if you have no options and no money for a tow truck.
Locked out of your car? Contact a Pop-A-Lock professional by phone at 1-(800) POP-A-LOCK or a local locksmith.
Most common reason for being stranded in a car?
The most common reason a car cannot be driven and people get stranded is a flat tire. Be sure to understand and have the correct equipment for how to change a flat tire on your car or truck. Be sure your spare tire in the trunk or under the vehicle is filled with air at the correct PSI, you do not want to change a flat tire and find your spare tire is not inflated properly when in the middle of nowhere.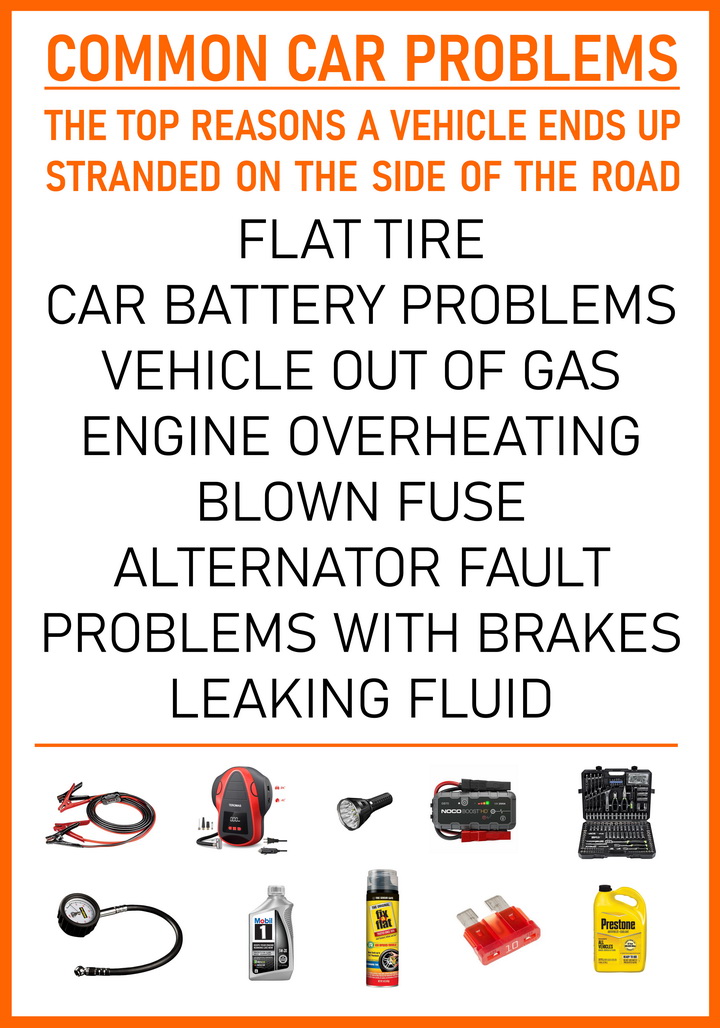 Reasons A Car Or Truck Gets Stranded
Be prepared to change a flat tire
Be sure you have a jack to lift your car, and a lug wrench to remove the lugs that hold the tire to your car. If you do change a flat tire, always use caution as to where you put the jack under the vehicle. You can cause damage or your vehicle may not be stable, so use common sense and caution. Remember to loosen the lugs on the flat tire before you lift the car or the tire may spin and be difficult to remove the lugs.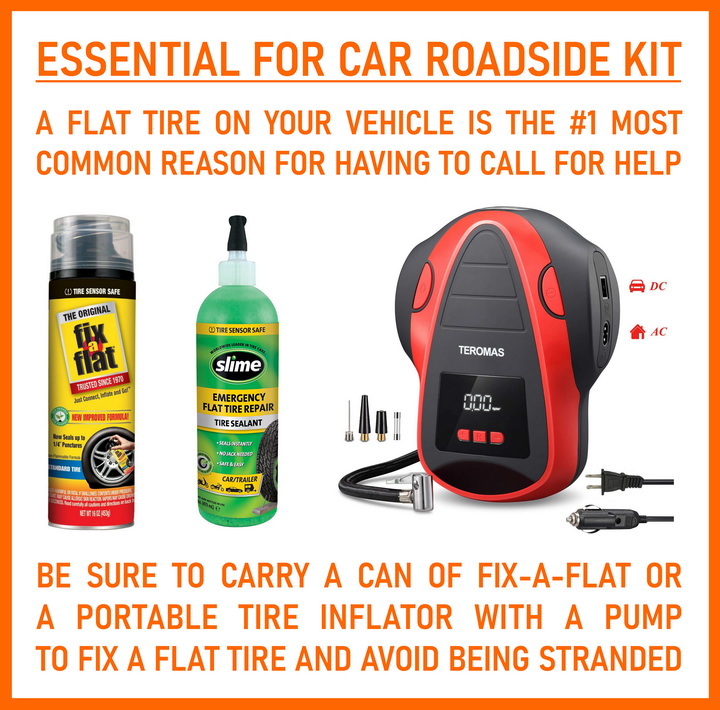 Car Flat Tire Essentials
Jump start a dead battery using lithium jumper
Be prepared for a dead battery. You never know when you'll need a boost, and it's always wise to keep a lithium jump pack on hand. Lithium jumper batteries are a must in your emergency roadside kit. You do not need to do it the old way when you needed another vehicle to assist you to jump start your car or truck. Simply place the lithium battery jumper leads to your battery. The red lead goes to the positive "+" side of the car battery and the black negative lead "-" goes to any metal grounding point on your car near the battery. After the cables are placed correctly, press the button on the lithium jumper pack and start your car. It is that easy.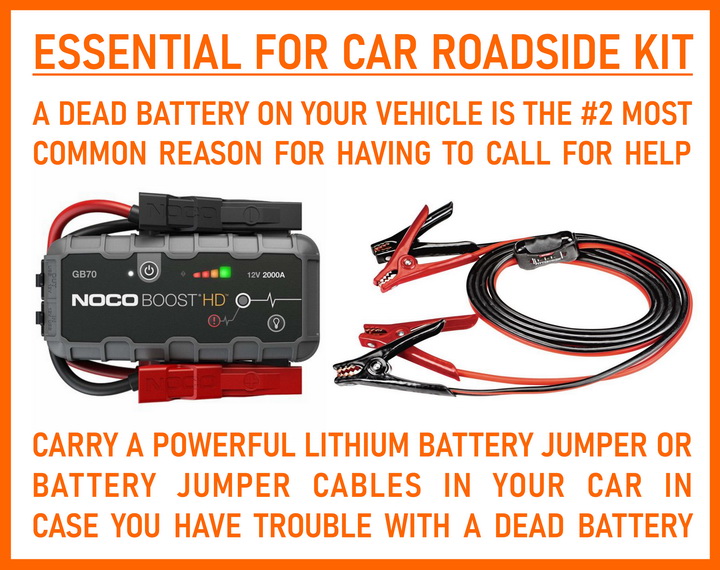 Car Or Truck Battery Essential Jumpers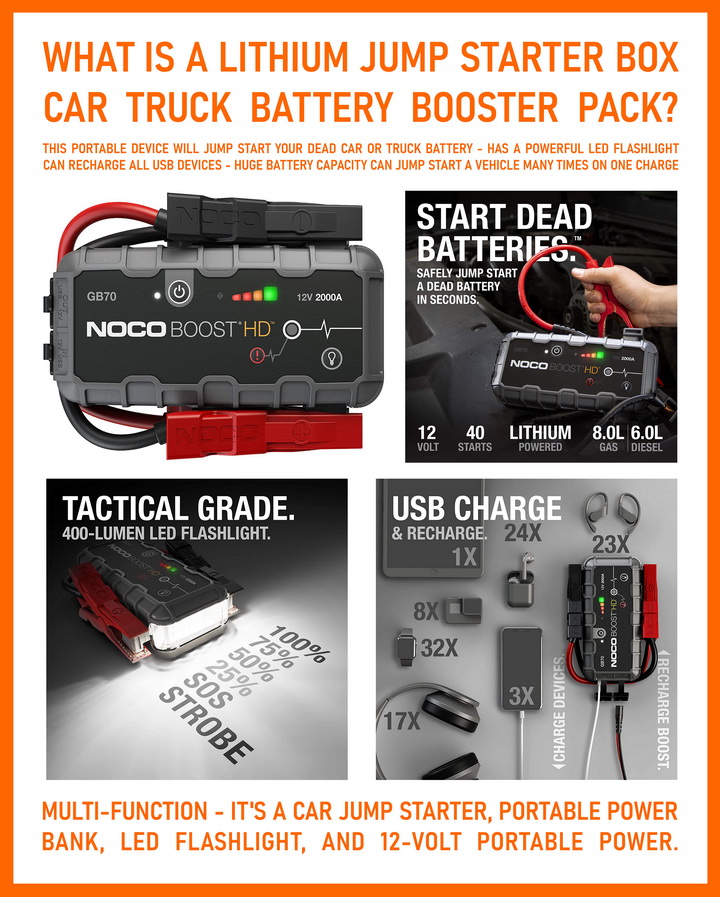 Jump Start A Dead Car Or Truck Battery
You do not need another vehicle to jump your battery!
Why have an emergency roadside safety kit for your car?
A roadside emergency kit may make the difference between being stranded for hours or getting back on the road quickly and safely. You need to consider all of this information when it comes to traveling very long distances in lonely places. Many cars on the road today don't have the basic safety and maintenance necessities to assist them to get back on the road quickly and safely. Having a first aid kit, a can of fix-a-flat, a bright flashlight, and a full tool kit can make all the difference in the world. Be prepared.

Hardcore Emergency Car And Truck Survival Kit
Do you have questions as to why we added an item to our roadside emergency kit? Or have we forgotten anything that is considered a necessity? Please let us know in the comments section below. We will add an item to the list if you have suggested something that is essential for a car emergency roadside kit.