TCL split AC with an error code? A TCL split air conditioner AC aircon may display an error code if it has a problem. Errors codes indicate a fault somewhere in the AC unit. Errors and fault codes notify you of a problem with the air conditioner with either the indoor or outdoor unit. The error codes will show you exactly what is wrong with the AC and what is needed to fix or clear the code. Knowing the error code definition can help you to remove and replace the correct part and get your TCL AC working properly again.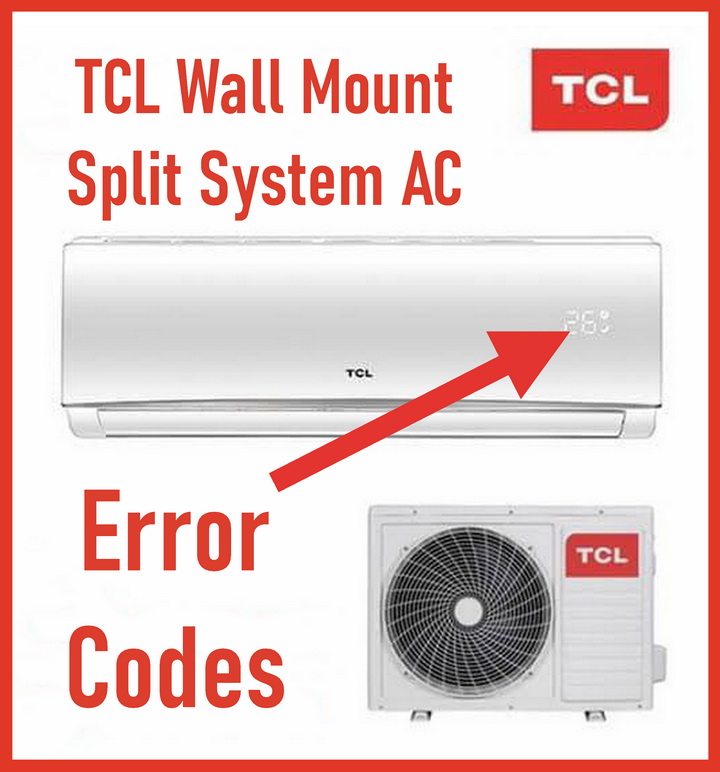 TCL Wall Mount Split System AC Error Codes
Below is a list of common error codes found on TCL split AC systems. The error code number and the error code problem is listed to help you to understand the AC problem and how to fix it.
NOTE: If an error code appears on the TCL AC display, turn the unit off and back on again to attempt a reset. You can also attempt to clean the indoor AC unit to clear the error code. If you have water leaking from the indoor AC unit, you can try the troubleshooting methods here also. To attempt a compete reset of your AC, here is how to reset an AC split system with error codes. If the error code persists, read below…
TCL Split AC Error/Fault "P" Codes
P1 Over voltage / under voltage protection
P2 Over current protection
P4 Exhaust over temperature protection
P5 Sub cooling protection under cooling mode
P6 Overheating protection under cooling mode
P7 Overheating protection under heating mode
P8 Outdoor over temperature / under temperature protection
P9 Drive protection – software control
P0 Module protection – hardware control
TCL Split AC Error/Fault "E" Codes
E0 Indoor/outdoor communication fault
EC Outdoor communication fault
E1 Room temperature sensor (IRT)
E2 Indoor pipe (coil) temperature sensor (IPT)
E3 Outdoor pipe (coil) temperature sensor (OPT)
E4 System abnormal
E5 Model configuration incorrect
E6 Indoor fan motor fault
E7 Outdoor temperature sensor
E8 Exhaust temperature sensor
E9 Intelligent power module of drive and module fault
EF Outdoor fan motor fault – DC Motor
EA Current sensor fault
EE EEPROM fault
EP Temperature switch fault on top of the compressor
EU Voltage sensor fault
EH Intake temperature sensor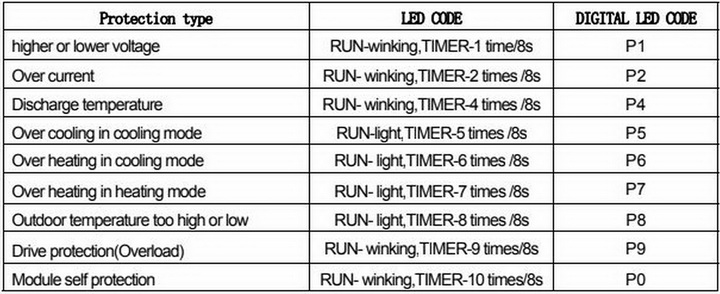 TCL Split AC Error Codes – "P" Error Codes Chart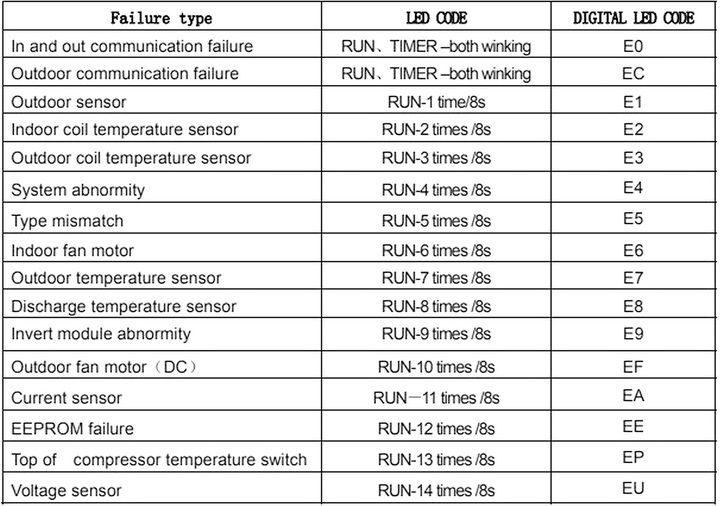 TCL Split AC Error Codes – "E" Error Codes List
Need more help? Download the TCL Wall Mounted Split Air Conditioner Service Manual
The downloadable AC service manual is for TCL AC Models KFTHP-12, KFTHP-18 & KFTHP-24.
Failure Display Screen Information
If an error code appears on the TCL AC display, try turning the unit off and back on again to attempt a reset.
Protection display function can be selected in hardware.
When the protection display is available the controller will show the error code.
The digital LED shows the error code and the temperature.
If there is more than one failure, it will show it first in front of the error list.
The failures that relate to the outdoor unit will remain in failed state for 2 minutes max after it has recovered.
Outdoor Failure or Error Light Display
There is an LED on the outdoor power board. When the compressor is running it is normally illuminated. When there is no feedback of the signal to power board from the compressor the light will blink by lighting 1 second and going out 1 second. If a failure occurs, it will light 0.5 seconds then go out 0.5 seconds blinking several times and go out 3 seconds for a cycle to indicate a failure.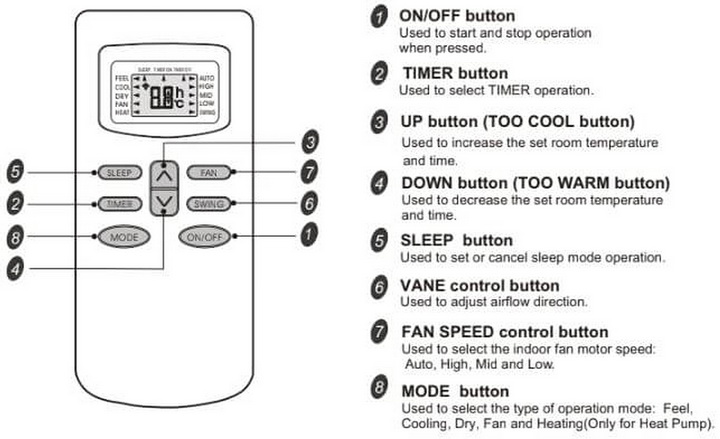 TCL Wall Mounted Split Air Conditioner Remote Control Help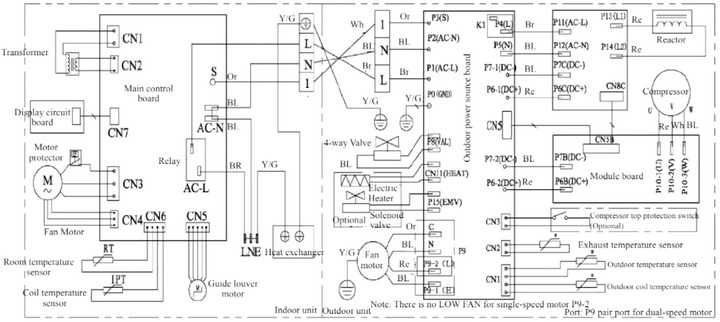 TCL AC – Inverter Split AC Unit Wiring Schematic Diagram
Outdoor Blink Time – Error/Failure
1. IPM protection
2. higher or lower voltage
3. Over current
4. Discharge temperature too high
5. Outdoor coil temperature too high
6. Drive abnormality
7. Communication abnormality with indoor unit
8. Compressor over heat -switch on top of compressor
9. Outdoor air temperature sensor failure
10. Outdoor coil temperature sensor failure
11. Outdoor discharge pipe temperature sensor failure
12. Voltage sensor failure
13. Current sensor failure
14. IPM abnormality
15. Outdoor communication abnormality
16. DC fan motor no feedback
17. Defrosting

TCL DC INVERTER AC ERROR CODES & SOLUTIONS
Need help with the error code on your TCL split system AC? Please let us know the model number of your AC and we can have someone assist you and fix the issue. Use the comment form below and please describe the problem so we can help.