Is your washing machine taking an unusually long time to drain? It may be the result of a needed reset, a faulty lid switch, clogged drain hose, or another problem.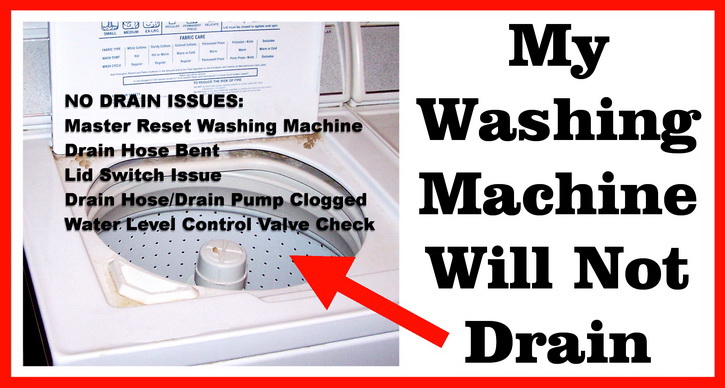 My Washing Machine Will Not Drain
If you find your clothes completely soaked in water after the washer stops running, it means something is wrong. The drum will not drain water but why? Follow these troubleshooting tips to get to the solution of what went wrong with the washing machine. NOTE: Remember to always unplug your washing machine when taking it apart to troubleshoot any issues.
Master Reset Washing Machine
A simple and easy fix for your washing machine when it won't turn on is to do what the professionals call a MASTER RESET. Unplug your washer from the power outlet, wait from 60 to 120 seconds, then plug the washer back into power. Open and close the door six times within 12 seconds. This will tell the computer/memory inside to erase and reset. Once reset, the washer may begin draining as normal. NOTE: The master resetting the washer procedure may not work with all washing machines.

Washing Machine Won't Drain Problems and Fixes Top-Loading Washers
Drain Hose Bent
A clogged hose is one of the most common reasons that a washing machine won't drain. The first thing you should do when troubleshooting the drain hose is to inspect the hose (usually behind the washer) for any kinks, bends, or other obstructions and make sure drain hose is free from any type of debris so water can flow through with no restrictions. You can remove the drain hose and run water through it to be sure there are no obstructions.
Lid Switch Testing
In order to check if the lid switch assembly is defective, use a tool or pencil and push down on it. The washer should start running once the lid switch is depressed. If there's a loose wire or the lid switch is faulty, this will cause the washer to not allow water to drain from the machine. The washing machine will not start or drain the water unless the lid switch is in working order. Another similar issue may be that you may need to lengthen or replace the piece of metal that is on the actual washer top lid that pushes down on the lid switch but only if the lid switch is working. It may not be making contact with the lid switch and if not the washer will not run or drain. Lid lock light flashing solution

Top-Load Washer Won't Drain Washing Machine Troubleshooting
Drain Hose/Drain Pump Clogged
If the washer still isn't draining, there are a couple of things you should check. Check for clogs in the drain hose or pump. If either the pump or hose is obstructed with lint, socks or other pieces of fabric, remove the components and check for any type of blockage to see if this helps unclog it and let your washer drain. Be aware that water will come out when taking apart the drain pump or other components if the washer drum is still filled with water. Try to remove as much water from the drum before disconnecting anything.
Water Level Control Valve Inspection
If your washer won't drain or spin, the water level control valve may be faulty or simply clogged. Open up the machine and look for a plastic tube attached to the valve. This water level valve controls how much water is in the washer tub. If this part of your washing machine is clogged with calcium deposits from hard water, remove the part from the washer and clear them out by soaking them overnight in vinegar. Scrub away any remaining hard water buildup with hot soapy water. You should replace the water level control valve if it has become corroded due to hard water salt build-up.
Coin Trap Cleaning
Cleaning out the coin trap is an easy fix for your washer. Simply open up the panel on top and remove any loose coins or other objects you can find to prevent them from causing draining issues for the next wash cycle.
If these troubleshooting tips have not helped you fix your washer to drain, ask a professional. Do you still have problems with your washer after reading the tips and watching the videos on this page? We can help!
Leave a comment below with your exact problem and the model number of your Bosch, Frigidaire, GE, Haier, Hotpoint, Kenmore, KitchenAid, LG, Maytag, Samsung, Toshiba, or Whirlpool washing machine and we will have someone assist you ASAP.
You can also click the manufacturer of your washer on the links above to get to their support page.