Have you ever experienced a smelly dishwasher? It will make all of your dishes and even the utensils smell bad too. Why does this happen and how do you make the smell go away? Let's take a look at 7 reasons why your dishwasher smells bad.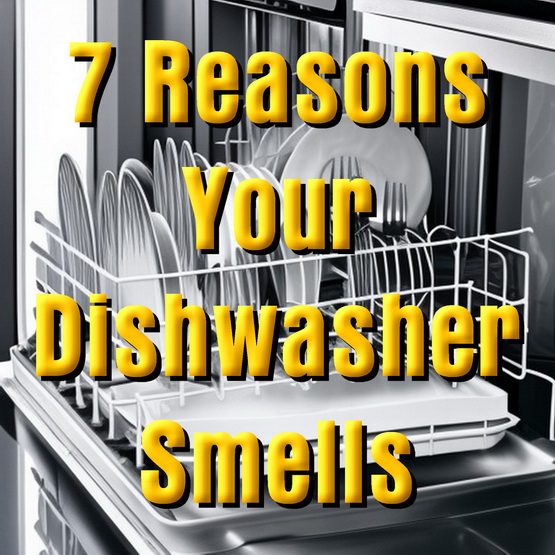 1. GUNKY FILTER
The first reason your dishwasher may be emitting smells is because of a dirty drain filter. The drain filter is responsible for collecting food particles and other debris that fall off your dishes. These food particles can build up and cause an unpleasant smell.
FIX IT: CLEAN CLOGGED FILER
It's important to regularly clean the dishwasher filter. Locate the filter at the bottom of your machine. Remove it by sliding it out or turning it and pulling it upward.
Remove any food particles or debris that may have accumulated. Clean the filter housing also. Once the filter is clean, replace it and your machine will not smell if the filter was clogged.
2. FOOD STUCK IN DISHWASHER
If food is stuck in the bottom it can start to rot and cause a bad odor. Check the bottom of your dishwasher for any food particles that may have been left behind. If you find any remove them and run a test wash with hot water.
3. DISHES TOO DIRTY
If you're not cleaning your dishes before placing them in the dishwasher, this could be the cause of bad smells. Food particles and grease can fall into the bottom and over time create an unpleasant smell. Make sure to always wash your dishes before putting them in.
4. DRAIN PROBLEMS
The dishwasher could have a clogged drain. The drain is responsible for carrying away all the dirty water and food particles that accumulate in the dishwasher. If the drain becomes clogged, it can lead to water backing up into the dishwasher and causing a smell of rotten eggs or sewage.
FIX IT: CLEAN AND DEODORIZE THE DRAIN
Remove any items you find stuck in the drain at the bottom of the dishwasher. To prevent any smells coming from the drain area, pour a cup of vinegar down the machines drain. Let the vinegar sit for 30 minutes to clean away any smells and help loosen any blockages.
Run a very HOT water wash cycle to finish up the cleaning process. This should help to loosen any debris that may be causing a clog and get your it smelling fresh and clean.
5. FOOD PARTICLES IN SOAP SCUM
Food particles that become trapped in soap scum buildup can cause bad smells. Soap scum is a layer of residue that builds up on the inside over time. This residue can trap food particles, which will then emit an unpleasant smell.
REMOVE THE SOAP SCUM
Regularly clean the inside of your machine to prevent smells. Wipe down the walls and bottom of with distilled white vinegar. To remove smelly mold and mildew, use a sponge soaked in hot water and vinegar to scrub the interior of your dishwasher.
This should help to remove any soap scum buildup and keep your dishwasher smelling fresh. The acid in white vinegar is a neutralizer for dishwasher smells.
6. MOLD AND MILDEW SMELLS
A common cause of a bad smell in your dishwasher is mold and mildew growth on the gasket seals. Gasket seals are rubber strips located around the door of the dishwasher that helps to keep water from leaking out.
Over time, these seals can become damp and mold and mildew can start to grow. This can lead to an unpleasant smell in your dishwasher. To prevent this, it's important to routinely clean the gasket seals. You can do this by wiping them down with a damp cloth and then drying them. You can add a small amount of mineral oil to the gaskets to keep them from drying or cracking.
7. HEATING ELEMENT TOUCHES PLASTIC
This type of issue can cause an unpleasant smell in your dishwasher. The heating element at the bottom of your dishwasher gets pushed into the plastic. The heating element is the part of the dishwasher that is responsible for heating the water.
If there is any plastic that is too close to the heating element, it can start to melt. To prevent this, it's important to make sure that all plastic items are at least three inches away from the heating element.
HOW TO CLEAN YOUR DISHWASHER
Now that you know the potential causes of a bad smell in your dishwasher, let's take a look at how to clean it. The first step is to remove the dishes, utensils, racks, and filter from the dishwasher.
Use a damp cloth with some distilled white vinegar to wipe down the walls and bottom of the dishwasher. Be sure to pay special attention to the drain filter area, gasket seals, and heating element. Once you've done this, you can rinse out the machine and then replace the racks and the filter.
HOW TO DEODORIZE A DISHWASHER
Once you've cleaned the dishwasher, it's time to deodorize it. There are a few different ways to do this. One way is to fill a small bowl with white vinegar and place it in the dishwasher.
The vinegar will help to absorb any unpleasant smells. You can also sprinkle baking soda in the bottom of the dishwasher and run it on a short cycle. The baking soda will help to absorb any odors and leave your machine smelling fresh.
NATURAL SOLUTIONS TO REMOVE ODORS
If you'd like to use natural solutions to remove the odor from your dishwasher, there are a few things you can do. One option is to use a mixture of lemon juice and baking soda.
Simply mix the two ingredients and spread them inside the walls and bottom. The lemon juice will help to neutralize any unpleasant odors while the baking soda will absorb them. This process will help to neutralize any bad odors.
THE BEST WAYS TO PREVENT ODORS
You should clean the drain filter out and wipe down the gasket seals at least once a month. You should also wipe down the walls and bottom of the dishwasher with a damp cloth every few weeks. By doing all of these things your machine will have zero odors.
If you need help with other issues with your dishwasher, leave a comment below and we can help you out.