Coffee dripping everywhere? Having the Keurig K-DUO carafe drip onto the counter each time you pour a cup of coffee is not what you want to deal with first thing in the morning. The dripping carafe is a common issue with the Keurig K-Duo. Here are ways to fix it.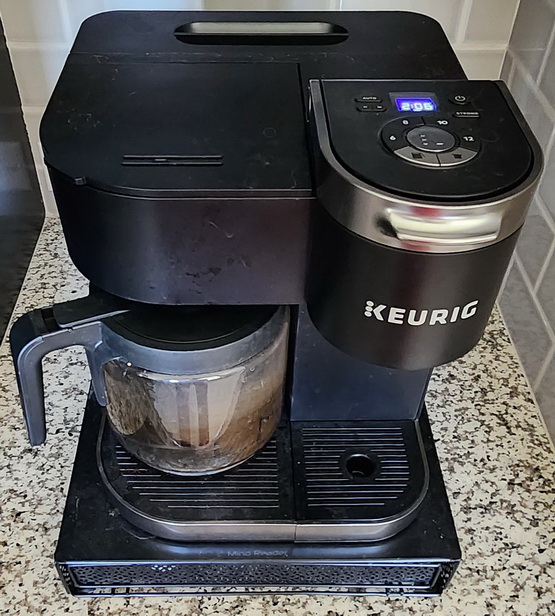 What Causes The Carafe To Leak?
The design of the carafe is the issue. The plastic pieces and the way the top of the carafe are designed is what causes the coffee to leak out each time you pour a coffee. The issue usually happens when the amount of coffee in the carafe is over the 10 cup level. If you really examine the issue you will see the coffee is making it over the plastic dam and under the lid which leaks past the spout. The coffee backs up under the plastic ring and over the glass itself which goes past the spout and causes it to drip and leak out. See image for the sanded and filed plastic spout.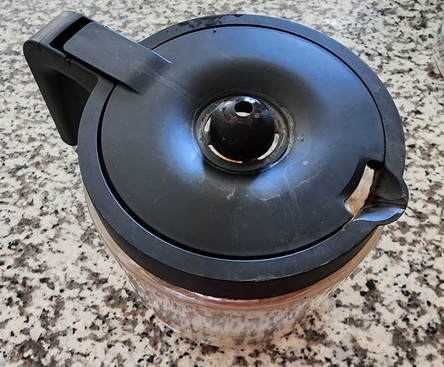 How To Stop The Carafe From Leaking?
You have 2 options. Remove some of the plastic pieces and sand down the plastic to let if flow out with less resistance OR buy a replacement carafe to replace the Keurig coffee pot that came with your coffee maker.
To fix the leaking spout, use a light duty sandpaper to lightly sand the parting line. The ridge is on the outside of the lip, and it definitely fixes the issue as once sanded or filed the pours will be drip free. Another issue is the lid may not be closing entirely because of a plastic piece on the handle side of the pot, but this can be easily removed by using pliers to snap it off. See image for a modified carafe.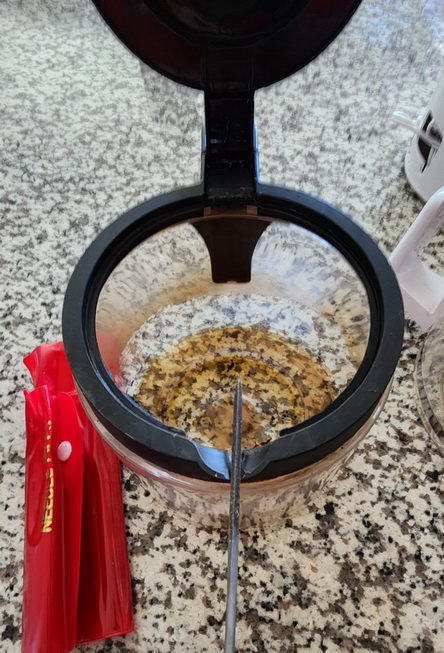 Replace The Carafe Entirely
An alternative option is to purchase a Mainstays or Wal-Mart branded 12 cup coffee maker and use the carafe from that which fits underneath the Keurig K-Duo. If you cannot find these 2 brands of coffee makers and you are replacing the carafe, find one with a glass pour spout for best results. No more spilling coffee everywhere when pouring from the spout. To be sure you get a carafe that fits, be sure the carafe is 6 inches tall from bottom to top center. Take your tape measure with you if going into Wal-Mart or shopping for a replacement carafe. See image of original Keurig and replacement glass carafe.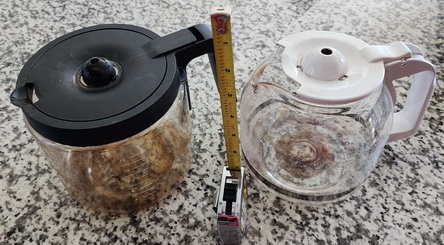 There are coffee makers that you can buy to replace the carafe on your Keurig K-DUO. The best bet to save money is buying a $20 dollar coffee maker that has a glass carafe and is 6 inches tall. If you need help finding the correct replacement carafe or you plan to sand down the plastic Keurig spout and need some extra help with it, please leave a comment below and we will help you fix this annoying issue.