This is an easy method to sell a car on Craigslist – Based on selling my own personal vehicle.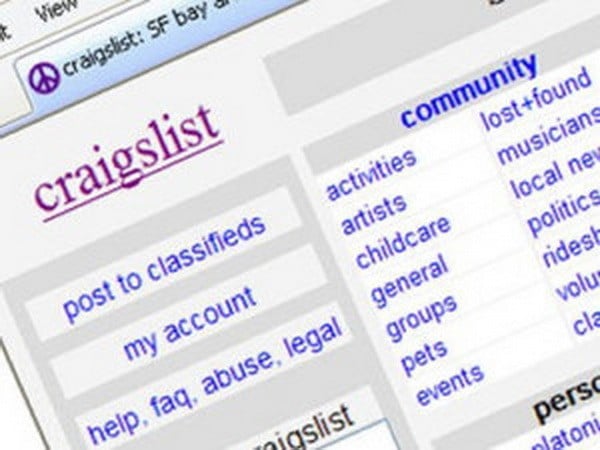 1. Find out the value of your car.
I used Kelley Blue Book which is the easiest. The Blue Book said my 2008 Ford Focus was worth $8000 in fair shape or $8800 in great condition according to the Blue Book. I decided to sell it at $7399 due to some dents and since the car was in an accident in 2010.
2. Make sure you have the car Title and other proper documentation.
You will need the "Certificate of Title" (Title), a Bill of Sale (Found online easily), and the Motor Vehicle Transfer Notification form (On back of the vehicles Registration Document).
3. Make sure your car is completely spotless and looking good.
You will need many impressive pictures for your ad as people are making a "visual" decision when looking for a car.  Have the car detailed inside and out before taking any pictures. Take pictures for the ad and remember to take photos of the good and bad including dents or any other problems. Take the photos at medium resolution as CL has a limit on megabytes.
4. Make the CL post early Saturday morning as most car shoppers do their buying on the weekends.
Include the year, make, model, and condition and fit all that in the title of the ad.  It is also a good practice to set the price at 15% more than you want to get since most people will say "are you firm on that offer"?
Include your first name and your cell phone number and only give the VIN to interested callers.
My full ad was……….
2008 FORD FOCUS SE 4 DOOR SEDAN – THIS CAR NEEDS NOTHING – READY TO DRIVE – 4 cylinder – Automatic transmission – 55k miles – Power windows – Power door locks – Power side mirrors – Keyless entry with alarm – Tilt Steering Wheel – New compressor – Air Conditioning serviced recently and blows cold – New rear tires – New spare tire and jack – Cd player and iPod Aux Jack – Maintained "by the book" – Just passed state emissions – Gets 38 mpg average on the highway and 34 mpg average in city – Great for extreme fuel efficiency – Perfect car to drive to save on high gas prices – RST/SLVG Title for small damage to front end – Private party sale – Asking $7399 OBO – No warranty As Is – Will take less for straight cash – Call for a test drive…. FLEXIBLE ON PRICING.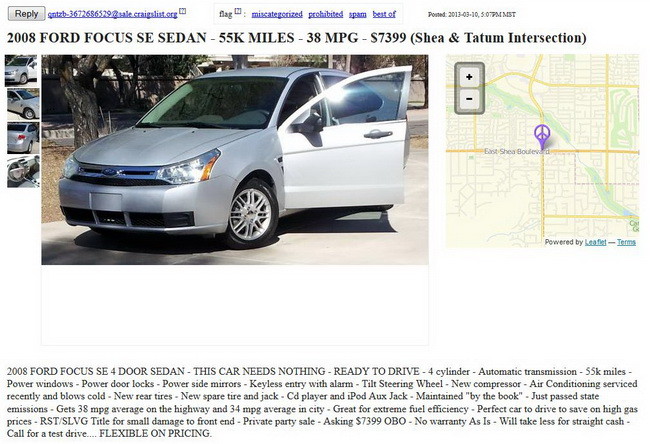 Here is a screen capture of the ad
5. Schedule the buyers to see your car.
I got 13 callers within 5 hours of posting the ad and scheduled the visits one hour each to be safe.
6. Let the potential buyers go on test drives.
Always check a persons driver's license before letting them drive your car.  People came to check out the car and the third person actually bought the car so I called and canceled the other appointments.
7. Sign the "Certificate of Title" over to the buyer.
I signed over the Title and filled out the Bill of Sale. I scanned everything and gave the originals to the buyers. I filled out the Motor Vehicle Transfer Notification form (or Sold Notice) online to avoid being liable for any issues.
8. Remove Your Old License Plate (may vary state to state).
Grab a screwdriver and remove your license plate or plates from the car. You can take the plate into the Motor Vehicle Department and get a refund for the remaining time left on the cars registration.
9. Cancel the insurance policy on the sold car.
I called within 30 minutes of the sale and received a refund for the prorated amount I paid in advance.
That's it! It is a very simple process. If you list your car and you get no calls, just keep trying, there is a buyer out there!